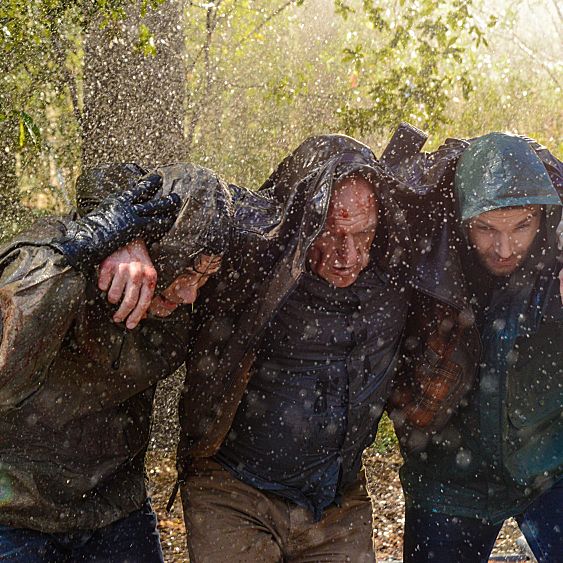 Photo: BROWNIE HARRIS/CBS
The residents of Chester's Mill are still trapped Under the Dome, but the rest of us are finding it increasingly easy to escape the clutches of CBS's Monday-night thriller. Per Nielsen same-day ratings, Dome's fourth episode of season two averaged 6.8 million viewers and scored a 1.5 rating among viewers under 50 last night, numbers which in and of themselves are pretty solid for a random Monday in the summer. But those same figures also represent the smallest same-day audience for Dome yet in the show's two-season history and continue a troubling trend for the show: Every episode this season has been watched by fewer viewers, while the show's overall audience has declined sharply — by some metrics, more than 40 percent — versus last year. And while a year ago, Dome regularly beat everything else on TV Mondays, last night the show had fewer same-day viewers than ABC's The Bachelorette, and a lower adults-18-49 rating than Fox's MasterChef and NBC's American Ninja Warrior. Dome may not be doomed, but it's definitely been dented.
To a degree, it's not at all surprising that Dome is down over last summer, particularly its early episodes. After all, CBS mounted a massive, months-long marketing campaign on the show's behalf in 2013, starting with a spot in the Super Bowl. The Eye network wanted the show to serve as a signal to viewers that the network was super-serious about scripted programming in the summer, and it spent heavily to ensure viewers knew this show was not something it was burning off in the warm-weather months, or a cheap Canadian import (sorry, Rookie Blue). That effort paid off with a stunning tune-in for the premiere: Lured by promises of bovine division, nearly 14 million viewers caught the first episode the night it aired. Some of that audience disappeared immediately, of course, and within a few weeks, Dome's same-day audience was hovering around 11 million viewers. With a far more modest marketing push this summer (CBS saved its heavy artillery this year for newcomer Extant), it made sense (even if it wasn't ideal) that Dome would fail to reach last summer's highs with its season-two debut. And that's what happened: Last month's season premiere averaged 9.4 same-day viewers, a roughly 30 percent drop year-to-year. But, unfortunately for CBS, the audience erosion didn't stop there. As noted earlier, each of the three episodes after the season-two premiere have attracted smaller same-day audiences, with the show falling from 9.4 million at premiere to last night's record low 6.8 million viewers. Compared to the fourth episode of season one, Monday's hour was down over 40 percent. Instead of stabilizing, the audience bleed is getting worse. In other words, it's not just that viewers who watched last season didn't come back; some who decided to give season two a shot seem to have given up, too.
Or maybe not. Any discussion of TV viewership these days must include the very real impact of time-shifting on audience levels. Dome doesn't get the massive DVR lifts that some cable shows do, but its numbers are substantially impacted by it. That 9.4 million figure for the Dome season-two premiere? Tally audiences who watched the premiere within seven days of its initial broadcast, and that number rises to 14 million. The 2013 series premiere also got a DVR lift, jumping to 17.8 million in the so-called L+7 ratings. But when you compare Dome's L+7 numbers for 2013 and 2014, its audience decline is 22 percent, rather than the 30 percent drop-off when comparing same-day numbers. Neither number is great, but losing less than a quarter of the audience is better than kissing good-bye nearly one third. What we won't know for several weeks is whether the DVR audience for Dome keeps building the way it has for cable shows such as Fargo and The Americans. It could be that, instead of losing viewers every week, more and more  of Dome's audience is simply putting off watching episodes, either for a few days or a few weeks. (Labor Day Dome binge-watch, anyone?) Then again, it's equally plausible that viewers really are losing interest in the show, don't like its creative direction, and are simply bailing on it, as the same-day numbers suggest. Truth is, we don't know yet.
One last point worth remembering: CBS will still make tons of money from Dome. As Vulture noted last year, the Eye's innovative deal with Amazon to stream episodes a few days after they air on CBS, combined with big international sales, means the network starts each season of the show in profit. Every ad dollar it sells is, essentially, money in the bank. Now, if CBS guaranteed bigger ratings to ad buyers than it's currently delivering with Dome, some of that free money will start to dry up. And unless CBS's season-two deal with Amazon guarantees the streaming giant has to pay the same per-episode license fee for the show every season going forward — which is possible — Amazon could cut its investment in Dome going forward if it feels the show has lost its buzz. But the basic business model for Dome always envisioned modest broadcast ratings for the show. CBS green-lit the series because it wanted to replace low-rated summer reruns and bring new viewers to the network in the summer while also paving the way for even more original scripted shows in the summer and more programming assets it could sell to international TV markets hungry for U.S. dramas. If Dome had premiered last summer to the numbers it's doing now, Eye execs would have been justified declaring victory. The fact that the show has faded fast is most certainly a summer bummer — but it's hardly a disaster.