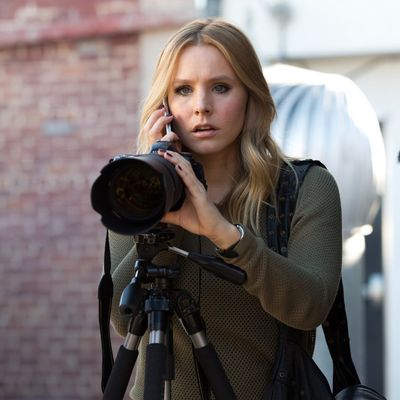 Photo: Robert Voets/Warner Bros. Entertainment
If you're like us, you already know that Veronica Mars turned 10 earlier this week. You also likely binge-watched all three seasons of the Rob Thomas teen-detective show leading up to the Kickstarter-funded film sequel that arrived in theaters this past March. But even if you remember all of the details of the goings-on in the town of Neptune — the names of each and every mean girl, the 09er frat boys, the PCHer gang members, and the wide array of special guest-stars who roll into town for a quick visit (Paris Hilton, Kevin Smith, Aaron Paul, Joss Whedon, and Kristin Cavallari, to name but a few) — it's never not going to be fun to revisit the series about a young detective (Kristen Bell) who understands more about the dark side of human nature than any teenage girl ever should.
Veronica's world is shattered after the murder of her BFF (Amanda Seyfried) and the subsequent disgrace of her father (Enrico Colantoni), the former Neptune sheriff accused of mishandling the case. But the show is about more than loss of innocence — it's funny and dark and weird, and the best way to explore all of the show's facets is through its music. Music sometimes becomes a tool to understand a character's motivations, or even a plot device that helps to solve mystery or work out a love triangle (or, as the case may be in Veronica's world, a trapezoid, or an octagon). The best musical scenes of Veronica Mars include inspired performances by the cast, very special karaoke guests, and soundtrack moments that are too good — and gut-wrenching — to ignore. In choosing the most important musical moments of Veronica Mars, we're reminded that — spoiler alert — if you wanna fight crime, it helps to have a kickass soundtrack.
"One Way or Another," Blondie (Season 1, Episode 12)
It's initiation night for Neptune High's premier secret society, and how better for a bunch of rich boys to celebrate their privilege than by hijacking the mike at karaoke and acting like doofuses? When our fearless heroine Veronica Mars gets the mike, in between trying to uncover which soon-to-be member of the Tritons set her up for selling fake I.D.s, she kills it. Her interpretation of Blondie's "One Way or Another" makes the 09er boys tremble — with good reason. Turns out Veronica is as fierce at snarling out Blondie lyrics as she is at sleuthing.
"We Used to Be Friends," the Dandy Warhols (S1, E13)
"We used to be friends, a long time ago," Veronica says of a fellow Neptune High student in the cold open for episode 13 of season one. Cue the Dandy Warhols' dark yet enormously earworm-y single "We Used to Be Friends", a.k.a. the Veronica Mars theme song. It's a meta moment, for sure, and a reminder that the song that opened each episode of Veronica Mars could've been written for the heroine herself — "We Used to Be Friends" is a dark, sad song, but it sounds bright and sunny and fun even at its most bitter.
"True," Spandau Ballet (S1, E15)
Nothing like an '80s prom to spotlight great retro costumes and so many good ballads. At Neptune High's Total Eclipse of the Heart dance, a crimped-haired Veronica is devastated when her ex, Duncan (Teddy Dunn), is revealed to be the secret admirer of her friend, Meg. But the ever-charming Deputy Leo (Max Greenfield) saves the day when he shows up at the dance decked out like Sonny Crocket and leads Veronica to the center of the gym for a romantic slow dance to Spandau Ballet's totally '80s hit. Bonus: Logan Echolls (Jason Doehring) shows up wearing sunglasses and a button-down and not much else, Risky Business style.
"Private Eyes," Hall & Oates (S1, E17)
One of the series' greatest recurring guests is Ken Marino as Vinnie Van Lowe, a bumbling yet braggy rival PI who isn't above double-crossing his clients for the right amount of money. When Veronica needs information from Vinnie, she easily outwits him while making him think he's the one who's bested her. Vinnie leans out his office window to serenade Veronica with the anthem of independent investigators everywhere, singing "Veronica Mars, I'm watching you" to the tune of "Private Eyes." It's a particularly savvy teenage girl who knows that the easiest way to trick a bloviating PI is by appealing to his ego.
"That's Amore," Dean Martin (S1, E19)
A smart and unsettling ode to Pulp Fiction. When Trina Echolls' (Alyson Hannigan) abusive boyfriend tries to convince her movie-star father, Aaron Echolls (Harry Hamlin), to play the lead in his film about a junkie hitman with a conscience, we learn that the A-lister has an innate talent for stylized violence. Aaron mercilessly pummels the wannabe-director as Dean Martin's harmless ballad plays in the background, a familiar cinematic juxtaposition of pleasant music and horrifying brutality that foreshadows plenty of Echolls evil to come.
"Momentary Thing," Something Happens (S1, E18)
Prepare yourself to witness one of the most perfect moments in TV history. Logan Echolls is a troubled, possibly sociopathic, wisecracking Neptune bad boy. Veronica Mars is a scrappy, wise-beyond-her-years teenage survivor whose illusions have been shattered for years. But peel back the layers and layers of sarcasm and all of their dueling defense mechanisms, and you get to the surprisingly earnest truth: Logan and Veronica might be soul mates. "Momentary Thing" by the Irish band Something Happens is the soundtrack for the couple's long-anticipated first kiss. Is it any wonder that Something Happens also happens to be the name of a LoVe fan fiction site?
"Wannabe," the Spice Girls (S1, E22)
A season full of sepia-toned flashbacks of besties Veronica Mars and Lilly Kane cavorting in the carefree bliss of freshman year culminates with Veronica finding an old video in Lilly's room. It shows Lilly and Veronica being silly and dancing with abandon to the Spice Girls' "Wannabe." "If you wanna be my lover, you gotta get with my friends" has never sounded quite so innocent (yet eerily true, when we consider the case of Lilly's ex-boyfriend Logan Echolls), and it signals girlish frivolity that has been thoroughly stripped away from Veronica by the time we meet her.
"Love Hurts," Nazareth (S2, E3)
Just when we thought Veronica couldn't get more awesome, at the start of season two, she begins to waitress at Java the Hut, a coffee bar that just happens to host a weekly karaoke night. Courtney Taylor-Taylor of the Dandy Warhols, he of Veronica Mars theme-song fame and subject of the Sundance rock documentary Dig!, gets to show off his fancy falsetto in a Nazareth-style arrangement of "Love Hurts."
"Papa Was a Rolling Stone" by Wallace Fennel, in the style of the Temptations (S2, E5)
Wallace Fennel (Percy Daggs III) spends so much time playing an agreeable and lovable Watson to Veronica's Holmes that sometimes we need a reminder that Wallace has his own issues. When Wallace's absentee dad comes by the minimart where Wallace is stocking shelves, Wallace figures out a way to make an awkward family reunion even more uncomfortable. He sings an angry a capella version of "Papa Was a Rolling Stone" right there in the canned-vegetable aisle, calling his father out with not even a hint of shyness or stage fright.
"How Can You Mend a Broken Heart" by Al Green (S2, E11)
Nothing says "wallowy music in 2005" more than the Virgin Suicides soundtrack. We rarely get to see Veronica act like a typical angsty teenager, but she puts the disc in her CD player and looks sadly up at the ceiling with Al Green's soul classic "How Can You Mend a Broken Heart" for company. It signals to all the world that having been officially dumped (again) by her first love, Duncan Kane, has devastated our heroine.
"Adelaide" by the Old 97's (S2, E11)
But not so fast. Spoiler alert: After putting on a great show of flinging herself around dramatically to appear melancholy after what turns out to be a staged breakup with Duncan, the closing of the same episode contains a more sincere kind of sadness. The music of alt-country kings the Old 97s had been featured on the show before — their raucous "4-Leaf Clover" soundtracks the preceding scene in which we see exactly how Veronica has helped Duncan to escape Neptune with his newborn daughter. But when the adrenaline of successfully pulling off a caper wears down, we're left with the Old 97s' tearjerker, "Adelaide." "To be broken, you were made," the song goes, and it's hard not to look at Veronica looking wistfully at the ocean without wishing that someone would give her a hug, ASAP.
"Veronica" by Britt Daniel, in the style of Elvis Costello (S2, E12)
Sometimes a crafty teen detective needs a little break from saving the asses of her nearest and dearest, a brief musical interlude. Karaoke night at Java the Hut is the perfect momentary relief. This time, very special guest-star and Spoon front man Britt Daniel sings a fitting ode to Ms. Mars, and she even takes a few seconds out of her hectic schedule to admire him. Mr. Daniel's music had been featured on the show before (what better song to accompany Veronica taking stealthy photos than Spoon's "I Turn My Camera On"?), and later in the episode, Spoon's "The Underdog" accompanies PCH gang outcast Weevil (Eli Navarro) as he recovers from his ousting.
"Sway" by the Perishers (S2, E17)
Can exes ever be pals? At the Spring Fling Dance of 2006, Veronica rescues Logan from the chatty inanities of Gia (Krysten Ritter) by pulling him onto the dance floor. But what starts as a friendly slow dance gradually becomes overwhelming in intensity because, let's be real, Logan + Veronica = LoVe, not "like." So stop trying to play it cool, you guys.
"I Hear the Bells" by Mike Doughty (S2, E20)
"I really like this song," says Veronica to Logan when Mike Doughty's heartbreaker about lust and longing begins to play at Neptune High's alternaprom (the real senior prom was canceled due to alcohol violations on the senior trip). After a season of mixed signals and bad timing and meaningful eye contact, Logan drunkenly admits that he's never gotten over Veronica, that he thought their relationship would be epic. And thus, a very particular fanbase cannot so much as hear Doughty's distinctive rasp without tearing up, thinking of thwarted love declarations. The most epic of stories, indeed.
"Rally" by Phoenix (S3, E16)
Now let's take a moment to salute season three's musical guru, the radio DJ with the boy-band hair who would go on to reach the heights of indie-rock cred with a much-coveted internship at Pitchfork. Stosh "Piz" Piznarski (Chris Lowell) is the nice, not-too-complicated guy who has superior taste in music, even if he doesn't quite have megachemistry with our heroine. Alt-rock up-and-comers (at the time) Phoenix provide the soundtrack for Piz and Veronica's lip locks, a pleasant change from the angsty songs that surround Veronica's complicated relationship with Logan. Maybe there's an upside of being a member of Team Piz, after all.
"My Before and After" by Desmond Fellows, in the style of Cotton Mather (S3, E17)
One of the great final special guest-stars of Veronica Mars is Paul Rudd, playing a has-been rock star named Desmond Fellows who's well past his prime. Poor Piz is Desmond's handler at Hearst College, and even Piz's vast music nerdom cannot redeem the egomaniacal former lead singer of the band My Pretty Pony. Rudd does a spectacularly convincing job in pretentiously showing off new material that no one wants to hear, including a half-hearted version of Cotton Mathers' song "My Before and After."