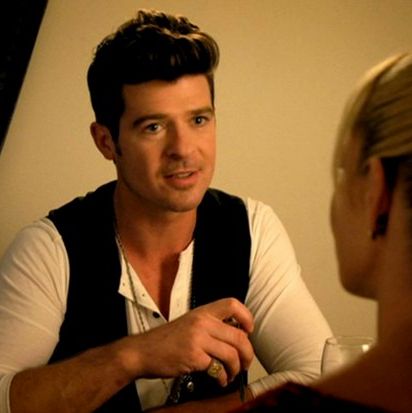 Summer 2012 found Robin Thicke on the precipice, one year before "Blurred Lines" would make him the hottest R&B crooner on the planet (and two years before the release of his mortifying album Paula would make everyone go, "Whoops, nope, changed our minds"). With his game-changing single still a ways away, Thicke decided to diversify his portfolio by making his feature-film debut in a little indie called Abby in the Summer. And why not? His father, Alan Thicke, was an actor. His wife, long-suffering ingenue Paula Patton, was also an actor. It was practically in his blood! How hard could acting be, really?
The answer, perhaps, is implicit in the fact that Abby in the Summer (now retitled Making the Rules) was delayed until this year and released with zero fanfare into the furthest reaches of on-demand, an ignominious fate usually reserved for the likes of direct-to-video movies starring David Faustino. (Fun fact: Did you know that Paula Patton and Robin Thicke met in 1991 at an under-21 hip-hop club called Balistyx, "co-founded and co-hosted" by David Faustino? Thanks, Wikipedia!) This was certainly a less-than-promising sign for Thicke's big debut … and yet, as your faithful Vulture correspondent, I still decided to watch the movie and report back to you, in much the same way as a royal food-tester will sample a dish for poison.
Making the Rules stars Jaime Pressly as Abby, an unhappily married Los Angeles chef who's tempted into an affair when she runs into her ex Shaun (played by Thicke) and finds out that he is now a successful Silver Lake hairdresser. "Is married life everything you thought it would be?" teases Shaun. "Your husband, is he nice to you?" The answer to both of those questions is a big no, and so Abby and Shaun begin boning (also a big no), though their physical acts of coitus remain blessedly offscreen. Eventually a pregnancy scare prompts Abby to ask herself, "Is it really a good idea to have this much sex with Robin Thicke?" and so she stops. The movie, which looks like it cost $5 to make, is over after 73 minutes.
I'm not sure whether the movie was written with Thicke in mind, but it certainly suits him: His character is a stud who engages in infidelity and keeps stalking a woman until she gives into him, and his wardrobe consists almost entirely of plunging white henleys and vaguely Native American necklaces (no doubt purchased from the Johnny Depp Collection for QVC), woeful items of clothing that Robin Thicke actually enjoys wearing in real life. In short, Shaun is the sort of role that Thicke should be able to play in his sleep … which may explain why Thicke mumbles through all of his scenes like someone who just woke up from a long nap. When it comes to his nascent acting career, the best thing that can be said about Robin Thicke is that in some of his close-ups, he looks like a lion dressed as Elvis Presley.
Here is what you will find in Robin Thicke's bag of acting tricks:
1. Constant, unbroken staring
2. Whispered dialogue
3. A willingness to back up and begin again in the middle of a biffed line
4. Tall hair
Do you need to experience the frightful majesty of Thicke's performance for yourself? Here is a clip reel of his lowlight-highlights, including more than a few of the awkward silences that are usually cut from a movie in post-production but are preserved here in a futile attempt to pad Making the Rules out to feature length.
I will say this about Robin Thicke's make-out technique: It is slow and torturous.
What did you make of that clip reel? Did you feel bad for Jaime Pressly, who is valiantly attempting to act opposite a scene partner who may never have seen a movie before? Did you laugh when Robin Thicke laughed and it sounded like he went, "A-hee-hee-ha?" Was it still not as embarrassing as his last album? You have thoughts, and you should share them in the comments below. But first, watch this video a dozen more times. I know you want it.