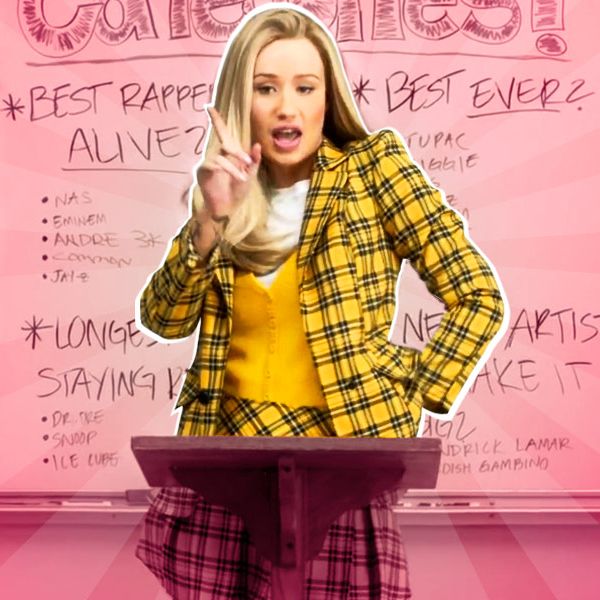 It is July 8, and our presumptive Song of Summer is Iggy Azalea's "Fancy." The song has been No. 1 for six weeks running; it has been performed on Dancing With the Stars and The Tonight Show With Jimmy Fallon; I overheard two strangers at dinner decide that "Yeah, I guess 'Fancy' is the Song of Summer?" Perhaps you have danced to it while drinking too much, or maybe the "I'mmm soooo fannnn-ceeee" chorus got stuck in your head for a day. That's fine. It's catchy. I won't judge you if you like it, because I like it too. But do I love it? Do I think it is a transcendent, unifying anthem worthy of our highest amateur pop-music prize? I do not. I think we, as a nation, can find a better Song of Summer.
This is usually when someone raises his hand and is like, "Oh, I've really been enjoying the new Spoon single, that's my Song of Summer." Which … no. Let's be clear about how this works: There is no such thing as a "personal" song of summer. We do not anoint multiple songs of summer. There can only be one; the Song of Summer, by its very definition, is a consensus choice. It is the song that wrecks wedding dance floors. It is the song that you and your mother begrudgingly agree on (even though your mom has no idea what rhymes with "hug me" and won't stop yelling it in public.) It does not necessarily have to hit No. 1 on the charts, but it should probably be on the charts, because it must be widely played. It must bring people together. It must be a shared enthusiasm.
And the thing about "Fancy" is that it's not particularly enthusiastic. God love Charli XCX, but she was only allowed to write a hook, and "Fancy"'s is a little sluggish when compared to the mania of her first hit, Icona Pop's "I Love It." (Or to "Call Me Maybe," or "Teenage Dream," or "I Gotta Feeling," or really any Song of Summer since "Umbrella.") I get that "Fancy" is trying to play it cool — but unless you are Rihanna, cool is not part of the Song of Summer conversation. Again: Old people need to be able to dance to the Song of Summer. Old people — including me — have no idea how to dance to "Fancy."
While we are talking about the hook, I would like to point out some thematic inconsistencies:
As for the rapping, I stand with Nicki, but musical authenticity does not really matter in a competition of Top 40 pop songs. Nor does technique, which is why Iggy can get away with her hiccupping T.I. impression. The bigger problem here is that so far, Nicki is the only one making a real fuss about the song. True Songs of Summer are louder than "Fancy" — they announce themselves ahead of time, with thinkpieces or viral videos, plagiarism scandals or indie covers. Everybody wants a piece. "Fancy" already has its No.1, but very few of the cultural signifiers that make it a "Blurred Lines" or "Call Me Maybe." (It only just got its Fallon cover.) It's not a phenomenon, just a song you've heard nonstop on iHeartRadio.
And this is the real problem: "Fancy" is a default Song of Summer — because Rihanna took a year off, and Nicki went Coldplay, and no one made Ariana Grande record a Big Sean–less chorus for "Problem." Because Kanye and Robyn and Frank Ocean and Adele all took too long in the studio. Because Robin Thicke got (even more) creepy. Because teens like this guy. It has been a barren year, pop-wise, and we didn't have many options. But we do not have to accept it. We do not have to ¯\_(ツ)_/¯  and give the crown to "Fancy." So let's not. Let's turn this ship around, and give it to "Turn Down for What" or Becky G's "Shower" or even that Norwegian song that kind of sounds like Gotye. Your nominations are welcome! The point is: We don't have to settle. It's not too late for a new Song of Summer. And we deserve it.