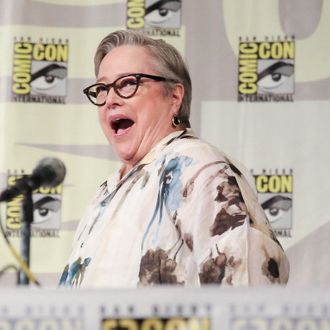 American Horror Story made its first appearance at San Diego Comic-Con this year, but true to form, they were chary with the details about the upcoming season currently in production, Freak Show. But at the very least, we now know more about the characters, including the fact that the villain, to be played by Fargo's John Carroll Lynch, will rival Rubber Man, Bloody Face, and the Minotaur from the previous three seasons in terms of pure horror. "He will scare the shit out of you," said executive producer Tim Minear at a Saturday Comic-Con panel.
Here are some other tidbits:
Jessica Lange (who wasn't there because she was shooting Wild Oats in Spain) will play Elsa Mars, the head of the freak show. The show is set in Jupiter, Florida, in the 1950s.
As for the rest of the cast: Kathy Bates will play Ethel Darling with Evan Peters as her son, Jimmy. Michael Chiklis plays the strongman 

Wendell del Toredo, who is Ethel's ex-husband and remarried to Angela Bassett's character, Desiree Dupree. Paulson plays the two-headed Bette and Dot and Emma Roberts will play a woman named Maggie.
Minear described the tone of Freak Show as

"

Douglas Sirk

 

meets Zodiac."
On how Sarah Paulson plays Bette and Dot: Paulson said that it's not a prosthetic, and that there are 22 people on set every time she shoots. She also said that she has a favorite head: "There's a mystery around what we're doing, and I want to keep it that way. Right now, a week in, Bette is my favorite character. It's like

 

Sybil

. I should call Sally Field and get some tips."
Kathy Bates said that Ryan Murphy scares her:

"After my first scene one week, I got home and couldn't go to sleep, and then I slept for 30 hours — and that was without drugs! I swear to God, I think he scares the shit out of me!"