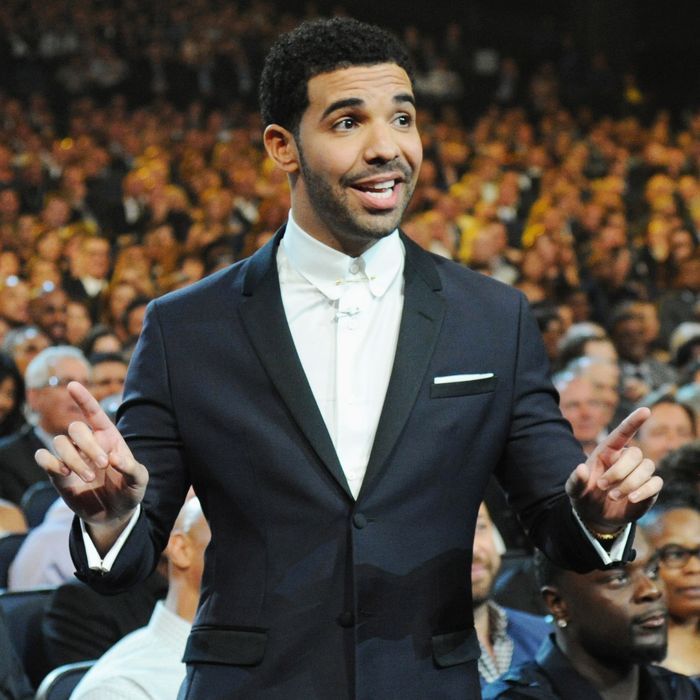 501219675QS00014_2014_ESPYS
Photo: Kevin Mazur/Getty Images
Last night in L.A., Drake hosted the ESPYs, an awards show for people who compete for trophies professionally. The awards themselves were kind of bogus — all respect to the USMNT, but that Ghana win was not more inspiring than Kevin Durant's "You're the real MVP, Mom" speech. Also, how do you honor Auburn football and not invite those radio callers? Anyway: This is not a sports blog, this is a Drake blog, and good news! Drake was a wonderful host. Of course Drake was a wonderful host; he is a theater kid and a people-pleaser. Here is what you missed, Drake-wise.
Drake told some Cleveland jokes.
Was a traditional, sorta-corny awards-show monologue the best choice here? Maybe not — but the important thing is that Drake tried very hard and looked very handsome in his tux. None of the athletes really wanted to laugh, but … they're athletes. They are too busy "focusing."
Chris Brown ruined an otherwise very funny skit.
Do you know about Blake Griffin? He's that basketball player in the Kia commercials who can do comedy. (Also he believes in Creationism, but that's a whole other set of issues.) Since Blake and Drake rhyme, they made a very long and involved sketch about competing against each other — for first billing on a screenplay — and everything was great until Chris Brown showed up for like four seconds. This was a completely unnecessary and joy-killing cameo. Work your Rihanna issues out elsewhere, Drake.
Drake did a British accent.
As part of a longer Floyd Mayweather introduction. Then he didn't introduce Maria Sharapova, and she got mad at him.
Best New Drake Music: "Honorable Mention" and "Side Piece"
This is when I started texting friends things like "I can't believe you're not watching this" and "Drake is a treasure." He made up two whole fake-Drake songs about sports, and one of them made fun of both Macklemore and Iggy Azalea. Then he brought out Brian McKnight. I repeat: Drake is a treasure.
Skylar Diggins kissed Drake on the forehead.
The actual kiss was sort of awkward, but the poetry that led up to it was beautiful.
Drake sang "Frozen."
Because ESPN is owned by Disney.
In conclusion, Drake is an energetic, creative awards-show host and he should be invited to host many more things. Thank you, Drake.