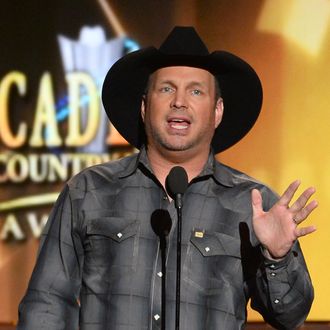 Photo: Ethan Miller/2014 Getty Images
According to the Irish Independent, around 50 Garth Brooks fans gathered to protest the Dublin City Council's decision to limit the country singer's concert dates from five days to three. While this might seem like an injustice to country fans everywhere, the guitar hero is not necessarily in the right, saying that the city either allows him to play all five shows, or he'll cancel the entire tour. Fans, of course, are beside themselves. The situation has become a political morass for the city, involving disgruntled neighborhood residents, concert organizers, and even the prime minister of Ireland, Enda Kenny.
Here's how it began: Back in January, Garth Brooks announced three tour dates in Croke Park as part of his comeback tour. Tickets sold out scary fast — 240,000 tickets sold in 90 minutes. Sensing an opportunity to make more money, concert organizers added more dates, selling around 400,000 tickets in total. The problem was that neighborhood residents hadn't been consulted and didn't want drunken concertgoers carousing for five straight days. (Fair!) The ensuing conflict prompted the city council to rule that three out of five days would be reasonable.
Garth, however, deemed the decision unacceptable, saying, "To choose which shows to do and which shows not to do, would be like asking to choose one child over another." (Really, dude?) Then the city council suggested two matinee performances as a compromise (also reasonable!), but Garth shot that down too. In response to that, his publicist said, "To treat 160,000 people differently than all the rest who will be seeing the show the way it was meant and created is wrong."
The controversy has become a PR nightmare with Ireland's Taoiseach (that's "chief" in Irish — kind of like the prime minister) Enda Kenny holding last-minute crisis talks to salvage all five concert dates. Dublin's chamber of commerce estimates that local businesses would lose out on £40 million (that's a lot of dollars) if none of the concerts took place. Kenny said, "It's a major loss to the country, to the goodwill and good feeling of all those fans of Garth Brooks … not to mention the hard economic loss to people here."
Meanwhile Garth, ever the good guy said, "I will drop to my knees and beg for those 400,000 people to just have fun."