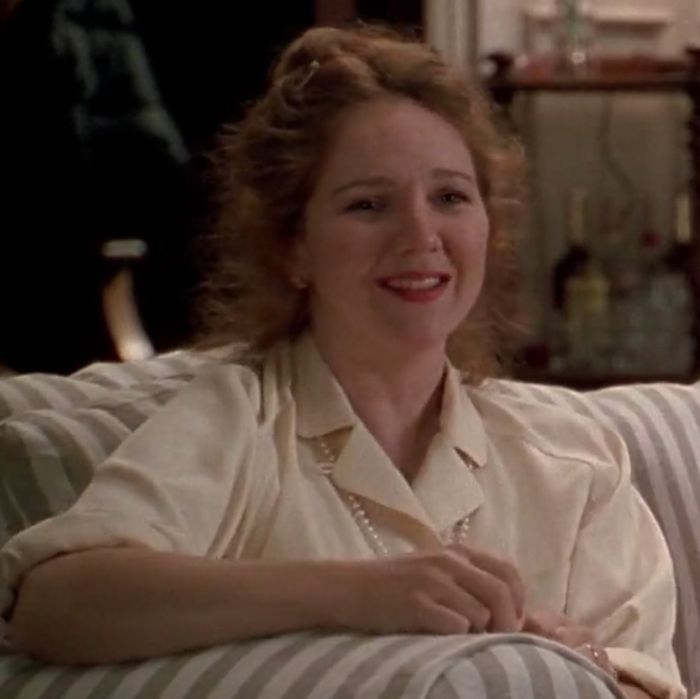 Actress and writer Lisa Jane Persky played Alice, the married redhead who counsels Sally (Meg Ryan) and Marie (Carrie Fisher), in When Harry Met Sally. On the occasion of the film's 25th anniversary, she agreed to share some thoughts with Vulture.

I just watched When Harry Met Sally for the first time since the premiere. I'm very excited about it, as much as I was when it opened. I tend not to watch things I'm in again for a loooong time. It's always easier to be objective about and more forgiving of myself after at least a decade — but in this case, only a few months before shooting the film, my best friend (a man, no less) had shuffled off this mortal coil quite unexpectedly. It was my first time in New York without him, and it was a big adjustment; I assumed that revisiting the film might unearth a host of unwanted feelings.
Anyway, I watched it, and I'm fine. In fact, I'm delighted that I did, because: Hell yes, the film holds up. People have actually asked me that: "Do you think it holds up?" And I ask them: Does love hold up? It's timeless. Hope is where we live, most of us. And When Harry Met Sally is a very hopeful movie, in spite of all the dark questions and generalizations and brooding and Ira.
The "Happily Married One"
I played Alice, Sally's other best friend, the married one. I'd worked with Rob Reiner on The Sure Thing, which is how I found myself with the role in "Harry, This Is Sally." (That was its title at the time. Does that sound like a hit?) It was an honor to have been offered it without an audition, and an honor to work with Rob again. He has one of the best laughs in all of show business: almost completely silent, but with a touch of audible air coming from his nose. That's the face you most want to see beside the camera at the end of a scene.
Because I hadn't auditioned, I felt much more pressure to be absolutely Alice. Alice was described only as "the happily married one." (I wanted to be that character in real life, too, but I had no idea what "happily married" was. I had to work on it — and that never ends.) "Happily married" people always appear to have some secret they're not sharing with singles, and sometimes it's just hard for unmarried people to be around them. Alice knows that. She's an Upper West Side mom — reined in a bit, more cautious about what she says than Carrie Fisher's Marie. She's worried about Sally being lonely, and she doesn't want her to fall off the market, even if it means having a starter marriage: "At least you could say you were married." It's an odd assumption that we humans make, that everyone wants the same things in life, or that they should, or even that everyone wants to be happy.
Baby Fish-Mouth
My first day on set — and this may have been the first day of principal photography, I'm not sure — we shot what has come to be known as the "baby fish-mouth" scene. The characters are all playing Pictionary, or something close; Sally is drawing a possibly puckered mouth for the clue "baby talk." We improvised our way into the scene and were shouting made-up answers when Bruno Kirby hurled his three magic words: Baby. Fish. Mouth. It was like the heavens opened up to receive us. As tremendous as Billy and Meg and Carrie are in the film — and they are the greatest of great, just perfect— when Bruno appears, onscreen movie-happiness amps up to the proverbial 11. He had an authority that carried him and everyone else to a greater level in their work. He is more than missed — as is Nora Ephron, the sharpest knife in our drawer.
(Almost) Meeting Lauren Bacall, and Other Adventures
While filming, Billy Crystal, Bruno, and I were all installed at the Essex House on Central Park South. One early evening after work, Bruno came by to invite me to have dinner with him and Billy in Billy's room. For the next few nights, we ordered Chinese food from around the corner while keeping at least three of our six eyes trained on NBC's broadcast of the World Series. (Yes, rooting for the Dodgers; it was Orel Hershiser's year.) As I remember it, we also discussed travel tips, baseball stats, and art-sex shows in Berlin that you might get dragged into "by accident." All talk was liberally peppered with Billy's and Bruno's reverence for the intoxicating and adorable beauty and intelligence of Meg Ryan (who was staying at an Upper East Side hotel). And I did not disagree — because who would? Almost everything Billy said was truly funny and in the kindest and most sincere way. More important, though, on the 20th  of October, the Dodgers won.
A few days prior to shooting the lunch scene at the Central Park Boathouse with our co-star, the Rolodex, Carrie Fisher had a birthday. By tradition, she and Penny Marshall had a joint birthday party, because they were besties and because their birthdays were October 21 and 15, respectively. The party was on October 22 at Pinchas Zukerman and Tuesday Weld's apartment on Central Park West. I could hear the laughter from inside the elevator on my way up. I opened the door to the apartment as much as I could, and there was Robin Williams, well into a routine with Carrie — she'd feed him lines, and he'd work them into something priceless. It was like being in yet another movie.
I got just inside the door when it all broke up. People I didn't know swanned around, speaking in mid-Atlantic Hollywood tongue. Carrie swept over beside me to say good night to Lauren Bacall and her entourage. "That's my cousin, somehow," I said to Carrie as the door closed. "Does she know?" "No," I replied. "Go tell her! Quick! Before she leaves!" Carrie said, as she opened the door and pushed me out. So there I was in the hall with Betty Joan Perske — better known as Ms. Bacall — waiting for the elevator. I was too stunned to speak. When it arrived, I got in with them, and that's more or less how I ended up locked in the basement, which somehow connected the entire block of buildings. I had to be rescued an hour later — but that's another story entirely.
The Alternate Ending
We needed this film when it came out. It filled a void. Being part of it filled one for me, at least. December of 1988 saw the first World AIDS Day and the barely spoken of thing here is that if we truly love, we risk everyone we carry in our hearts. I can tell you now that When Harry Met Sally was the last film I had maximum pleasure being a part of, in spite of my great loss. I always hope that I'll make another movie that fills me with the same excitement and satisfaction as this one did and does.
We love When Harry Met Sally because it's about love, and about how love happens for people in different ways. We love it because it's funny but not at the expense of honesty. We love it because it takes its time without being slow. We love it because it's not all bundled up with a lot of technology. We love it because of its hair and shoulder pads and its wagon-wheel table. We love its baby fish-mouth. If Harry and Sally didn't get together in the end — the original idea had been that they wouldn't, because it was more, you know, "realistic" — would it still be as wonderful? It's comforting exactly because everything that you want to have happen eventually happens. These people get together!