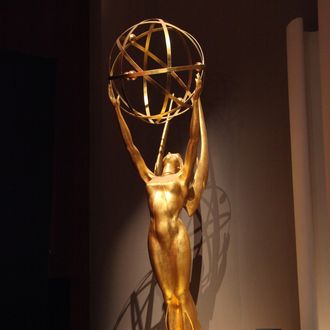 Photo: Tommaso Boddi/2013 Tommaso Boddi
Now that the 2014 Emmy nominees have been announced, it's time to flock to your TVs and watch every single one you've missed. It's way more fun to watching the Emmys when you actually know about the shows, so here's your guide to what's streaming (and where!). You have almost two months to catch up.
OUTSTANDING DRAMA

OUTSTANDING COMEDY
OUTSTANDING MINISERIES OR MOVIE
OUTSTANDING MADE FOR TV MOVIE
OUTSTANDING ANIMATED PROGRAM
Not enough for you? Watch Emmy-nominated episodes of Saturday Night Live featuring Jimmy Fallon, Tina Fey, and Louis C.K. (also with Emmy-nominated actress Kate McKinnon), Steve Buscemi on Portlandia, Kristen Wiig in The Spoils of Babylon, Ellen Burstyn in Flowers in the Attic, Jane Lynch on Hollywood Game Night … You'll have to find the rest on your own.