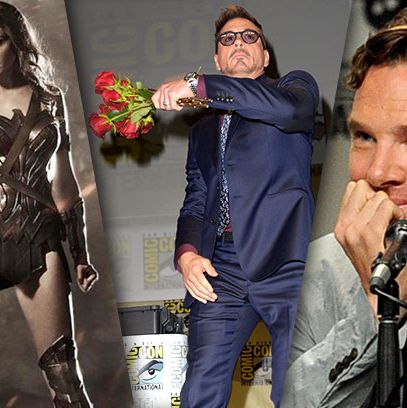 It's time to put your Winter Soldier costume on ice until next year, because Comic-Con 2014 has concluded, and with it, the rush of movie announcements and tantalizing trailers must end. Which movie properties came out ahead this past week, and which big-budget blockbuster hopefuls couldn't quite connect with their captive audiences? Here's our rundown of what worked and what didn't at Comic-Con 2014.
Most Game-Changing Trailer
You've since gotten to see the first teaser for Mad Max: Fury Road, but the extended trailer showed at Comic-Con was even more a thing of beauty, and the movie quickly skyrocketed to the top of most fans' must-see list. Those incredible visuals! The practical car stunts! Charlize's badass bald head! Lighting-laden sand tornadoes! We're all in.

Most Curious Trend
Comic-Con is usually the place where studios can spring their most epic surprises on us, but when it came to Marvel and Warner Bros., the audience already seemed to know more than either studio was willing to tell. Everyone came to Marvel's presentation expecting some surprise character and movie reveals, like Black Panther or Ms. Marvel (especially since the latter is rumored to show up in Avengers: Age of Ultron), but the studio mentioned neither superhero and didn't even bring up its next priority project, Doctor Strange, even though Joaquin Phoenix is known to be in negotiations for the title role. And though WB showed off a brief clip from Batman v. Superman: Dawn of Justice, there was no mention made of the leaked list of superhero movies that WB is planning afterwards, nor confirmation of the other heroes known to be making cameos in Dawn of Justice, like Jason Momoa as Aquaman. What were they waiting for?

Biggest Balls
I've got to hand it to Marvel chief Kevin Feige: I didn't expect that the very first person he'd bring out during the Marvel panel would be director Peyton Reed, who replaced Comic-Con emeritus Edgar Wright on Ant-Man after Wright butted heads with Marvel in pre-production. And while the applause for Reed was mild, the audience was so thrilled to see Ant-Man star Paul Rudd that their grudge seemed short-lived. Shame about the footage, though: Since Ant-Man hasn't actually started shooting yet, Feige showed off a computer-generated action sequence that wasn't nearly as thrilling or inventive as the Ant-Man test reel Edgar Wright shot and showed at Comic-Con two years ago.

Most Prolonged Gasp
Paramount hadn't mentioned Interstellar in the blurb for their Comic-Con panel, so when Matthew McConaughey made a surprise entrance in Hall H, the audience went nuts. But then! Then, McConaughey introduced director Christopher Nolan, who's never made a trip to Comic-Con despite his geek-god reputation, and the sharp intake of collective breath could be heard throughout the Hall. Nolan didn't say too much, but his enticing new Interstellar trailer did plenty of talking for him.

Biggest Head-Scratcher
At the end of the Legendary panel, studio chief Thomas Tull teased a brand-new film that would be released soon, then showed a trailer for Skull Island, presumably some sort of prequel to 2005's long-disposed-with King Kong. The audience didn't have a clue what to make of it, perhaps because most of the trailer seemed so been-there, done-that, from the portentous narration to the CGI creatures to the dark and stormy visuals. Around me, fans guessed they were watching some sort of announcement teaser for Pacific Rim 2 or At the Mountains of Madness; when King Kong roared and the title came up, you could feel the audience shrug instead of cheering.

Least Enthused
For the Batman v. Superman presentation, director Zack Snyder brought out two grinning stars, Henry Cavill and Gal Gadot, and one notably glowering one, Ben Affleck. Was Affleck wary of all the fanboys who'd crapped on his casting or just in a bad mood? Sweaty, morose, and determined not to crack a smile, Affleck looked like he'd rather be anywhere else but Hall H.

Most Beloved
Benedict Cumberbatch had the stage practically to himself during the DreamWorks Animation panel, and the fangirl shrieks after each of his utterances were truly something to behold. Cumberbatch was there promoting his voice work as a wolf in the new animated film Penguins of Madagascar, and the best bit of cognitive dissonance at the Con came whenever they'd show a clip from the movie and thousands of woman would scream out in lust at every glimpse of a cartoon wolf.

Biggest Missed Opportunity
Zack Snyder revealed Gal Gadot's Wonder Woman costume for the first time during Comic-Con, but nearly everyone at the Batman v. Superman presentation missed it: The picture showed up on a side screen, with Hall H house lights up, while Snyder talked about other pressing matters onstage. Sure, the director eventually tweeted the image after the panel, but he missed a great chance to officially present Wonder Woman's costume to thousands of plugged-in geeks in Hall H who would have surely given it their roar of approval, as they did Snyder's sliver of footage from the film.

Prettiest Upgrade
Joss Whedon's The Avengers was serviceably shot, but from the footage we saw of his sequel Avengers: Age of Ultron, Whedon has dramatically upped his visual style. Colors, filters, and camera angles looked gorgeous and ambitious, and the scale and scope of Ultron's world-beating carnage was far more vast than anything glimpsed in the somewhat hermetic battle of New York that ended The Avengers.

Most Weirdly Romantic Exchange
In a trailer WB showed for the wackadoodle-looking Jupiter Ascending, there's this delightful bit at the end between Channing Tatum's half-albino wolf-hybrid and Mila Kunis's secret space queen, where he deferentially claims to have "more in common with a dog than I have with you," and she responds with a lusty, breathless, "I love dogs, I've always loved dogs!" Romance is not dead, people.