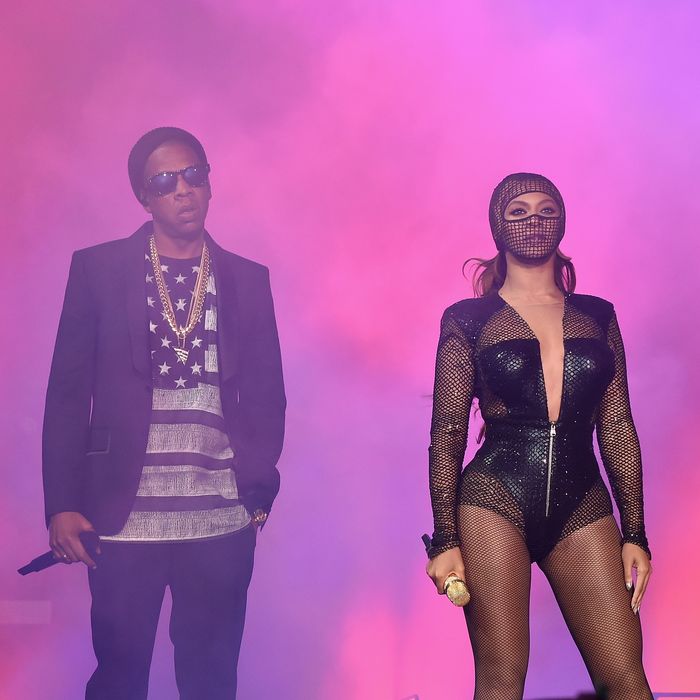 Photo: Larry Busacca/PW/Getty
This morning, the New York Post published its third recent attack on the most important couple of our time, Beyoncé and Jay Z, claiming the two are now more like business partners than romantic ones and that Beyoncé has been secretly hunting for an apartment of her own. Like the first story from July 19, both of the subsequent ones appear to be based entirely on the testimony of a single mysterious, very talkative "source close to the powerful couple." In a piece that ran over the weekend, the source goes on a mini-rant that makes him — we know it's a "him" because the Post uses male pronouns — sound like someone who has been slighted professionally by Jay Z: "[Jay Z and Beyoncé] don't subscribe to that 'teach-a-person-to-fish' thing … They'll give you a fish once in a while, but they let everyone know that they're the only sharks in the water. Jay hangs with some of the crew from Roc Nation, but he's doing bigger things than even they can keep up with." The source is still close enough to the Carters to supply insights like, "Solange was like, 'Enough is enough — you must be [screwing] Rihanna," which presumably rules out long-gone former associates like Dame Dash and Jaz-O. So who could it be?
Like any decent world-conquering superstar, Jay has a long list of enemies. But we've narrowed it down to a few possibilities. Tell us whom we forgot in the comments.
Suspect: J. Cole
Motive: He's Roc Nation's most successful signee, having sold 500,000 copies of last year's Born Sinner. And yet Jay didn't guest on Sinner, nor did he invite J. Cole to cameo on Magna Carta Holy Grail, fueling speculation that the two have beef.
Case against: J. Cole has denied any feud. And Jay has publicly supported his protégé on many occasions, even giving J. Cole his chain as a birthday present onstage at MSG.
Likelihood: We still can't really see J. Cole betraying his mentor like that, but it could've been a member of his entourage.
Suspect: Jay Electronica
Motive: He signed to Roc Nation in 2010, but the label still hasn't released his album. 
Case against: Jay Z just showed up during a Jay Electronica set last month. (But it was the first time in a long while.)
Likelihood: We wouldn't count him as the source. It's been a long time since 2010.
Suspect: DJ Mustard
Motive: Mustard signed to Roc Nation last fall despite never having met Jay Z personally. He didn't even get a congratulatory phone call. Still, Mustard told Vibe at the time, "I know in order for me to sign, he had to approve it."
Case against: DJ Mustard does not appear to know Jay Z.
Likelihood: While it is likely that DJ Mustard felt slighted by his boss's poor business etiquette, it's highly unlikely he knows any of the intricacies of the Carters' marriage.
Suspect: Kanye West
Motive: Jay Z and Beyoncé skipped Kim and Kanye's wedding, after which Kanye seemed to dis Jay by omitting his name from lyrics during sets at Bonnaroo and the X-Games. Then, Jay Z seemed to dis Kanye in his verse on the "Jungle" remix.
Case against: He has better things to do than to call the Post. And though he has a history of talking in the third person, this doesn't sound much like something Kanye would say (on why the Carters skipped the Kimye wedding): "Beyoncé wasn't going to allow a Kardashian to socially climb her. And Jay didn't want Kanye with Kim — he thinks it's bad for business. I think Jay lost a little respect for Kanye there."
Likelihood: Doubtful.
Suspect: Memphis Bleek
Motive: For years, he was Jay Z's loyal hypeman. But Jay didn't bring him along to Roc Nation, and these days he's been reduced to a Twitter punch line.
Case against: But has he been anywhere near Jay in the last two years?
Likelihood: It's possible? Sad, but possible.