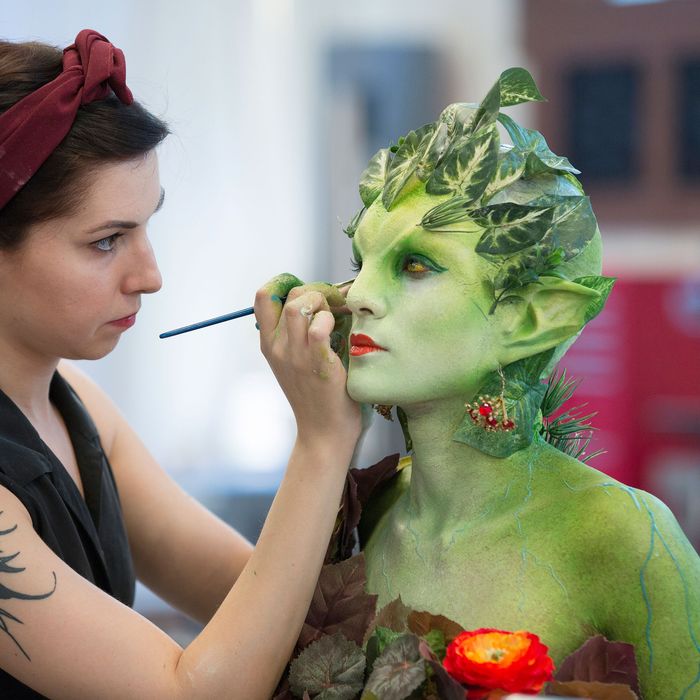 FACE OFF – "Life and Death" Episode 701 – Pictured: Dina Cimarusti – (Photo by: Isabella Vosmikova/Syfy)
Photo: Syfy/2014 Syfy Media, LLC
Syfy's competitive prosthetic makeup series Face Off returns for a seventh season tonight, as glorious and tenderhearted as ever. The show is one of my favorites, but despite actual years of insisting that everyone I know at least give the series a try, it appears some have not yet been persuaded by my persistence. I am at a loss — the show is everything there is to love about a reality contest show, without any of the bloating and awkwardness of other series. Perhaps there are other reasons keeping you away? Allow me to dismantle them.
I thought it was related to the Nicolas Cage movie Face/Off. A shocking number of people assume that it is. It is not! For better or worse, not everything has to be related to Nicolas Cage, even though the internet loves him sooooo much. I will admit, however, that Face Off leaves a little to be desired in the naming department: It's not as obvious as Top Chef or Best Ink, but it seems like "makeup" or "sculpture" in the title would be a turnoff to some.
I don't know if I even care about makeup. However you feel about the mainstream cosmetics industry, this isn't that. (Though if someone wanted to make a competitive show about traditional makeup artists, I myself would absolutely watch. C'mon, Style Network.) This is monster makeup — your Beetlejuice-like character designs, some aliens and ethereal creatures and stuff.
Reality shows are not my jam. Face Off belongs to the subgenre of reality contest shows, but even among that relatively higher-quality group, the show stands out for having very little forced awkwardness, comparatively little repetition, and next-to-zero infighting. The contestants all seem relatively competent, too, compared to shows like American Idol, where a huge percentage of the finalists are not meaningful contenders. A lot of the humiliation that's built in to most reality shows is absent from Face Off.
All those shows are so fake. Who even cares? Everything is a farce, all identity is mere performance, and authenticity is a made-up idea designed to sell you powdered packets of brown gravy.