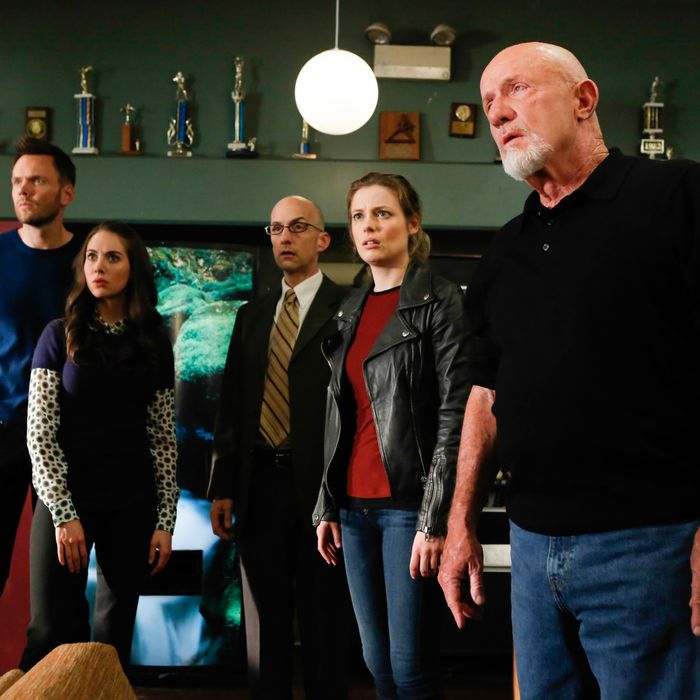 COMMUNITY – "Advanced Advanced Dungeons & Dragons"
Photo: Vivian Zink/NBC
Yesterday's news that Community has been saved (again) was obviously a wonderful surprise for the show's small army of loyalists. But the announcement has also reverberated throughout the TV business over the last 24 hours — not so much because the show lived rather than died, but because of how it ended up being rescued. It wasn't a traditional broadcast or cable network, or even an established video on demand player that saved the day, but Yahoo, the ubiquitous internet company that heretofore hasn't had a sizable footprint in the full-length, scripted series space. After Netflix's success with House of Cards, the idea of "legit" TV content living online is no longer in and of itself a big deal. But Yahoo, with its emphasis on advertising over subscription fees and its huge, huge audience reach, does take the idea of non-linear TV up several notches. It's a big player with deep pockets, and its decision to fund at least one (and maybe more) seasons of well-known property is, to paraphrase Vice-President Biden, a big effing deal, one that raises several questions about Yahoo's goals and what it all means for audience. Here are five such queries and our best attempts to answer them:
1. A basic question: When (and how) will we be able to see season six of Community?
A complicated answer: soon-ish. Kathy Savitt, chief marketing officer for Yahoo, told Vulture yesterday that new episodes would bow "before the end of this year," and that, while a final decision hadn't been made, installments would roll out weekly rather than all at once. "The Community fan base is a loyal and ardent fan base," Savitt says. "They deserve to start to watch their show as soon as possible." But! Asked about this on Twitter on Tuesday, Harmon seemed a bit less ready to commit to a 2014 premiere, or at least a "fall" premiere. When a follower asked Harmon about a "fall" debut, he said that the show "can't" be on that soon. "We start writing it this fall," he said. It could all be semantics, though: Fall doesn't end until December 20. If the show's writers get started in December   September,  it wouldn't be wholly impossible for at least one episode — maybe a holiday-themed half hour — to make it onto Yahoo before 2015 dawns. That said, it does seem clear fans won't have to wait too long for season six.
2. Why is Yahoo sinking millions into a modestly rated show that seems to be nearing the end of its natural life span?
It's tempting to simply say, "Because it can." The company, after all, has over $1 billion cash on hand, making any investment in producing a TV show a relative blip on the company's financial statement. Neither Sony nor Yahoo will talk about how much the company is paying, but the company's all-in costs are likely somewhere between $10 million and $20 million, tops, based on the usual license fees broadcast and networks pay for half-hour comedies. Yahoo CEO Marissa Mayer has shown a willingness to invest heavily in content and talent, and while $20 million isn't exactly pocket change, it's not an extraordinary sum for a new media giant such as Yahoo. (Apple spent over $3 billion on a headphone company; the Community deal is a rounding error by comparison.)
A more serious answer to why Yahoo is doing this: It wants to wring more money out of advertisers, and full-length TV shows with passionate fan bases are (as TV networks have proven for decades) very valuable to Madison Avenue. Like the free version of Hulu, Yahoo makes money off of video streaming by selling ads against programming (rather than subscription fees, which is the Netflix model). As one of the giants of the net, Yahoo doesn't need help getting eyeballs to its various sites; plenty of people click on a Yahoo destination all the time. What the company wants is for people to stay longer and engage more deeply with its content. And as Savitt notes, the Community fan base is "a force of nature," one that dissects, debates, and delights in virtually every frame of the show. Yahoo will be able to charge advertisers a premium over its usual rates in order to reach these viewers. Even if the increase in ad dollars doesn't make up for the money invested in Community — and it probably won't — Yahoo is buying enormous publicity for its Yahoo Screen platform, which is where the Greendale gang's season-six adventures (and a few other new shows) will live. Just as House of Cards announced Netflix's arrival as a destination for video consumers, Community will be Yahoo's flashiest calling card.
3. What other original TV content is in the works at Yahoo?
Back in April, the company unveiled two new comedy projects: Bridesmaids director Paul Feig's Other Space and Varsity Blues producer Mike Tollin's Sin City Saints. Feig's show is about a motley crew of "over-matched rookies, feuding siblings, burned-out veterans and obsolete robots" who stumble upon an alternate universe filled with strange and dangerous beings. Saints, meanwhile, revolves around an internet billionaire who buys a Las Vegas–based basketball team and "quickly finds he's in over his head." Yahoo has ordered eight episodes of both shows and plans to debut all episodes of each show at once sometime in 2015. In addition, Yahoo has done a deal with music giant Live Nation that's bringing live streaming of hundreds of concerts to the site. Savitt won't say how many more shows Yahoo plans to order, but hints these three are just a start: "We will continue to be very disciplined and very aggressive," she says, saying she's looking for shows with "deep stories" that can engage users. (If Yahoo is looking for more shows with passionate audiences, it might do well to consider a pair of programs prematurely discarded by broadcasters this year: Fox's Enlisted and ABC's Trophy Wife. Both have strong online followings, with the Enlisted producers engaging with fans at an almost Harmon-like level of intensity.)
4. How many online players can jump into the original series business? The marketplace sure is getting crowded.
Yup: Lots of companies are looking to offer "premium," series-length video content to viewers via the internet. In addition to the big three subscription services — Netflix, Amazon Prime, and Hulu Plus — both Microsoft and Sony have made moves to offer TV-quality scripted shows to its respective Xbox and PlayStation platforms. (Science fiction thriller Humans is expected to bow on Xbox next year, while Community producer Sony Pictures Television is adapting comic book Powers as a series for the PlayStation Network.) Considering nobody even really took web-based series programming all that seriously before House of Cards debuted just last year, it's pretty extraordinary that we now have six potentially big players vying to become "networks."
And yet, really, the space actually seems pretty wide open when compared to traditional, linear TV, where literally dozens of networks now offer scripted shows with decent-size budgets. Sony programming co-chief Zack Van Amburg, who was instrumental in bringing Community to Yahoo and reviving Powers on PlayStation after FX halted development of the show, is not at all concerned about the surge in new outlets. "There's no reason to expect that some sort of bubble is about to burst," he says. "These companies all have multiple revenue streams. I think there will be a lot more growth that happens there."
Plus, the online players all have slightly different business models. Netflix is like HBO: The only way to (legally) gets its content is to pay a monthly fee. Hulu also has a monthly fee for Hulu Plus, but also lets users watch later (and with lots of ads) via basic Hulu; Amazon charges by the year, but offers users everything from free shipping to free music streaming, with video a fringe benefit. Microsoft has been looking to put its shows on traditional broadcast outlets as well as online (Humans will run on the U.K.'s Channel 4); you'll probably need a PlayStation and a subscription to its premium service to see Powers. And Yahoo? For now, it's totally free and supported by ads. What's more, unlike Netflix or Hulu, Yahoo isn't relying on TV shows to make the bulk of the company's money. TV is more of a side project (albeit a very important one). That means, for now, Yahoo can afford to take some chances and experiment. Community "working" is not live or die.
5. Is it possible Yahoo might try to turn Yahoo Screen into a subscription service, like Netflix? Would users have to pay to watch Community?
It's always an option, but if that's the plan, Yahoo marketing chief Savitt isn't letting on. "We are really interested in developing advertiser [supported] video on demand," she told us. "We've done some interesting things with some of our advertisers and sponsors … [and] we're in it for the long haul of building Yahoo Screen. Yahoo's stated business model for Yahoo Screen is [advertiser video on demand]." But could that change, perhaps with future shows or future seasons of Commumity? "I can't talked about SVOD (subscription video on demand) at this point," Savitt says. Whether Savitt does have SVOD plans or is simply reserving the right to make such plans in the future is unknown. Having big shows such as Community gives Yahoo plenty of options, though.