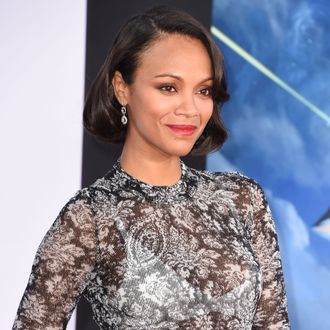 Photo: Steve Granitz/Getty
Do you get offended by the idea of someone mistaking one black actress for another black actress just because both are black actresses? Zoe Saldana doesn't. In this week's Hollywood Reporter cover story, the Guardians of the Galaxy/Star Trek/Avatar star is prompted to recall a story in which her mother thought she was in Crash, because she saw Thandie Newton in the film's poster. Then Saldana, an Afro-Latina of Puerto Rican and Dominican descent, explains why it's totally understandable:
I've gotten Kerry Washington and Jada Pinkett, too, but mainly Thandie. People ask me if I'm offended that I'm confused with every other black actress out there. "Doesn't it bother you that people think you're all the same person?" No. Because one time I entered a restaurant and there were all these beautiful blond girls around a table, probably all from Orange County. It felt like it might have been a high school reunion or something. There were like 20 beautiful girls, but they were all the same. I couldn't tell any of them apart.
So you see? It's totally understandable.