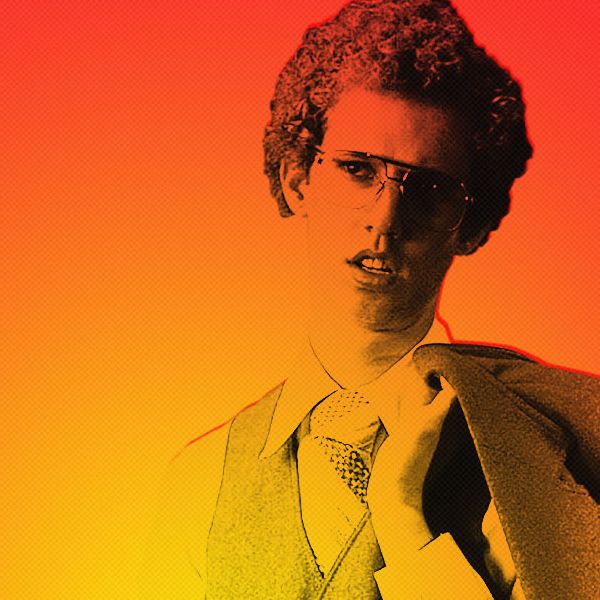 Photo: Maya Robinson and Photo by Everrett Collection
Roam the 20th Century Fox lot in Los Angeles, and you'll come face-to-face with several of the studio's cinematic heroes. On one building, you might see a mural of the characters from Star Wars, which Fox distributed. Adorning another soundstage, there's a blown-up image of Bruce Willis wriggling through the air ducts in Die Hard. Head towards the Fox Searchlight offices, though, and you'll find a bronze statue honoring the most unlikely studio hero of them all. This six-foot-plus figure wears dorky glasses and a VOTE FOR PEDRO shirt, his brow furrowed and mouth flared as if caught in the middle of a frustrated, G-rated expletive. Nearby, there's even a tetherball you can place in the bronze nerd's outstretched hands.
"Statues are always a little creepy, and this one is definitely a little creepy," laughs Jared Hess, who never could have anticipated this sort of tribute to his tot-loving title character when he directed the comedy Napoleon Dynamite, which came out ten years ago. "But it's there forever, I guess!"
His star Jon Heder was on hand for the June unveiling of the statue — meant to commemorate both Napoleon's tenth anniversary and Fox Searchlight's 20th — and he's similarly dumbstruck. "I still don't know what to make of it," Heder says. "Like, 'Oh my gosh, there's a statue. How odd.' It's awesome, but something like this was never on my bucket list or anything, so it's pretty sweet."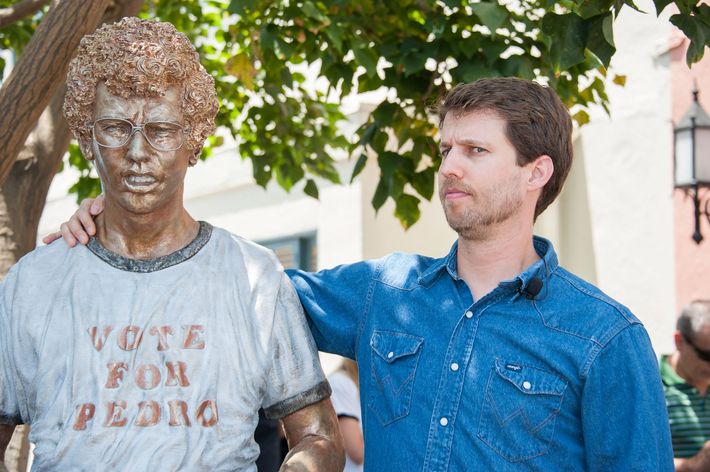 That Heder would end his sentence with an unconscious callback to one of Napoleon's most famous lines may indicate two things: How deeply Hess and Heder were steeped in their character's quirks when they made the film, and how quickly Napoleon penetrated pop culture when the movie debuted ten years ago at the Sundance Film Festival. Tonight in Los Angeles, Sundance will return the favor by kicking off its NEXT Fest with a special anniversary screening of Napoleon at the Hollywood Forever cemetery, featuring cast and crew from the movie in attendance. (Just don't expect to see either Heder or Hess there — the former is spending the week at a family reunion, while the latter is busy directing Loomis Fargo, a comedy starring Zach Galifianakis, Owen Wilson, and Kristen Wiig.)
"There's a magic to seeing it in the theater with these people who are genuinely laughing hard at every little nuance," says Heder, who's been to several anniversary screenings of Napoleon this year. "It's a quiet film, so you can really experience the audience when you watch it — you hear every little comment and snicker."
That Sundance would be willing to honor Napoleon with this screening still surprises Hess, who adapted the film from his short Peluca, which played at rival fest Slamdance in 2003. Hess had hoped to make the jump to Sundance after finishing Napoleon, but his hopes were dashed when a producer submitted a rough cut with no music to the festival over Hess's strong objections. "I said, 'Let's wait another year until it's more polished.' I was really bummed out, really upset," remembers Hess. He needn't have worried: The film got in anyway, and became one of the fest's buzziest must-sees.
"My life changed there," says Heder, who hadn't planned on becoming a professional actor until Napoleon's Sundance debut. "We were on cloud nine the whole time. Jared was more nervous — I remember him kind of dry heaving a bit before the first screening."
"I was so nervous!" Hess laughs. "I thought, This will either be the beginning or the end for me. People will either understand the film and enjoy it, or I'm gonna hear crickets." Hess started to relax when the audience tittered at the first sight of Napoleon and his Trapper Keeper, and especially later on, when people burst into applause at one slo-mo shot of Napoleon strutting: "That was the moment for me where I was like, 'Okay, I think we're going to be able to sell this movie.'"
That they did: Fox Searchlight quickly swept in and plunked down $3 million for the indie, setting a summer 2004 release date. Still, Hess had his concerns. "I'd read enough stories about filmmakers who had a successful festival experience and then their movie got shelved," he recalls. Would Napoleon's super-weird sensibility strike a chord with general audiences, or would they find Pedro, Uncle Rico, and all the rest too off-putting?
Hess's worst fears were confirmed months later when Searchlight held a research screening in a San Fernando Valley mall, the audience comprised mostly of moms and young children. "It was not a good test screening," he notes dryly. "Afterwards, some guy in the front row was like, 'I was convinced Uncle Rico was gonna rape Deb.' It was everything you didn't want said at a focus group. The cool thing was that everyone at Searchlight was like, 'Jared, don't worry about it. That was not the right audience. We love this film, and we're going to make sure it finds its people.'"
A team-up with MTV Films helped pitch the movie toward a more receptive, college-age crowd, and Napoleon finally flourished after its June 2004 release, taking in $46 million on a $400,000 budget. Since then, Heder says, the audience has only grown. "I hear all the time about families watching it together every year, like it's their Christmas movie," he says. "You won't know who the original fan was — it could be Grandpa, it could be Mom, it could be the 10-year-old kid."
Initially, all that attention was an odd thing for Heder to grapple with. "It was weird, because it almost felt undeserved," he confesses. "If I'm hanging out with friends and I make a funny joke, then I'm earning that spotlight, but it's different if I'm just standing in line at a restaurant to get a sandwich and people would come up to me. It wasn't satisfying. I mean, people were coming up to me because they loved the film, and that always feels great, but I wasn't looking for attention."
At first, Heder sought to capitalize on his heat, taking a role opposite Will Ferrell in Blades of Glory, hosting Saturday Night Live, and even voicing a short-lived animated version of Napoleon Dynamite that aired on Fox. "But for a little while, it was difficult to adjust to and fully comprehend," says Heder, who's mostly worked in indies since. "I was very nice about it, but I was always going over it in my head and trying to rationalize the attention and my behavior, to make sense of it. Then, a couple of years ago, I just was like, I can't let it bother me anymore! Just roll with it. This is just how your life's gonna be."
Now, Heder simply views the attention as a testament to how well his most famous film holds up. "It can be a good thing," he says. "You always hope that people will remember your film and that it'll have that longevity." When superfans assemble tonight for the NEXT Fest screening, says Hess, it's every bit as meaningful to him as that first Sundance premiere — the difference being that now, the audience can quote the film backwards and forwards. "It's special to see how people have ownership over the film," he says, adding, "They know it better than I do."