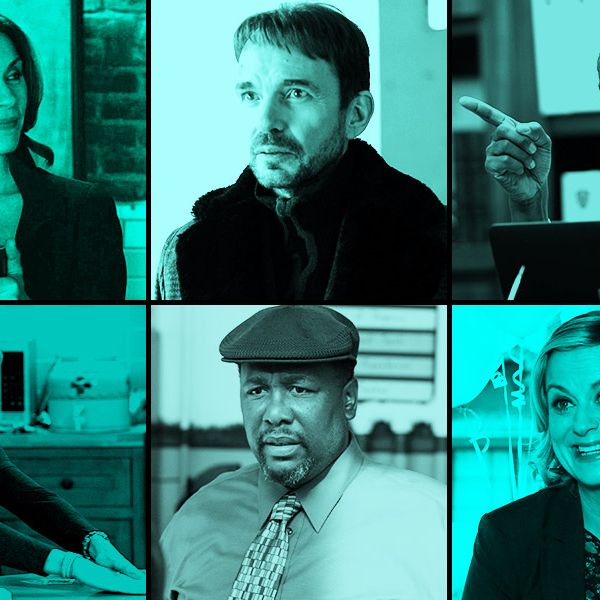 Photo: Maya Robinson and Photos by CBS, FX, FOX, HBO and NBC
Here are the 19 people and programs I'll be rooting for when the Emmys are handed out tonight. Please know that I'll probably spend half the night (which I'll be live-blogging) grumbling that a lot of my favorite shows and artists got snubbed — for my list of grievances, click here — but since the purpose of this piece is to celebrate the best of what did get nominated, I'll refrain from bringing them up here. Let's proceed.
Lead Actress, Drama
My heart belongs to The Good Wife's Julianna Margulies, partly because the show wasn't nominated in Best Drama despite having its best season ever, but mostly because Margulies has a quiet, reactive excellence that's easy to take for granted. As a friend put it, her silences speak volumes. It's an old-fashioned movie-star performance; that doesn't mean I don't appreciate the other excellent performers in this category who are working (mostly) in a more deliberative or heightened key, just that it's too easy to underrate a performance that's as measured as this one.
Lead Actor, Drama
I have a feeling they'll give this one to Matthew McConaughey for True Detective, because he's still got Oscar afterglow and played the hell out of one of the most eccentric and original lead characters since The X-Files (Agent Mulder) or Twin Peaks (Agent Cooper). If I'm wrong and the glow has ebbed, it'll go to Bryan Cranston again, because he was ferociously powerful in Breaking Bad's final run of episodes. I'll be fine with either outcome. But the longer I sit with the memory of Jon Hamm's performance in the first half of Mad Men's final season, the more impressive it seems. To nearly everyone's surprise, Don Draper climbed out of the pit he'd been marinating in throughout seasons five and six and regained some measure of equilibrium; Hamm played this transformation in such a patient and measured way, letting his eyes and hands give away truths that his salesman's voice successfully hid, that you didn't fully register that a healing was in progress until some of the visible fissures in Draper's broken vessel had healed.
Supporting Actress, Drama
Anna Gunn, Breaking Bad, all the way. Her terror, despair, and resolve anchored a stretch of episodes so intensely chaotic that at times the show seemed to spin wildly (if deliberately) out of control. Also, a win would stick it to the Skyler haters one last time.
Supporting Actor, Drama
I have a feeling Josh Charles will take this for his work on The Good Wife, because duh (you know what I'm talking about). If so, hooray; he's never not excellent. But I'm rooting for Aaron Paul on Breaking Bad, who spent nearly the entire final stretch of Breaking Bad suffering and suffering and suffering some more, but with a vulnerability and sly humor that somehow kept Jesse Pinkman's arc from teetering over into sadomasochistic excess.
Outstanding Writing, Drama
Moira Walley-Beckett, Breaking Bad, "Ozymandias" — the episode with the phone call. How many hundreds of thousands of words of analysis did that episode spawn? How many hundreds of thousands of heated comments did it playfully coerce? It was a landmark hour of television. My runner-up would be Nic Pizzolato for "The Secret Fate of All Life," the episode of True Detective that sealed the Dora Lange investigation, killed off Reggie Ledoux and his partner, and introduced yet another time period into a story that already unfolded across two; all that plus a truth-concealing back-and-forth storytelling structure invested the hour with a nearly Chinatown-like aura of moral rot.
Oustanding Direction, Drama
Boardwalk Empire, "Farewell Daddy Blues," directed by Sopranos veteran Tim van Patten, who really knows how to bring the splatter but also demonstrated a gut-bucket bluesy poetry in the dramatic and musical moments that might have reminded Western fans of Sam Peckinpah in floating-down-the-river-while-drunk mode. Runner up: Game of Thrones' "The Watchers on the Wall," directed by Neil Marshall (The Descent), one of those gigantic "bottle" episodes that the show does so well. So much purplish melodrama, so much hacking and chopping, so many great images and intricately choreographed camera moves; the damned thing just never let up.
Best Drama
I'll be happiest if Breaking Bad or True Detective take it. The former was more consistently excellent, but the latter mixed comic banter, obsession, dread, superstition, ugliness, graphic violence, and sentimentality in equally surprising ways — and the second half of the finale took a detour into poker-faced-comic-book-Christ-figure mythologizing that was unexpected and altogether delightful.
Best Actress, Comedy
Amy Poehler of Parks and Recreation needs to win this, for incarnating one of the most appealingly good-hearted human steamrollers this side of a Christopher Guest movie, and for being awesome in pretty much every way.
Lead Actor, Comedy
I don't really love anybody in the category, though Louis C.K.'s flagrant attempt to make us distrust and dislike a character we'd been basically rooting for over three seasons deserves some sort of citation for counterintuitive chutzpah (maybe that's more about the writing, though). I am actively rooting against Ricky Gervais in Derek, though, because I find both the character and the series rather sickening.
Supporting Actress, Comedy
Allison Janney on Mom plays a character we rarely see on TV: somebody damaged but not broken, mature but unabashedly sexy, and alternately self-serving and kind. And she never oversells any of it. This might be the best role she's ever had, and you can tell by the gleam in her eye that she knows it and isn't about to take it for granted.
Supporting Actor, Comedy
Andre Braugher, Brooklyn Nine-Nine, is the only right choice here. Anybody who's followed the man's career knows how funny he is — he was ruefully hilarious on Men of a Certain Age, and his Frank Pembleton on Homicide was a stitch even when he was railing against the injustice of the universe and quoting the wisdom of the Jesuits. But I don't think he's ever seemed more like a natural-born comic genius than he does here. He does more with one slightly raised eyebrow than a lot of actors can do with a monologue. Runner up: Adam Driver on Girls. Why the internet has not yet produced a supercut of his character's many strangled grunts, sighs, and stammers is a mystery. (If such a thing exists, please show it to me now.)
Writing, Comedy
Silicon Valley, "Optimal Tip-to-Tip Efficiency," by Alec Berg. As my colleague Odie Henderson put it,"For an episode so focused on hand jobs, it's no surprise it resolves itself with a happy ending."
Direction, Comedy
Louie C.K. for "Elevator, Part 6" on Louie. As Vulture's Danielle Henderson put it, "Amia's sad ending isn't that sad after all." Also: best low-budget hurricane ever.
Lead Actress, Miniseries
Cicely Tyson as Carrie Watts in The Trip to Bountiful. Geraldine Page won an Oscar in this part. Five minutes into this re-imagining I forgot all about her. A career-capping performance by one of America's greatest actresses.
Lead Actor, Miniseries
Billy Bob Thornton as Lorne Malvo on Fargo, one of the great funny psycho characters in recent memory. They should give it to him just for the Novocaine anecdote alone.
Supporting Actress, Miniseries or Movie
Alison Tolman should've been up as Lead Actress for Fargo, but that's okay. She'll take this one, and next year they'll put her in the right slot, and maybe she'll win again. What a Cinderella story this was! And to watch her onscreen you'd think she'd been carrying cable dramas for most of her life.
Writing, Miniseries
Treme, "To Miss New Orleans," by David Simon and Eric Overmyer. One of the best send-off episodes I've seen. Man, how I wish more people had watched this show.
Directing, Miniseries
Ryan Murphy, The Normal Heart. Pretty much everyone I know who watched this movie had one or more big problems with it, but I thought it was the perfect adaptation of Larry Kramer's play: loud, passionate, messy, sad, furious, wise, self-aggrandizing, and utterly unconcerned with whether you approved of its methods.
Miniseries
Treme. See above. Every episode was as good as that brilliant finale.