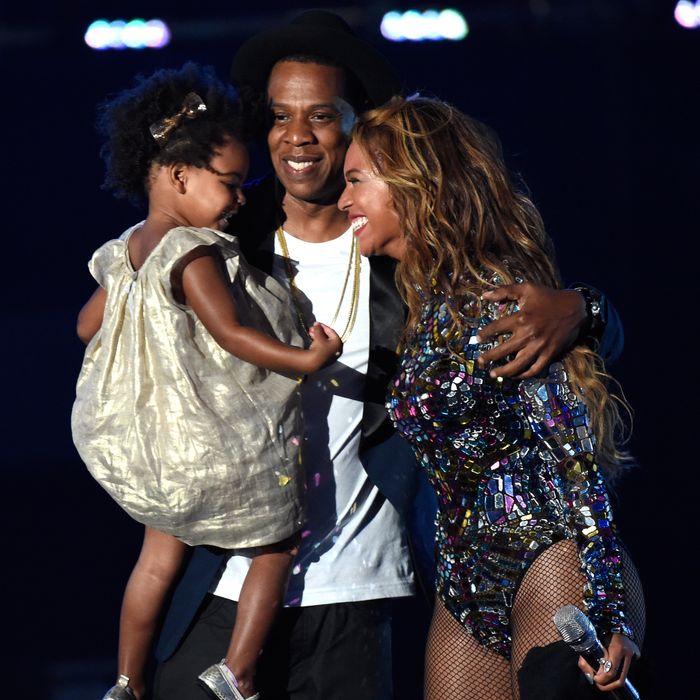 Photo: Kevin Mazur/MTV1415/2014 Kevin Mazur/MTV1415
Foam fingers, once so important at the MTV Video Music Awards, had no place at this year's edition: Few of the musical numbers were memorable enough to prompt a triumphant finger in the air, and none of the performances were scandalous enough to justify pointing that prop at a pop star's privates. Though tonight's VMAs were notably more subdued than last year's controversial, Miley-fueled music spectacular, there were still some highs and lows worth talking about. Won't you join us for a recap that rockets through those peaks and valleys?
HIGH: Beyoncé and her family
Let us first discuss Beyoncé's show-closing medley, comprised of every song from her latest album. In theory, that is a great, staggering idea; in practice, because of the sheer breadth of music that needs to be quickly zoomed through, it's a concept that takes advantage of Beyoncé's stamina but little else she has to offer. The moment everyone will be talking about, though, wasn't anything from the actual performance: Instead, it's the indelible sight of the always-composed Beyoncé coming oh-so-close to losing it as Jay Z and Blue Ivy finally came onstage to present her with the Vanguard Award. The Knowles-Carter family has put up a united front this summer as storm clouds of gossip begin to gather, and more than anything else, this minute of emotional family togetherness will bat those rumors back.
LOW: Jay Pharaoh
Was there anything more foreboding said during this broadcast than the phrase "Once again, please welcome Jay Pharaoh"? Through his ubiquity as a presenter, Pharaoh became the broadcast's de facto host, and the Saturday Night Live star's unerring impersonations couldn't make up for his weak material. If you're going to make fun of Drake in the "Anaconda" video after the internet has already made every possible joke about it, you had better bring it. And when your big joke is that Drake looked like a guidance counselor, that is less like bringing it and more like forgetting to bring it with you and calling your mom to go pick it up.
HIGH: Jesse
If you are the sort of person who thinks that Miley Cyrus's Sacheen Littlefeather situation — where she sent a suuuuuper-hot homeless guy to accept a VMA in her stead — should be considered a LOW and not a HIGH, then you are on the wrong site. Near the end of a sleepy broadcast that was simply crying out for an unexpected water-cooler moment, who better than last year's most-talked-about VMA vixen to provide it? Sure, there were questions: Who was this Jesse, and where did Miley find him, and does he have a shirtless Instagram account, and is the Drudge Report going to tell us that he actually hails from a rich Massachusetts family, and are we gonna go to Hell for wondering all of these things, and should we actually go check out Miley's Facebook page? The answer to all of these burning questions was: "Yay, fucking finally, something happened!"
LOW: Trey Songz
Introducing the rock nominees, he snidely noted of Lorde, "There's even a lady in the mix." Yeah, and she won, asshole.
HIGH: The backstage cameras
If you went to MTV.com, you could pull up live-feed cameras trained throughout the broadcast on Katy Perry, Taylor Swift, and the Kardashians, and these cams provided all the drama that was lacking from the actual broadcast. Would anything provoke Kim Kardashian to look up from her smartphone? (Yes: Jay Pharoah's jokes about her, and the introduction of Kardashian family enemy Rita Ora.) Would Taylor Swift arm-dance with abandon? (Yes, most vigorously to "Black Widow," while flanked on both sides by Lorde and Jordin Sparks.) Would Katy Perry ever pay attention to her plus-one, Riff Raff? (No, she was way more interested in her new BFF Sam Smith. Sorry, poor, neglected Riff Raff.)
LOW: All the Olds
The very point of the Video Music Awards is to fill them with ostensibly famous people who have you saying, "Who is this child?" and then checking the mirror for new rings around your neck. This year, though, MTV took things in a positively Grammy-esque direction by filling the presenter call sheet with famous people over 40. Jim Carrey! Snoop! Gwen Stefani! Jimmy Fallon! By the time the 59-year-old Jeff Daniels started cracking jokes about his low testosterone while presenting the award for Best Pop Video to Ariana Grande (who presents as a 12-year-old children's doll), the culture clash had become positively unnerving.
HIGH: Cutting to Kim Kardashian during "Anaconda"
We see what you did there, MTV.
LOW: The weird Robin Williams tribute
Don't get us wrong: Robin Williams was a terrific performer who deserves most of the tributes he's gotten since his death, including the montage he'll no doubt be starring in during tomorrow's Emmys telecast. But wedged awkwardly into the broadcast before a commercial break, the VMAs "in memoriam" moment felt more like a postmortem bandwagon hop than something truly authentic, and its slapdash montage of still photos drew immediate criticism.
HIGH: Proficiency
People sang and danced well, mostly? Good job on your singing, Sam Smith. Good job on your dancing, Usher. Good job on continuing to be Maroon 5, Maroon 5. There were a couple of "eek" moments — Ariana Grande came in way too low on "Break Free" before recovering for "Bang Bang," and Taylor Swift couldn't go as high as she needed to for "Shake It Off," instead relying on a charming collection of backup dancers dressed and styled like Channing Tatum at the Oscars — but even the bad parts caused a few ripples. Which brings us to the last LOW …
LOW: So few ripples
Last year, Katy Perry closed the VMAs with a serviceable, forgettable rendition of "Roar" that actually would have been one of the standouts if she'd performed it tonight. What a difference 12 months make: Last year gave us Miley, Kanye, Gaga, "Same Love," and an 'N Sync reunion; this year, there was a performance by 5 Seconds of Summer. What I'm saying is, oof. We've already talked at length about the current music vacuum that's led to an underwhelming song of the summer, and nowhere was that dire situation more deeply felt than at tonight's VMAs. Ariana Grande's ponytail looked healthy, but the state of the music industry? Not so much.