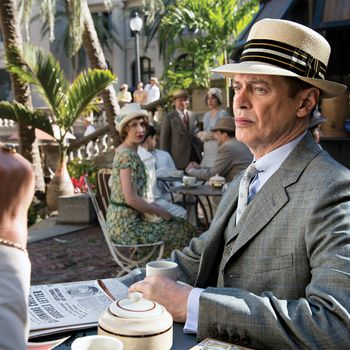 Steve Buscemi as Nucky Thompson (here, in Havana) in Boardwalk Empire's fifth and final season.
Photo: Macall B. Polay/Courtesy of HBO
Hopefully, you've had a few minutes to play around with our Fall Entertainment Generator. But if you're looking for straight and simple lists of things to look out for by medium, we'll be breaking them out separately. Here's a look at fall television.
MONDAYS
Gotham
Fox, 8 p.m. (Sept. 22)
Holy prequel, Batman! Ben McKenzie stars as young Jim Gordon, navigating a city teeming with DC Comics vigilantes and villains, including Jada Pinkett Smith as Fish Mooney, a sadistic gangster boss and nightclub owner.
Scorpion
CBS, 9 p.m. (Sept. 22)
It's finally time for the I.T. TV hero. This procedural focuses on a Homeland Security coven of crime-fighting nerds led by Elyes Gabel (Game of Thrones).
Jane the Virgin
CW, 9 p.m. (Oct. 13)
This one is based on a Venezuelan series: Gina Rodriguez plays a telenovela-obsessed 23-year-old virgin who gets artificially inseminated thanks to a medical mishap. It's set in Miami, to keep the Latin flavor.
State of Affairs
NBC, 10 p.m. (Nov. 17)
Katherine Heigl leans in as a maverick (of course!) CIA officer turned daily briefer to the president.
TUESDAYS
Utopia
Fox, 8 p.m. (two-hour premiere Sept. 7; Sept. 9)
And now something from Holland: John de Mol, the man behind the wildly popular, dystopic-nonsense reality show Big Brother, has a new televised social experiment, in which 15 Americans spend a year in an isolated location, building a civilization from scratch.
Forever
ABC, 10 p.m. (Sept. 23)
New York's star crime-scene examiner, Dr. Henry Morgan (the eternally rakish Ioan Gruffudd; guess he's seen it all, right?), also happens to be an immortal. From Matt Miller (Chuck, 666 Park Avenue).
Makers
PBS, 9 p.m. (Sept. 30–Nov. 4)
Expanding on last year's documentary about the modern American women's movement, each episode of this six-part series examines how women broke through in fields once closed to them.
Manhattan Love Story
ABC, 8:30 p.m. (Sept. 30)
An arrogant native New Yorker (Jake McDorman) and a small-town import (Analeigh Tipton) navigate love in the city. Warning: The show includes potentially infuriating internal monologues (I might go back to his place … Wait! Did I shave my legs?! / Did I leave porn lying around?).
Selfie
ABC, 8 p.m. (Sept. 30)
A vacuous social-media star (Karen Gillan) hires a brand consultant (John Cho) to repair her damaged insta-celebrity after a compromising video goes viral.

The Flash
CW, 9 p.m. (Oct. 7)
Grant Gustin stars as that speedy young super-hottie.

Town of the Living Dead
SYFY, 10 p.m. (Oct. 7)
An unscripted series follows a bunch of small-town Alabamians as they attempt to make an indie horror film.

Marry Me
NBC, 9 p.m. (Oct. 14)
A welcome return to TV for two offbeat comedians, Casey Wilson (Happy Endings) and Ken Marino (Party Down), who play a lovesick couple determined to stage the perfect proposal. Expect mayhem, gay dads (Tim Meadows), and aggressive karaoke.
WEDNESDAYS
Red Band Society
Fox, 9 p.m. (Sept. 17)
What about setting The Breakfast Club in a pediatrics ward, narrated by a young man in a coma who can hear everything going on around him? Starring Octavia Spencer, it's based on a Spanish series and more about life than impending death.
Black-ish
ABC, 9:30 p.m. (Sept. 24)
Anthony Anderson stars in this assimilation farce that asks: How do you teach your kids how to be black when they grow up in a mostly white suburb?

The Mysteries of Laura
NBC, 8 p.m. (Sept. 24)
Another Spanish import, this one stars Debra Messing as a homicide detective who's in the middle of divorcing her also-a-cop ex, Josh Lucas (Caliente!). Their kids are notably bratty.

Stalker
CBS, 10 p.m. (Oct. 1)
Kevin Williamson, the guy behind hot teen fodder Dawson's Creek and The Vampire Diaries, probably knows a thing or two about stalkers, which he's put to good use on this procedural starring Dylan McDermott and Maggie Q.

Kingdom
DirecTV, 9 p.m. (Oct. 8)
Nick Jonas buffs up and hopes to finally shed his Disney Channel origins in this roid-o-rama MMA drama. (Well, at least he's not twerking  with his tongue hanging out.)
THURSDAYS
How to Get Away With Murder
ABC, 10 p.m. (Sept. 25)
If you love the amoral conspiracy soap Scandal, you might as well stick around for the next Shonda Rhimes Thursday-night-on-ABC show, starring Viola Davis as a law professor.

A to Z
NBC, 9:30 p.m. (Oct. 2)
Ben Feldman (Mad Men's Ginsberg, de-dorkified) is an internet-dating executive and Cristin Milioti (How I Met Your Mother's mother)
a love-hungry lawyer in this romantic comedy.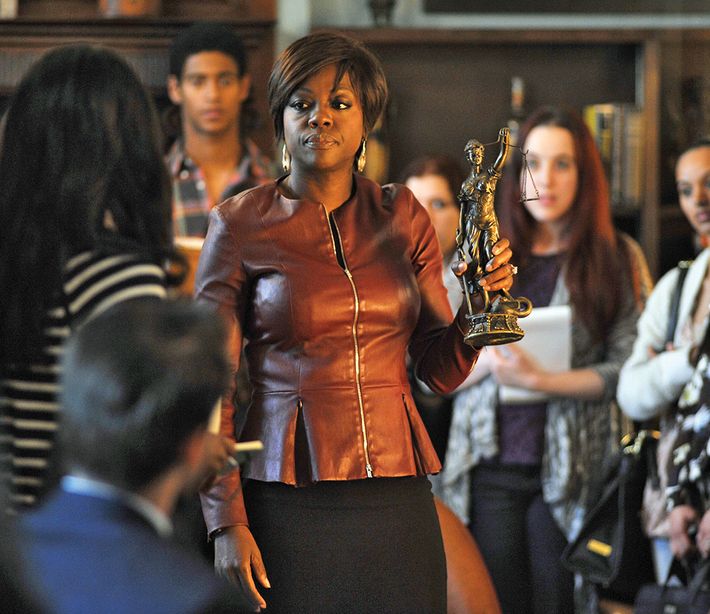 Bad Judge
NBC, 9 p.m. (Oct. 2)
Antonin Scalia stars in this … oh, no, actually it's Kate Walsh (switching professions after Private Practice) as a wackily injudicious judge.

Gracepoint
Fox, 9 p.m. (Oct. 2)
This one comes from the U.K., where it was called Broadchurch, but this time the dead child is found on a California beach. David Tennant investigates, moodily.

The McCarthys
CBS, 9:30 p.m. (Oct. 30)
Brian Gallivan's based-on-my-life comedy about a gay, athletically challenged son who becomes his basketball-coach dad's assistant; with Laurie Metcalf and Jack McGee.
FRIDAYS
On the Menu
TNT, 8 p.m. (Oct. 3)
Famous ex-carpenter Ty Pennington teams up with Emeril Lagasse in the service of the PR interests of a bunch of relentlessly ordinary suburban chain restaurants (Chili's, Denny's, etc.) for this sure-to-be-tasteless cooking-competition show.

Cristela
ABC, 8:30 p.m. (Oct. 10)
Cristela Alonzo gets her own family sitcom, playing a beer-swilling law student juggling her dream (unpaid) internship and the expectations of her Mexican family.

Constantine
NBC, 10 p.m. (Oct. 24)
An adaptation of Vertigo's comic Hellblazer, with Matt Ryan as John Constantine — a role previously, unmemorably played by Keanu Reeves in a film — as a schizophrenic (no, we mean, capable of seeing angels and demons!) demon hunter.
SATURDAYS
Survivor's Remorse
Starz, 9 p.m. (Oct. 4)
A basketball phenom copes with the aftereffects of getting a multimillion-dollar contract.
Transporter: The Series
TNT (Saturday, Oct. 18, 9 p.m.; season-two premiere: Saturday, Nov. 29, 10 p.m.)
If you couldn't get enough of the Jason Statham film series, why not watch the TV show? After playing elsewhere in the world, it finally gets transported to basic cable here, starring Chris Vance.

The Missing
Starz, 9 p.m. (Nov. 15)
The BBC and Starz teamed up on The Missing, starring James Nesbitt as a father whose young son is abducted during a family vacation in France. Triste!
SUNDAYS
The Roosevelts: An Intimate History
PBS, 8 p.m. (Sept. 14–20)
Ken Burns's latest very important docu-epic, this time with the slow pans over old photos of Theodore, Franklin, Eleanor, et al.

Madam Secretary
CBS, 8 p.m. (Sept. 21)
We're hoping that Téa Leoni can articulate an organizing principle for this show besides "Don't do stupid shit."

Mulaney
Fox, 9:30 p.m. (Oct. 5)
John Mulaney gets his own Seinfeld-ian situation, playing a stand-up comic with a day job writing material for a "legendary" game-show host played by Martin Short.

Death Comes to Pemberley
PBS, 9 p.m. (Oct. 26 and Nov. 2)
Last year's BBC mini-series version of P. D. James's murder-mystery sequel to Pride and Prejudice comes, of course, to PBS, starring Matthew Rhys as Mr. Darcy.

Worricker: Turks & Caicos
Masterpiece on PBS, 9 p.m. (Nov. 9)
More BBC on PBS! Playwright David Hare writes and directs a refined all-star cast — Christopher Walken, Winona Ryder, Helena Bonham Carter, Ralph Fiennes, and Bill Nighy as the titular MI5 spy.
*This article appears in the August 25, 2014 issue of New York Magazine.