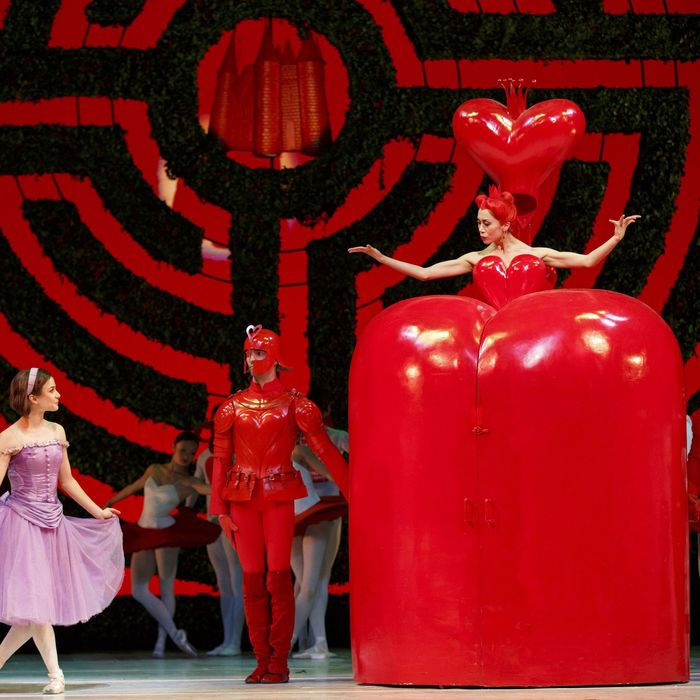 The National Ballet of Canada performs Christopher Wheeldon's take on Alice's Adventures in Wonderland.
Photo: Bruce Zinger/Bruce Zinger
Hopefully you've had a few minutes to play around with our Fall Entertainment Generator. But if you're looking for straight and simple lists of things to look out for, by medium, we'll be breaking them out separately. Here's a look at fall classical music and dance performances:
September (Classical):
9/4
Maya Beiser
(Le) Poisson Rouge
The fierce cellist plays "uncovers"—total reimaginings of classic-rock songs by the likes of Pink Floyd, Jimi Hendrix, Nirvana, and more—arranged by Bang on a Can's Evan Ziporyn.
9/16
New York Philharmonic
See nyphil.org for details, Avery Fisher Hall
The season kicks off with a concert tribute to Italian cinema featuring Renée Fleming and Josh Groban. Also up this fall: The "Art of the Score" series continues with an exploration of Charlie Chaplin's Modern Times; Esa-Pekka Salonen conducts The Firebird; enthralling violinists Lisa Batiashvili and Hilary Hahn play Brahms and Korngold, respectively; and a series of concerts spotlight composer-in-residence Christopher Rouse.
9/18
Eighth Blackbird
Miller Theatre
The innovative sextet blend modern and traditional interpretations of 17th-century Italian music and theater. Growling is involved.
9/22
Metropolitan Opera
See metopera.org for details
Richard Eyre's new production of Le Nozze di Figaro, conducted by James Levine, opens the season. Other highlights: the much-anticipated new production and Met premiere of John Adams's controversial The Death of Klinghoffer (opens Oct. 20), and the opera that made Pravda denounce Shostakovich, Lady Macbeth of Mtsensk.