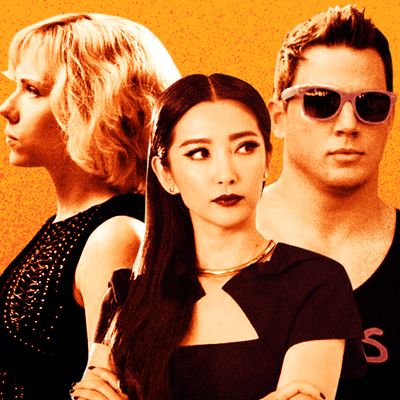 This year's summer movie season can be summed up with one long, worryingly elongated word: Yiiiiiiiiikes. Not a whole lot worked this summer, and even the films that were meant to be big mostly came in well under studio expectations. It was the kind of season that could prompt some soul-searching from Hollywood executives, though we're not likely to see the results of that course correction for quite a while, since summer movies can take so many years to make (and these days, studios have their schedules plotted out until the year 2020). Still, if they're willing to listen, here are four things we learned this summer that Hollywood executives would be wise to take heed of.
Make More Comedies
One of the summer season's few financial bright spots was 22 Jump Street, which finished at just under $200 million domestically and very nearly outgrossed far more expensive behemoths like Godzilla and The Amazing Spider-Man 2. (And unlike the latter movie, 22 Jump Street significantly improved on the box-office take of its first installment). The Seth Rogen–Zac Efron comedy Neighbors was another summer highlight: At $150 million, it's the most successful live-action film either actor has ever starred in, and the film made its $18 million budget back on the very first day of release.
Studios can be awfully focused on making megabudget action franchises, but when you look at profits like those, you have to wonder whether the real money is in the funny business. Certainly, previous summers have more than proven the point: When comic movies like The Hangover, The Heat, and Ted connect with audiences, the potential upside is tremendous, and even when they miss, the failure is mitigated by their much smaller budgets. Take this summer's Tammy, which was initially dismissed as a disappointment for star Melissa McCarthy: The film, budgeted at a scant $20 million, made it all the way to $83 million domestically, a return on investment that many much bigger movies would kill for.
I'd argue, too, that comedy was the secret ingredient that helped Guardians of the Galaxy soar to the top of the summer heap, far outgrossing its other superhero competition this season. It's ironic, then, that Warner Bros. is rumored to be stripping all the jokes from its upcoming DC superhero films in an effort to better differentiate them from the Marvel movies, which put the "comic" in comic book. Now more than ever, audiences want to laugh, and the summer films that best understood that made the most money.
Make More Movies Starring Women
Maleficent. Lucy. The Fault in Our Stars. These were three of the rare summer movies that actually starred a woman in the lead role, and I think it's no coincidence that each hit big. Maleficent was the summer's third highest grosser (and Angelina Jolie's most successful film ever), Scarlett Johansson's Lucy took on the Rock's Hercules at the box office and won handily, and The Fault in Our Stars is a $124 million smash that's poised to comfortably succeed The Notebook as an entire generation's romantic touchstone.
So can we have more of these, please? Too often, women are underserved and under-represented onscreen during the summer (as in the otherwise excellent Dawn of the Planet of the Apes), but out-of-season smashes like The Hunger Games and Divergent prove that audiences have an appetite for franchises with female leads. Fortunately, this is a lesson that Hollywood finally seems to have learned: Next summer is positively jam-packed with female-fronted vehicles, including Pitch Perfect 2, an untitled buddy comedy starring Reese Witherspoon and Sofia Vergara, Melissa McCarthy's Spy, the Amy Schumer comedy Trainwreck, and Pixar's potentially pioneering Inside Out.
Cast More International Stars
Films like X-Men: Days of Future Past and Transformers: Age of Extinction had more in common than just their bifurcated titles: Both films made more than two thirds of their total box office overseas, and they both goosed their totals by casting popular Chinese actresses like Fan Bingbing and Bingbing Li. The former had a smallish role as the mutant Blink in X-Men and the latter had a slightly more substantial one in Transformers, but no matter: They were heavily featured in the marketing campaigns for both movies, which became the biggest U.S. films of the year in that increasingly more important territory. X-Men made $116 million in China, and Transformers earned a whopping $301 million there, tens of millions more than it made in the U.S.
It's my hope, then, that the allure of cold hard cash will finally prompt Hollywood to do what it should have been doing all along by casting a diverse group of actors in its biggest movies. Asian actors have been historically ill-served here outside of martial arts films, but will casting directors now start touting them for major roles? They needn't be confined to action movies, either: One of the biggest Chinese films of the year was The Breakup Guru, a conventional romantic comedy with a plot that could have come from any Adam Sandler film. Maybe that's the way back for Sandler, who hit a rough patch this year with Blended: In his next film, he ought to ditch Drew Barrymore and woo Fan Bingbing.
Spread the Wealth
This summer movie season may prove to be a pivotally awful one: It's the worst May-to-August stretch in eight years, and even its season high point, Guardians of the Galaxy, is the smallest summer victor since Shrek in 2001. That film was the only summer movie this year to surpass $250 million; meanwhile, non-summer entries The LEGO Movie and Captain America: The Winter Soldier handily breezed by that benchmark and more films this winter are poised to do so, too, including Interstellar and the latest sequels to The Hobbit and The Hunger Games. It's a cruel summer, indeed.
The final nail in the coffin came just a few weeks ago when Batman v. Superman: Dawn of Justice relocated from its ostensibly ideal May 2016 release date to a perch in March of that year. Not long ago, it was unthinkable that a studio would plop its megabudget superhero movie in such a corridor; now, after watching so many other movies crash and burn this summer while out-of-season flicks succeeded, it just seems like good business sense. The summer movie season will never truly die, but after this miserable year, it'll now be year-round.