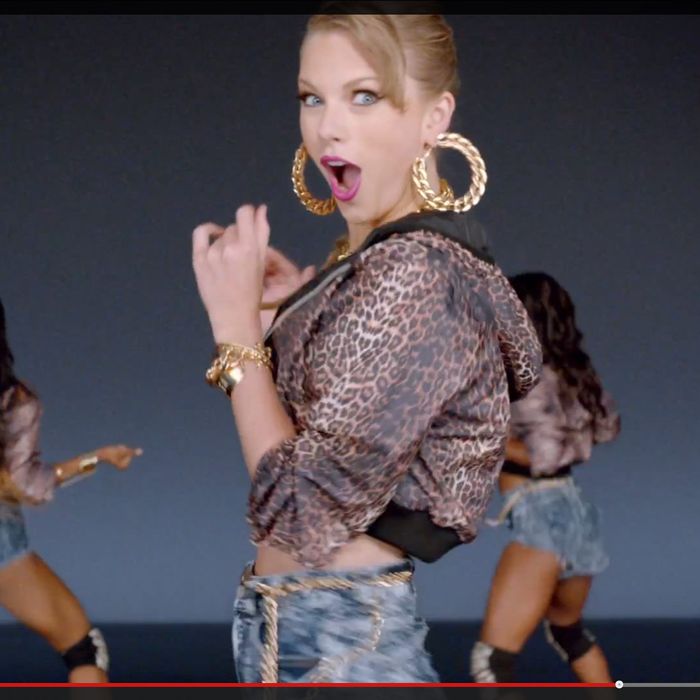 Earlier this afternoon, Taylor Swift hosted a Yahoo live-stream on which she unveiled her new single, "Shake It Off." The event itself felt like a cross between Oprah's "Favorite Things" episode and whatever goes on during an Ellen commercial break, or perhaps a taping of The View on which Taylor co-hosts but also politely and/or firmly requests that all the other co-hosts take the day off so no one will be mean to her. Which is to say the whole affair was very Taylor Featuring Taylor.
What about the song? Well it's certainly … peppy. (Ellen's commercial-break D.J. has definitely preordered the album already.) It was co-written with Max Martin and Johan Shellback, who worked with her on 3 of Red's biggest hits ("We Are Never Ever Getting Back Together", "I Knew You Were Trouble," and "22"), and it has the feel of one of those huge lead-off pop singles — Katy Perry's "Roar" comes to mind — that feel Too Big to Fail, as though their lyrics, styles, and sensibilities have been Pinterest-boarded from other proven hits. Though it's a safe strategy, that doesn't necessarily mean it's a bad thing — borrowing is what pop music's all about, and anyway, "Roar" grew on me considerably over time. Perhaps "Shake It Off" will grow on me too. But until it does, here are five songs I can't help but think were floating somewhere in Taylor's subconscious when she wrote it.
3LW: "Playas Gon Play"
The chorus of "Shake It Off" asserts, "Players are gonna play and haters are gonna hate," which is wisdom she perhaps gleaned from bubblegum-R&B girl group 3LW's catchy 2000 single. Taylor's stance on shot callers TBD.
Ariana Grande feat. Iggy Azalea: "Problem"
Taylor said that 1989 will be her poppiest album yet, so surely she's got an ear to what's on the radio right now. And more than any other 2014 contemporary hit, the shadow of Ariana Grande and Iggy Azalea's mega-hit "Problem" looms large over "Shake It Off," particularly in its minimalist production and prominently featured brass. At least Taylor had the good sense to do her own signature spoken-word bridge instead of asking Big Sean to creepily whisper-rap.
Outkast: "Hey Ya"
Maybe Taylor caught one of the Outkast reunion shows this summer, because something about "Shake It Off" — and the retro talk-show rollout — is undeniably Ice Cold. Which is perhaps some sort of subliminal marketing strategy for the album, physical copies of which will come with an insert of Polaroid pictures.
Idina Menzel: "Let It Go"
"Shake It Off" doesn't sound anything like the Frozen smash by Adele Dazeem Idina Menzel, but its overall message (which Taylor summarized as: "People can say whatever they want about us at any time. The only thing we can control is our reaction") makes it feel like a lighter, sassier "Let It Go" — a sensibility that certainly won't alienate Taylor's younger fans (aka the bajillion kids who have convinced their parents to buy them the Frozen soundtrack in the past year).
Florence + the Machine: "Shake It Out"
Because … there was already a big pop hit from the past couple years with a very, very similar title? And it is arguably a much better song? Which reminds me, when is Florence's Yahoo live-stream …?