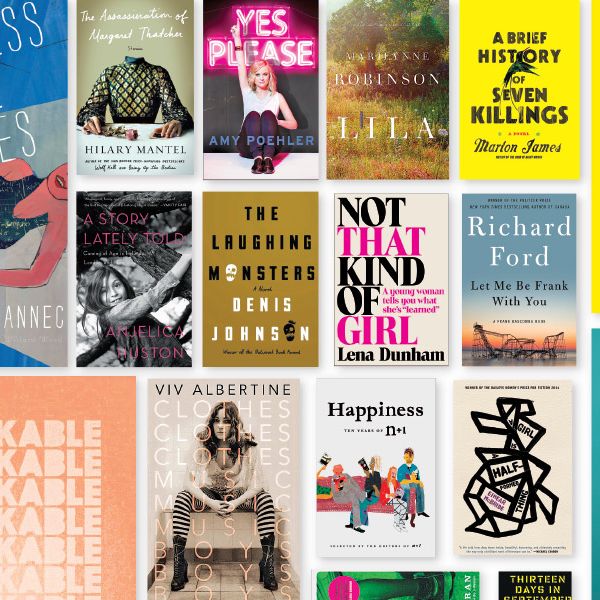 Hopefully, you've had a few minutes to play around with our Fall Entertainment Generator. But if you're looking for straight and simple lists of things to look out for by medium, we'll be breaking them out separately. Here's a look at this season's books.
SEPTEMBER
9/2
The Emerald Light in the Air
By Donald Antrim
FSG
The collected short stories of the ­MacArthur "genius."
Geek Sublime: The Beauty of Code, the Code of Beauty
By Vikram Chandra
Graywolf Press
Novelists and programmers both obsess over ­"elegance" and "style" — so is writing code an aesthetic pursuit? Chandra, a novelist who also codes, says yes.
10:04
By Ben Lerner
Faber & Faber
The second novel from the author of 2011's Leaving the Atocha Station.
The Bone Clocks
By David Mitchell
Random House
An epic stretching across time and space, with stops in medieval Switzerland, punk-rock England, and wartime Baghdad, all touched by a mystical battle that may last until 2043. Read more about David Mitchell here.
9/4
Women in Clothes
By Sheila Heti, Heidi Julavits, Leanne Shapton, et al.
Blue Rider Press
A rummage through the "personal" elements of personal style, built around conversations with more than 600 women.
9/9
Faithful and ­Virtuous Night: Poems
By Louise Glück
FSG
A dreamy collection from the prizewinning poet.
The Children Act
By Ian McEwan
Nan A. Talese
McEwan, an outspoken critic of using religion to refuse medical care to children, has written a novel about just that.
Happiness: Ten Years of n+1
Faber & Faber
The best of the literary and political journal's first ten years.
Perfidia
By James Ellroy
Knopf
The first of a planned four-novel series returns Ellroy's readers to December 1941, as Californians prepare for war.
World Order
By Henry Kissinger
Penguin Press
There has never been a universal "world order," according to Kissinger. So what's a diplomat to do when each country sees itself as the center of the universe?
Dataclysm: Who We Are (When We Think No One's Looking)
By Christian Rudder
Crown
What one of ­OKCupid's founders learned from all that dating data.
A Girl Is a Half-Formed Thing
By Eimear McBride
Coffee House Press
The winner of this year's Baileys Women's Prize for Fiction, written when McBride was a fully formed 27.
The Dog
By Joseph O'Neill
Pantheon
In O'Neill's Netherland, a Dutch financier navigates a New York still reeling after 9/11; this time, a New Yorker finds himself overwhelmed and isolated in hyperglobalized Dubai.
9/15
My Life As a Foreign Country
By Brian Turner
W.W. Norton
A war memoir from a soldier — and poet — who served
in Iraq.
Smoke Gets in Your Eyes: And Other Lessons From the Crematory
By Caitlin Doughty
W.W. Norton
A real-life coming-of-age tale told by a self-deprecating 20-something mortician.
9/16
This Changes Everything: Capitalism vs. Climate
By Naomi Klein 
Simon & Schuster
Global warming and greed get worked over by Klein.
Love Me Back
By Merritt Tierce
Doubleday
A blunt, dark first novel about a self-destructive single mother in Texas, by a National Book Foundation "5 Under 35" honoree.
The Paying Guests
By Sarah Waters
Riverhead
In 1920s London, an impoverished widow and her spinster daughter take in a couple as boarders.
Thirteen Days in September: Carter, Begin, and Sadat at Camp David
By Lawrence Wright
Knopf
A blow-by-blow account of what it took to build that long-ago Middle East peace treaty.
Stone Mattress: Nine Tales
By Margaret Atwood
Nan A. Talese
Atwood's first book of short fiction in nearly ten years.
9/23
The Short and Tragic Life of Robert Peace
By Jeff Hobbs
Scribner
The troubling tale of the author's Yale roommate, who overcame significant odds to make it there, only to fall prey to street life after graduating.
How to Build a Girl
By Caitlin Moran
HarperCollins
A debut novel from the British journalist known here for her sharp-witted How to Be a Woman.
The Betrayers
By David Bezmozgis
Little, Brown
Bezmozgis's second novel follows a disgraced Israeli politician who flees to Russia, where he's haunted by the ghosts of his former life.
9/30
The Zone of Interest
By Martin Amis
Knopf
A love story in an unlikely setting — a Holocaust concentration camp.
Belzhar
By Meg Wolitzer
Dutton Children's Books
Wolitzer's first YA novel — and the rare one to be inspired by Sylvia Plath.
On Immunity: An Inoculation
By Eula Biss
Graywolf Press
Big topic, big questions: Biss asks if a fear of vaccines amounts to a larger fear of the modern world itself.
Not That Kind of Girl
By Lena Dunham
Random House
Time to see if Random House can make back that gigantic advance—and if Dunham's voice is compelling offscreen. (At least she doesn't have Hannah's problems meeting deadlines.)
The Assassination of Margaret Thatcher: Stories
By Hilary Mantel
Henry Holt and Co.
The writer famed for her trilogy about England's royal past presents her (fictional) take on her country's present.
OCTOBER

10/2
A Brief History of Seven Killings
By Marlon James
Riverhead
A novel that reads like an oral history, told by the ghosts, assassins, con men, covert agents, and beauty queens of modern Jamaica. Inspired by a 1976 assassination attempt on Bob Marley.
10/7
Lila
By Marilynne Robinson
FSG
The third novel in Robinson's much-praised Gilead trilogy.
Deep Down Dark: The Untold Stories of 33 Men Buried in a Chilean Mine, and the Miracle That Set Them Free
By Héctor Tobar
FSG
In-depth reporting on the miners trapped underground for 69 days.
Nora Webster
By Colm Tóibín
Scribner
A partial sequel to Tóibín's Brooklyn.
All the Truth Is Out: The Week Politics Went Tabloid
By Matt Bai
Knopf
Did Gary Hart's 1987 affair really change all the rules for political journalism?
The Innovators: How a Group of Hackers, Geniuses, and Geeks Created the Digital Revolution
By Walter Isaacson
Simon & Schuster
In this follow-up to his best-selling, definitive biography of Steve Jobs, Isaacson diagnoses the Silicon Valley–genius mind-set.
Some Luck
By Jane Smiley
Knopf
A farmer family raises five children in midcentury Iowa.
10/14
Without You, There Is No Us: My Time With the Sons of North Korea's Elite
By Suki Kim
Crown
A memoir of six months teaching at the Pyongyang University of Science and Technology at the end of the Kim Jong-il regime.
Spoiled Brats
By Simon Rich
Little, Brown
Short stories about raising—or being—a Pesky Pesky Whipper-Snapper kid.
The Goddess of Small Victories
By Yannick Grannec
Other Press
A debut novel (but already an international best seller) about mathematician and "incomplete­ness" theoretician Kurt Gödel.
10/21
Limonov: The Outrageous Adventures of the Radical Soviet Poet Who Became a Bum in New York, a Sensation in France, and a Political Antihero in Russia
By Emmanuel Carrère
FSG
A novelistic biography of the founder of Russia's National Bolshevik Party, appearing in English for the first time.
My Favorite Things
By Maira Kalman
Harper Design
An exploration, in paintings and prose, from the whimsical artist known best for her "New Yorkistan" New Yorker cover.
10/28
The Secret History of Wonder Woman
By Jill Lepore
Knopf
The Harvard historian and New Yorker writer tackles the half-retrograde feminist superhero.
The Girl Next Door
By Ruth Rendell
Scribner
After a macabre discovery, a group of friends recall the "secret garden" they found outside Blitz-era London.
The Peripheral
By William Gibson
G.P. Putnam's Sons
A story set in two different futures, by the man whose ­noirish "cyber-punk" tales have more than once proved prophetic about technology.
Yes Please
By Amy Poehler
Dey Street Books
The perky Parks and Recreation star tries on her buddy Tina Fey's bossypants.
NOVEMBER
11/3
Mermaids in Paradise
By Lydia Millet
W.W. Norton
Newlyweds vacationing in the Caribbean meet a marine biologist who claims to have found mermaids, in this comic novel by the author of Ghost Lights.
11/4
Let Me Be Frank With You
By Richard Ford
Ecco
Ford's Ur-­protagonist Frank Bascombe (of The Sportswriter trilogy) returns in four linked narratives.
A Map of Betrayal
By Ha Jin
Pantheon
A Chinese-American girl delves into her CIA-mole dad's murky past in this novel and asks: Can a double agent be loyal to both sides?
The Laughing Monsters
By Denis Johnson
FSG
The Tree of Smoke writer turns his eye to the post-9/11 world in this intellectually upmarket spy thriller.
Twilight of the Eastern Gods
By Ismail Kadare
Grove Press
A lightly fictionalized account of Kadare's studies at Moscow's prestigious Gorky Institute (a kind of pressure cooker for eccentric Soviet intellectuals), written in 1978 and just translated into English.
11/11
Family Furnishings: Selected Stories, 1995–2014
By Alice Munro
Knopf
Twenty-five short stories from a master of the form.
Revival
By Stephen King
Scribner
A story about faith and addiction; the second novel this year from King.
The Encyclopedia of Trouble and Spaciousness
By Rebecca Solnit
Trinity University Press
Essays on the Arctic, Haiti, and elsewhere by the author of The Faraway Nearby—also known as the woman who launched "mansplaining."
Countdown to Zero Day: Stuxnet and the Launch of the World's First Digital Weapon
By Kim Zetter
Crown
Everything we know about Stuxnet, the first (alleged) top-secret U.S. cyberweapon, which destroyed an Iranian nuclear plant in 2010.
Watch Me
By Anjelica Huston
Scribner
In the followup to her memoir, A Story Told Lately, the eternally alluring actress­ finally talks about her 16 years with Jack Nicholson.
11/18
"Literchoor Is My Beat": A Life of James Laughlin, Publisher of New Directions
By Ian S. MacNiven
FSG
A biography of the man who published Ezra Pound and brought Borges to America.
The Unspeakable: And Other Subjects of Discussion
By Meghan Daum
FSG
The author of My Misspent Youth enters middle age.
11/25
Clothes, Clothes, Clothes. Music, Music, Music. Boys, Boys, Boys.: A Memoir
By Viv Albertine
Thomas Dunne Books
The Slits guitarist chronicles what it was like to live through punk's first wave.
*This article appears in the August 25, 2014 issue of New York Magazine.