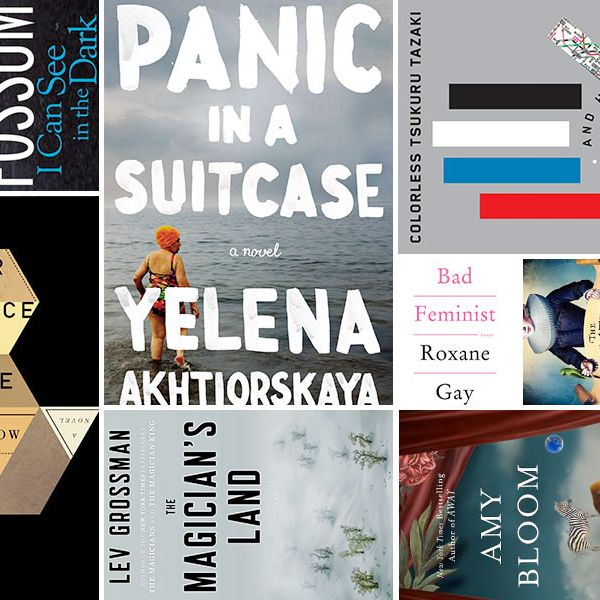 Each month, Boris Kachka will offer nonfiction and fiction book recommendations, and you should read as many of them as possible.
Panic in a Suitcase by Yelena Akhtiorskaya (Riverhead; July 31)
As Russian immigrant fiction evolves from novelty niche to full-on genre, every new effort faces a higher bar for originality. Akhtiorskaya vaults that bar with ease. Her characters — chiefly the lanky, brilliant Odessan poet Pasha, who resists his scrappy family's entreaties to join them in Brighton Beach — inhabit a post-Soviet universe in which you actually can go home again. Or possibly never even leave. And forgive the unoriginal reference, but her vibrant blend of wordplay, wistfulness, and poignantly comic characters immediately conjures Nabokov's academic farce, Pnin.
Lucky Us by Amy Bloom (Random House; July 29)
We've all read a twee, madcap period novel or two by a bright young thing. But like her venturesome protagonists Eva and Iris — two half-sisters who travel through 1940s America in search of fame, love, experience, whatever — Bloom's been around the block. She brings to this comic picaresque the easy looseness she honed in linked story collections, as well as her gift for grabbing attention from the first paragraph: "My father's wife died. My mother said we should drive down to his place and see what might be in it for us." And we're off.
The Magician's Land by Lev Grossman (Viking; August 5)
There are two classes of fantasy stories: the kind where no character's ever read fantasy, and the kind where everyone has. The Narnian world of Grossman's Magician trilogy, which concludes here with the redemption of Quentin Coldwater (of Brooklyn by way of the land of Fillory), is supremely self-aware, playing constantly on the conflict between fiction and reality. Unlike Potter and crew, Quentin's friends are real grown-ups; they drink, have sex, and make grievous mistakes. And then — here's the fantasy part — they learn from it.
Bad Feminist by Roxane Gay (Harper Perrennial; August 5)
Whatever wave of feminism we're in now, with its high-low mash-ups, hashtag campaigns, and first-person testimonies, it graduates to mature expression in Gay's essays. The novelist and critic, female and black, grapples with identity politics while defying its lazy structures — as in the title essay, wherein she confesses to loving the color pink and enjoying Vogue (there's much more to it than that). With trenchant thoughts on Sweet Valley High, The Help, abortion, and Chris Brown, Gay isn't really a bad feminist, just an uncommonly entertaining one.
I Can See in the Dark by Karin Fossum (Houghton Mifflin Harcourt; August 12)
One of the standouts of the Nordic thriller boom takes a breather from her Inspector Sejer novels in a compact, moody character study about a twisted male nurse who's finally arrested — albeit for the wrong crime. The clipped flatness of translated Norwegian is well suited to the banally evil Riktor, whose turn toward the light makes you almost believe in moral growth.
Colorless Tsukuru Tazaki and His Years of Pilgrimage by Haruki Murakami (Knopf; August 12)
Following up on the sprawling, risky 1Q84, Murakami has produced something so taut and approachable — though it still retains his cool fabulism — that it may expand the Japanese lit icon's fan base even further. Prompted by a new girlfriend, a depressed architect decides to look up and visit a now far-flung quartet of former friends, whose mysterious rejection of him 16 years ago robbed him of the drive to make genuine human connections.
Your Face in Mine by Jess Row (Riverhead; August 14)
It takes a brave novelist to base his debut on a thought experiment last seen in the movie Soul Man, but Row is talented enough to pull it off. A man spots someone in the street who looks just like an old friend, only black. Martin Wilkinson (née Lipkin) has experienced the marvel of racial-reassignment surgery, and he wants his buddy to help tell the world. As things rapidly unravel, Row keeps it all afloat with on-key riffs and questions about the ethics of identity and friendship.
The Miniaturist by Jessie Burton (Ecco; August 26)
Like the intricate, oversize, and possibly prophetic dollhouse around which its labyrinthine plot closes in, Burton's novel — set in strict but greed-corrupted 17th-century Amsterdam — is a self-conscious construction, down to its proto-feminist young wife. But as in Donna Tartt's The Goldfinch, the pleasure lies in giving in to well-wrought illusions, and the result is a beach read with meat on its bones — perfect for the Labor Day transition from play to work.