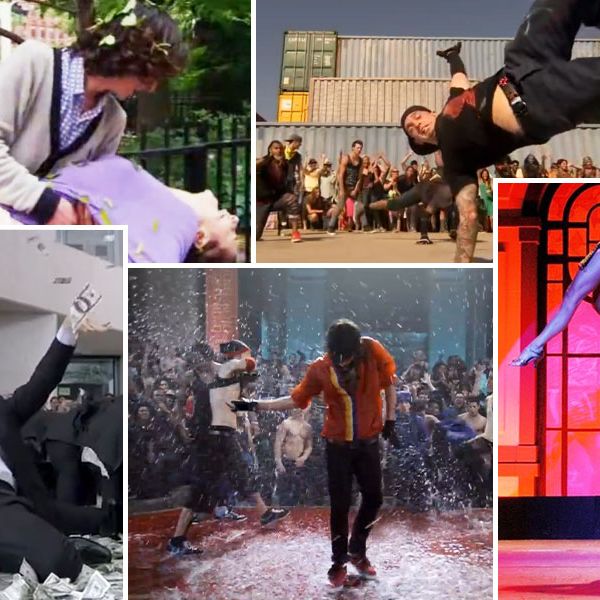 With Step Up: All In — a.k.a. the fifth Step Up movie in the popping-and-locking franchise — in theaters this weekend, we felt that it was time to relive the past four Step Ups. From Channing Tatum's Tyler to Adam Sevani's Moose (and all the various crew members in between), we've seen so many lifts, so many spins, and so many snakes. But bigger doesn't always mean better, and neither does seniority when it comes to these movies. That's why we're ranking all of the dance sequences in the Step Up movies, from worst to best. (If you're wondering why there are so few dances from the first Step Up, you should watch it again. They don't dance as much! Or, at least, they don't do as many longer sequences as the movies that follow.)
22. Dance battle in Washington Square Park, Step Up 3D
Moose's prompt "return" to dancing (after he promising his dad he'll quit at the beginning of the movie) is the most shameless 3-D ploy the Step Up franchise will make. There's some impressive Moose footwork, but then he begins to do things that were clearly crafted to impress those of us with 3-D glasses. Without them, he's just blowing bubbles and releasing balloons. Ugh.
21. Sean and Emily meet on the beach, Step Up Revolution
I wouldn't count this as a dance scene, but there are so many YouTube clips of it that I couldn't even trust my own judgement. Anyhow: It's boring. And these two don't seem to have that much chemistry, do they?
20. Gas-masked dancers interrupt the banquet, Step Up Revolution
You might start to see a trend in which lots of Step Up Revolution clips tend to be at the bottom of my list. Look, the fourth Step Up wasn't all bad, but it defiinitely took the cheesiness of the franchise to a new level. Here good dancing is masked (literally!) by an insane concept …
19. The Mob raids an office, Step Up Revolution
… which began when this mess happened. Thanks to the internet, Step Up Revolution was super into flash mobs, and that's why we have this sequence. This also reminds you of the general premise of Step Up Revolution, which was to stop bougie real-estate development. Yep!
18. Sean and Emily's final dance, Step Up Revolution
This is romantic (and features a wonderful, squinty-eyed performance by Peter Gallagher, I might add), but it's a total knockoff of Step Up's rooftop dance, which was way better and way sexier.
17. The first battle, a.k.a. "Robo Dance," Step Up 3D
I'm sorry, but how lame is that lead breaking guy with the wraparound sunglasses and blue windbreaker? Oof.
16. Sean and Emily's dinner-table dance, Step Up Revolution
The Mob strikes again, this time on a table. There are a few fun dance moves, but the song is bleh. And while I get that they're testing Emily, what's really the point of this Mob?
15. "Fancy Footwork" montage, Step Up 3D
Is this a dance sequence? Sure. Mostly due to Chromeo and that impressive boombox wall and foam pit, though.
14. The 410's subway dance, Step Up 2: The Streets
This is a cool way to open the movie, though confusing to anyone familiar with NYC's subway dancers. This crew (the 410) uses masks because apparently you get in major legal trouble for this in Baltimore.
13. The final dance, Step Up 3D
Hands down the worst final dance of all the Step Up movies. Even a glow-in-the-dark Moose can't save this.
12. The Miami car dance, Step Up Revolution
Not a bad opener for Step Up Revolution — sets the Miami scene and gets everyone (even the cars) involved. Also, again: flash mobs!
11. The final dance, Step Up Revolution
Points to Step Up Revolution for ending on a strangely high note. Those shipping containers! That trampoline! The surprise dancing cops (who shockingly, aren't even strippers)! And then, the big reveal … Moose, whose absence from the rest of the movie might've had something to do with it being not great.
10. The "Broken Tango," Step Up 3D
There are various dance sequences throughout the franchise that aren't quite performances but do involve people dancing: The salsa in Step Up 2: The Streets; this line dance with Tatum in Step Up; Moose's bathroom dance-brawl in Step Up 3D; a young Camille teaching Tyler how to dance in Step Up; etc. But Moose and Luke doing the tango in Step Up 3D is the most thrilling.
9. Tyler's parking-lot dance, Step Up
The first hint you get of Tyler's dance moves is also the first hint you get of Channing Tatum's dance moves: a win-win all around.
8. "The Battle of GWAI" a.k.a. the Water Dance, Step Up 3D
Moooooooooooose! It's Moose's brilliant idea to break some pipe with his bike and make them dance in the water. (Maybe something he learned from the final dance in Step Up 2: The Streets?) It's kind of funny to see the other crew lose their minds with all that water in their way. Also: Shirts come off.
7. Tyler and Nora on the roof, Step Up
How can you resis the chemistry between Channing Tatum and (his future wife!) Jenna Dewan? Their falling-in-love roof dance is by far the best slower sequence in the series.
6. Moose and the stairs, Step Up 2: The Streets
We first learn that Moose can dance (and well!) in this short stair-climbing sequence. It's not much, but it's very important.
5. The art-gallery dance, Step Up Revolution
Buried beneath the weirdness, there's one dance in Step Up Revolution that actually works, and it takes place in an art gallery — with ballerina jellyfish.
4. Tyler and Andie battle in the the Dragon, Step Up 2: The Streets
Channing Tatum is in Step Up 2: The Streets for just a second, but naturally, he turns it out — in a battle for whether Andie will attend school or not (cool battle!). Chan does it all in an oversize white shirt and baggy sweatpants. God, he's good.
3. The final dance, Step Up
It's a little Save the Last Dance, sure, but Step Up's final performance is maybe the only last scene that builds up to something you were genuinely curious about. For that reason (and for Tatum, duh), it's worthy.
2. The final dance, Step Up 2: The Streets
Did you think I'd go with the first Step Up's final dance sequence because it was the original? Hell, no. If you're wondering why there are so many Step Ups, you'll have to thank Step Up 2: The Streets, which changed a majority of its cast and still pulled off some really incredible dancing. That rain!
1. Moose and Camille's "I won't dance" dance, Step Up 3D
Come on, like this wouldn't end with Moose? Even though he never gets to be a romantic lead (shame on you, Step Up!), Moose is the breakout star of this franchise, and his surprise appearance at the end of Step Up Revolution (which received raucous applause in my movie theater!) proves as such. In Step Up 3D, Moose and Camille peform a charming Singin' in the Rain throwback along to a remix of Fred Astaire's "I Won't Dance." It's so cute and (in the collection of poppin' and lockin' Step Up sequences) extremely memorable. Camille and Moose forever.