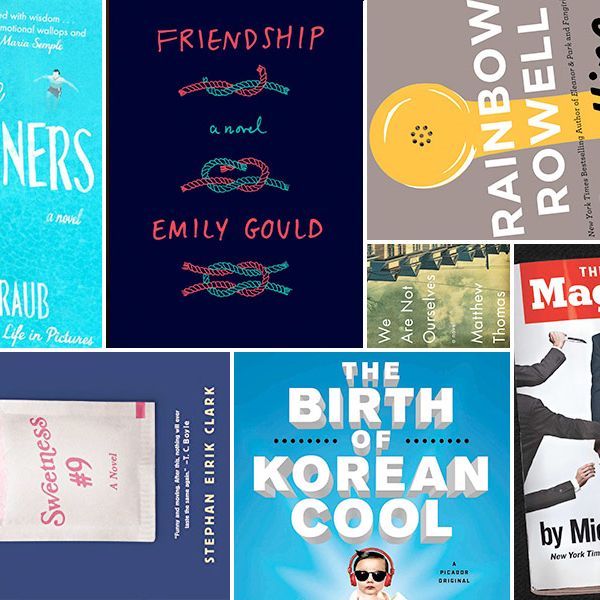 Here is a disconcerting truth: We're nearly through with August, and those winsome summer Fridays, if you're lucky enough to have them, will soon become a faint memory, just an Instagram of bare feet partly buried in the sand, the spilled remains of a piña colada on a deck, and a grill, once open, now closed. But take heart! There's still time left to hunker down with some sunscreen, your preferred cold beverage, and a book that's just the right blend of intellectually stimulating and page-flippingly enjoyable. Here are 12 Vulture-recommended titles to help you relax during the remaining hours of summer.
The Vacationers by Emma Straub
Straub presents the ups and downs (and cringe-inducing midpoints) of a family vacation to Mallorca, a place we predict will experience a tourist surge next year thanks to her engaging, atmospheric novel. 
My Salinger Year by Joanna Rakoff
At 23, Rakoff took a job as the assistant to J.D. Salinger's agent. Given the chore of answering the reclusive author's fan mail, she abandons the form letter the agency has used for years and starts writing back. Consider this a beach read for the bookish book lover. 
The Fever by Megan Abbott
In a suburban town in the Northeast, high-school girls are being afflicted with something — they're having seizures in class, collapsing and shaking with quaking hearts, and no one knows why. You'll forget to reapply sunscreen while you read this tale of a community's panic. 
The Last Magazine by Michael Hastings
Hastings's posthumous debut novel, a roman à clef, takes on print journalism of the mid-2000s, when everything was in desperate flux. It's as thrilling an insider-y media read as it is funny, fast-paced, and at times, shocking. 
Friendship by Emily Gould
The deepest platonic relationships of our lives will expand and contract as we grow. Gould's depiction of such manages to feel both breezy and incisive — sort of like hanging out with a best friend and talking about the important things of life, as the sun sets over the ocean. 
The Sleepwalker's Guide to Dancing by Mira Jacob
Jacob's debut novel about an Indian-American family and the ghosts they must confront courses through time and place, presenting a cast of compelling characters you won't want to leave in the end. 
Take this Man by Brando Skyhorse
In his gripping memoir, Skyhorse tells of the search for his true dad (amid myriad lies and stepfathers) and the discovery of his own real identity, compromised by his charismatic mother.
Landline by Rainbow Rowell
If you loved Eleanor & Park and Fangirl, dive into Rowell's latest, which incorporates her trademark humor, savvy characterizations, and emotional real talk while examining the complications of adult romance and commitment. (Plus, there's a magic phone!)
The Birth of Korean Cool by Euny Hong
It's the rare book that's hilariously funny and also makes you smarter about world economies, but Hong's journalistic memoir — subtitled How One Nation Is Conquering the World Through Pop Culture — does exactly that.
Bad Feminist by Roxane Gay
In this best-selling essay collection about being true to one's self, Vulture contributor Roxane Gay tackles topics ranging from Sweet Valley High to racism, and from literary "likability" to, of course, feminism. It's ideal for thoughtful consumption at just about any time.
Sweetness #9 by Stephan Eirik Clark
Equally disturbing and funny, Clark's novel about flavor science and the things we consume in the modern world will have you questioning everything you rely on for sustenance (except the book itself).
We Are Not Ourselves by Matthew Thomas
At 640 pages, Thomas's debut novel — which he worked on for ten years and sold for a reported million-dollar-plus advance — might not seem the thing to lug through the sand. But the multigenerational story involving a working-class Irish-American family in post-World War II New York carries an emotional heft well worth the book's weight, and will help carry you through the fall.