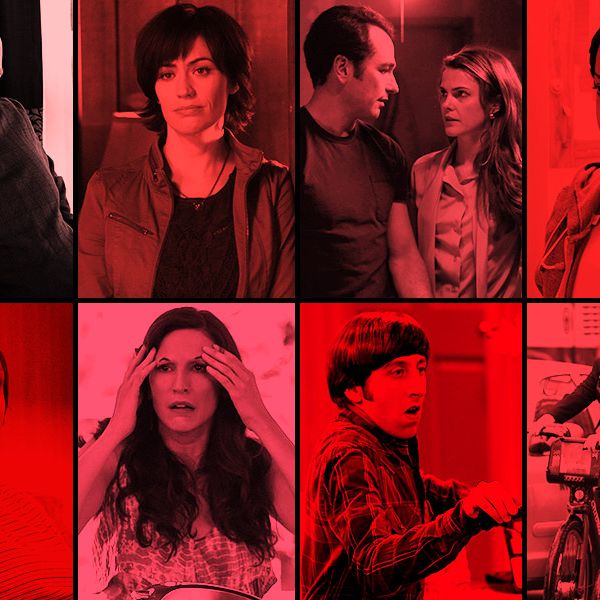 Photo: Maya Robinson and Photos by AMC, FX, HBO, ABC, CBS and Comedy Central
The 66th Annual Primetime Emmys are Monday, and plenty of wonderful — and some staggeringly wonderful — shows and performers will no doubt walk away with armloads of awards. But many will not. Many terrific, thrilling shows and performers were not even nominated, if you can believe it. Such is life. Let us now air those grievances.
For comedies, it's great that Bob's Burgers won outstanding animated program at the Creative Arts Emmys, but plenty of us consider that the best comedy on TV right now, cartoon or no. (Archer has its mega-supporters, too.) Parks and Recreation has such a solid place in my heart it's hard to believe the Academy doesn't feel the same. Shows like the execrable Episodes rack up nominations, while Broad City gets nothing. I don't actually expect Broad City to be nominated for an Emmy, but I wish it would be, since the show's so damn good. (For those wondering, Inside Amy Schumer and Key & Peele compete as variety series.)
In addition to the show snubs, plenty of comedy performances also went un-nominated, particularly in supporting categories. Niecy Nash should have been nominated for Getting On, and Michaela Watkins was so good on Trophy Wife. The brilliantly whiney Ursula Parker provides as much energy and humor to Louie as any other guest star on a comedy. Any of the supporting cast members on Parks and Rec are worthy, but now that Chris Pratt is America's Sweetheart, he seems like the most obvious oversight. If Modern Family's cast keeps getting noms, why not Simon Helberg on Big Bang Theory? Looking is not a particularly good show, but Scott Bakula's guest turn was enchanting.
For dramas, the most egregious omission is The Americans, which should have been nominated as a show and should have earned noms for Keri Russell and Matthew Rhys. [Shakes fist at the sky.] No Elisabeth Moss for Mad Men? No Tatiana Malsany for Orphan Black? What's Mae Whitman going to have to do to snag a supporting nom for Parenthood? Maggie Siff and Katey Sagal's Sons of Anarchy work has been overlooked for years — even as the show's plotting has gone round the bend, the acting has always been super solid. The Emmys have smiled on Breaking Bad a lot, but Dean Norris wasn't nominated, which is a sin. Call the Midwife doesn't have the dark streak of your classic prestige drama, but Miranda Hart's portrayal of Chummy is worth a million weeping put-upon sad wives.
There are also so many reality contest shows that are at least as good — and many far better — than this year's tired nominees. Master Chef Junior could have been trashy or exploitative, but instead it was real treat. And holy moly, some of those kids could cook.
So come Monday, when people are tearfully thanking their agents, and gleefully hoisting awards in the air, remember: It could and maybe should have gone to someone else.