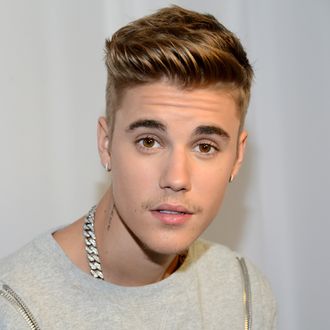 Justin Bieber, Dave & Buster's enthusiast.
Photo: Araya Diaz/Getty Images
According to TMZ, Justin Bieber and Selena Gomez were at a Dave & Buster's Monday night when a "fan" started taking pictures and videos of the two on his phone. Bieber allegedly responded by "lunging" at the fan in an attempt to get his phone, but Bieber's security got in the way before he ever contacted the fan. Bieber was gone by the time the police arrived. The fan wants to press charges, so Bieber is being investigated for attempted battery, attempted theft, and attempted robbery. These accusations are especially serious because Bieber is currently under probation from when he egged a neighbor's house. Either way, isn't it cute that Bieber and Gomez go to Dave & Buster's on dates? Can't you imagine Justin making Selena watch him play that basketball game for way too long?