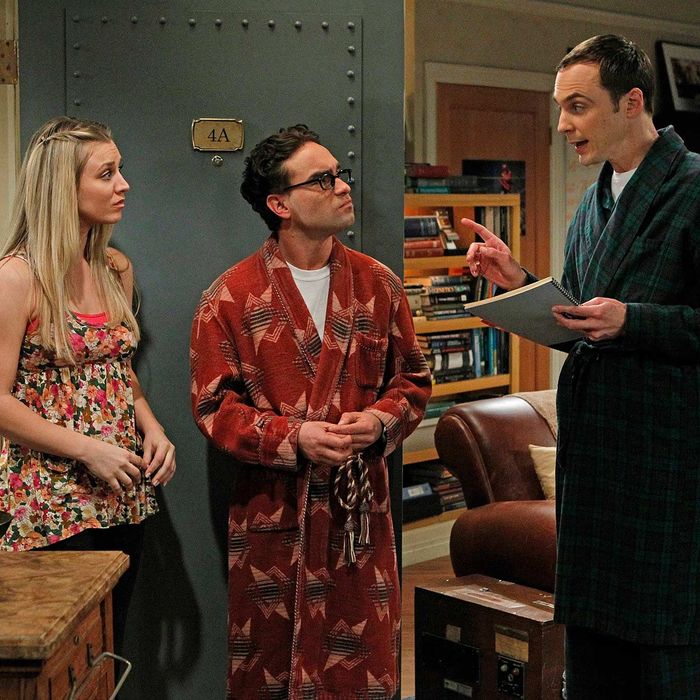 Sheldon (Jim Parsons, right) does not approve when Penny (Kaley Cuoco, left) asks Leonard (Johnny Galecki, center) to lie to her father on THE BIG BANG THEORY.
Photo: Sonja Flemming/CBS via Getty Images
A few weeks ago, when reporters asked CBS Entertainment chief Nina Tassler about ongoing salary negotiations with the cast of The Big Bang Theory, the exec smiled her best Alfred E. Neuman smile and made it clear she wasn't sweating it. "These deals manage to get worked out somehow miraculously year after year," she said. And that's exactly what's happened: After a brief work stoppage that saw the actors refusing to show up for rehearsal last week, the Hollywood trades are now reporting that Big Bang's Big Three stars — Kaley Cuoco, Johnny Galecki, and Jim Parsons — have struck a massive, multi-year deal under which producer Warner Bros. TV will basically triple the actors' respective salaries to "around" $1 million per episode. The studio will also give each actor a bigger ownership stake in the series (and thus a bigger share of profits from syndicated reruns), resulting in a payday Deadline estimates could ultimately be worth upwards of $100 million. While that's certainly a whole lot of bazinga, there's a solid case to be made that Warner Bros. and CBS are actually getting away cheap.
First, it's worth noting that while today's deal is being described as on par with the then-landmark $1 million per episode Warner Bros. agreed to pay the cast of Friends back in 2002, that's only true if you have a time machine. Adjusted for inflation, the cool one mill the Big Bang cast is getting is worth only around $750,000 per episode in 2002 dollars. To match the payday earned by Ross, Rachel, et al., the Big Bang cast would've had to hold up Warners for just over $1.3 million in today's currency. In fact, the Big Bang deal is actually closer in real dollars to what the Seinfeld sidekicks held out for in 1997. Back then, Julia Louis-Dreyfus, Jason Alexander, and Michael Richards were able to negotiate a $600,00 per episode paycheck (Jerry Seinfeld was getting $1 million per ep for both acting and producing). Adjusted for inflation, that translates to nearly $900,000 per half-hour. We're not suggesting a pity party for the Big Bang actors, but their new deal — at least in terms of salary — is nowhere close to being a record-breaker. This raises the question of whether the Big Bang actors should be making as much coin as their sitcom ancestors — or, put another way: Is The Big Bang Theory as valuable to CBS and Warner Bros. now as Seinfeld and Friends were in their time?
On the network side, Big Bang is arguably more important to the Eye than either Friends or Seinfeld were to NBC. Sure, in a world without DVRs and reduced cable competition, the latter two comedies reached many more same-day viewers (as many as 30 million at their peaks) than Big Bang (20 million on a good night). But the sitcom economy (and network TV in general) was also far healthier in the 1990s and early aughts than it is now. As vitally important as Seinfeld and Friends were to NBC during their runs, the Peacock had other big comedy hits on its schedule when it was negotiating new deals for those shows. During the final Seinfeld negotiation back in 1997, for example, Friends and Frasier were drawing big ratings of their own. NBC was in a more precarious place when it signed the Friends to $1 million per episode in 2002, but even then, it still had other big comedy anchors: Will & Grace, a fading Frasier, the solidly performing Just Shoot Me!
By contrast, the list of huge comedy hits on CBS — and all of network TV— begins and ends with The Big Bang Theory. The network said good-bye to How I Met Your Mother earlier this year, while Two and a Half Men is well past its glory days and is about to begin its final season. The Eye's attempt to expand to four comedies on Thursdays last fall was a bust (though the network is giving The Millers another try), while its storied Monday comedy block fell so far last season, it's being reduced to just an hour for the first time in decades (not even Melissa McCarthy has been able to turn Mike & Molly into a big hit). Fact is, no comedy on CBS (or any network, for that matter) comes close to generating the sort of ratings Big Bang pulls. Last season, including DVR data, the Chuck Lorre–Bill Prady show averaged just under 21 million viewers. The No. 2 comedy on TV, Modern Family? It had half the audience (11.8 million). Compare that to the situation in 2002, when the Friends cast made their blockbuster deal: The Central Perk crew were TV's No. 1 comedy, but the No. 2 sitcom, CBS's Everybody Loves Raymond, was averaging just a couple million fewer viewers each week. While CBS has a number of big drama hits on its roster and would still have had plenty of ways to make money had its comedy jewel gone away, Big Bang is its comedy everything. It's the one show that can guarantee any comedy the network puts behind it (even The Millers) at least gets sampled by viewers in an era when many comedies never even get noticed (RIP, Enlisted and Trophy Wife).
The question of relative worth is thornier when it comes to producer Warner Bros. TV. At this point, every episode of Big Bang represents pure profit to the studio, since CBS is almost certainly covering the full cost of production on the show, even after the actors' salary hikes. What's more, syndication rights to the show generate at least $2 million per half-hour, piling on even more profit for Warners. The studio also makes money from DVD and iTunes downloads. But there's a case to be made that Big Bang's biggest paydays are yet to come. One day in the future, for example, a streaming service such as Netflix will undoubtedly back up a Brinks truck for online rights to the show. And shorter term, when the cable rights for Big Bang come up for renewal in the next few years, it wouldn't be shocking if Warners were able to negotiate an even bigger price tag for the show than its last sale. After all, reruns of the comedy have been transformative for TBS, often helping the cable network beat broadcast competition among viewers under 35. And the lack of big new comedy hits on the broadcast networks in recent years only makes Big Bang reruns more valuable. All of this means that if Big Bang had gone bye-bye, Warner Bros. would have been walking away from hundreds of millions in syndication money from the loss of what will now be 72 additional episodes. The tens of millions in extra salary  now being funneled to the Big Bang cast seems a relative pittance when compared to what's expected to end up being billions in profit for the show. That was true for the final seasons of Friends, of course, which is why it's tougher to say if Big Bang is a bigger deal to Warners than Friends was. But it's hard not to say that both shows are at least equally important in value.
In the end, of course, every salary negotiation is its own unique animal. Whether Big Bang is more or less "valuable" than earlier sitcoms isn't what ultimately decided the final cost of the cast's new deal. At the time, Jennifer Aniston was seen as a bigger potential movie star than any of the Big Bang crew is today, something which gave her — and, by extension, her Friends friends — more leverage than their present-day peers. And while the Big Bang actors may be getting a smaller per episode salary in terms of real, 2014 dollars, what's not known is exactly how much they'll make from their increased ownership in the series. The Seinfeld sidekicks are not believed to have gotten any back-end profit participation (though Seinfeld himself, as a creator, did). The Friends gang did get a stake, but the exact amount wasn't widely known at the time and could well have been smaller than what the Big Bang actors will get. In any event, all of the actors on Big Bang had high-profile agents and lawyers looking after them, meaning it's unlikely that much money was left on the table. Likewise, even though they'll be handing out much bigger paychecks this fall, Warner Bros. and CBS will still end up making an absurd amount of money off of a half-hour comedy about some lovable nerds. Bang!