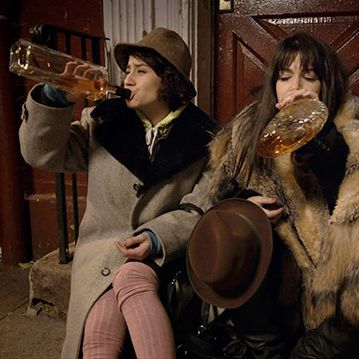 If you're trying to pick one episode to convert someone to a Broad City fanatic, let it be this one.

First and foremost, before the jokes and wondering how I can get two women in their 20s to officially adopt my old ass, can we just take a moment to praise a TV comedy that, when featuring a sex scene, shows women not only enjoying, but on the receiving end of, oral sex? Can we just take a minute, in 2014, to appreciate the one time American television was very cool about something involving women, sex, and pleasure? You watched the Emmys — you know it may never happen again. Take a minute and genuflect.
Abbi and Ilana are not great people. I mean, they are the greatest, but they're sort of insular, strange, and full of contempt for anyone that gets in their way. They usually keep it pretty self-contained, but this episode is basically Broad City Unleashed, and in the end, you have a much deeper understanding of just how weird they really are.

When Abbi's power-slide class is cancelled due to a missing instructor (which doesn't faze anyone at Soulstice), she tries to get her moment in the sun by stepping in to take his place, only to relent to a woman who also wants to teach and appears to have cancer. But she doesn't have cancer; she just faked it to get what she wanted, and when Trey finds out the original instructor is dead, he offers her the job permanently. Abbi is brilliant here, quietly seething in the back, muttering under her breath, spinning the jump rope wildly in an attempt to still get noticed, but ultimately not saying anything and leaving. But something has changed in her — this moment is like an origin story, and as she stomps out of the gym, you know something will have to give for this overqualified pube-picker.
Ilana is having the exact opposite day — her boss notices her a little too much, and that's because she keeps doing absolutely insane things (like putting a motorized blow-up wavy doll in the middle of the aisle) coupled with her insane requests ("I want to move to corporate morale!"). She explodes when he asks her to use the company email address instead of ilanawexler@mindmyvagina.com and to turn off the Out of Office reply saying she's in Mexico. Her deskmate Nicole is keeping track of everything she's ever done wrong, talking into a tiny recorder for over 200 days about Ilana's lateness, dress-code violations, time spent sleeping, and time spent "violently high." Ilana's biggest problem is anyone telling her what to do or where to be, and you get the feeling that any job she ever has is just going to be the means to an end, with the end being marijuana and nonstop partying.
Both ladies are primed for a change — Ilana to shake off the corporate shackles, Abbi to take charge and stop letting people walk all over her — and this socialite-sponsored vague Soho party for "change" that Ilana was invited to seems to be just the ticket. They're hot shit from the minute they walk in, full of the confidence that being the "sexiest girls with the fattest asses" can bring, but Abbi is still saltier than ever about having to share a planet with people much less intelligent than she is who seem to have gotten farther along. She takes her anger out on everyone — the jerks taking up room at the bar even though they already have drinks ("Out of the way, clavicle!"), the bartender explaining the name and functions of each ridiculous drink special ("Proceeds go to the tsunami." Which one? "Whichever one happens next"), and especially the kid snorting coke in the men's room after she skips the long line for the ladies room. How did Comedy Central not renew them for five seasons on the spot when Abbi kicks down the door, insults the kid mightily ("I've cleaned more pubes than you have on your entire body"), and then proceeds to snort most of the coke he has on hand? It was brutally funny in an updated "woman on the verge" way, and it's no surprise that she spent the rest of the party dancing wildly and letting people do shots out of her ass.
The parade of anger doesn't stop after Ilana chats up the douchey DJs and decides she and Abbi should go home with them. After they walk up eight flights of stairs, they're pawed at in different rooms with the same lines ("You're sweet like candy"), and after an uncomfortable encounter on the roof, they realize that these guys will stop at nothing to get them in a three-way (or four way?). They leave immediately, Ilana insulted that they were so crass about their request, and Abbi insulted that they tried at all, both of them hissing and yelling down the stairs, finally reaching a fever pitch when they realize there was an elevator. This moment reconstructed the boundaries of their friendship without taking away the confidence and power they'd spent the entire episode building, even if they were unsatisfied in the end. It also proved that Ilana will never stop trying to get with Abbi; when she describes what her perfect evening would have looked like, it involved an artistic move called the Arc de Triomphe ("two guys going down on us at the same time while we do Oprah hands"), which Abbi sarcastically reminds her is still totally about them having sex with each other. Keep trying, baby girl. Keep trying. 


Favorite Lines
"If I don't slide, my flaps will come back."
"What's my email going to be? Business at the white man dot biz?"
"You have a friend?"

"Yeah — chocolate-brown eyes, ass of an angel."
"Can I interest anyone in a dose of reality? Just now a child in South America died of starvation."
Ilana's DJ, putting on his dead grandfather's sweater: "He was like my best friend … and my worst enemy."