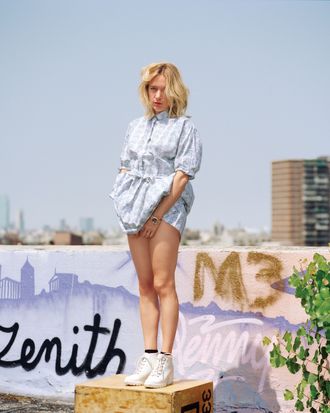 Photo by Mark Peckmezian. Makeup by Daniel Martin at the Wall Group; Hair by Jeff Francis at Brydges Mackinney.
Photo: Mark Peckmezian
"This is the most glamorous character I've ever played," says Chloë Sevigny. "Finally! After 20-something years in the business, I'm a fashion journalist!"
She and director Whit Stillman are in a West Village café talking about The Cosmopolitans, an Amazon Studios pilot debuting August 28 that might become a series. It fits right in with Stillman's American-expat oeuvre. "It's supposed to be open-ended so people want more episodes," he says. "But I think it works fine—if this is the only thing we get to do, it will be nice. It's sort of Metropolitan meets Barcelona in Paris." He looks at Sevigny and adds, "With some Last Days of Disco thrown in."
"Sprinkled!" says Sevigny, who starred in that 1998 Stillman film. She's wearing an oversize hunter-green Lacoste shirt tucked into a pleated tennis skirt along with a chunky gold watch. The Cosmopolitans—with Adam Brody, Dree Hemingway, and Carrie MacLemore—is partly about Americans' longing to infiltrate the Parisian haute bourgeoisie. "Metropolitan spoke about UHBS," Stillman later explained, "the urban haute bourgeoisie. Paris is the world capital for this group, the expat community especially. Pack a blazer or suit.
"You can be an American or an En­glish-man or Canadian and be a Parisian," he says, in words echoed almost verbatim by Brody's character. "It's a very admirable culture, and people want to identify with it. They don't want to be an American leaving steps in the sand that will be washed away." This expat enclave is also seeking love. "For Americans," he went on to email, "Paris has long been the mecca (or refuge) for those either looking for romance or fleeing broken ones. When such choices don't go well, the loneliness can be particularly severe."
Nothing so extreme happened during nine days of filming in Paris in April. "It was very civilized," says Sevigny. "Lunches were fantastic. The crew works fewer hours, too. They're more excited to be at work and about the art."
After losing his Soho loft, Stillman lived in Paris for almost a decade. "This and Metropolitan are the most based on my real life," he says. He has a great French accent—though that took some doing: "I thought knowing Spanish would be an advantage, but they hate the Spanish accent and said, 'You speak French like Zorro.' "
Sevigny first went to Paris with the earnings from her debut in Larry Clark's Kids. "It was my first time leaving the country," she says. She's been four times this year. In Paris, she likes going to fancy dinners at such restaurants as Caviar Kaspia and shopping. "I love the vintage store Come On Eileen," she says. "They have inexpensive Gaultier and Alaïa, not like Resurrection prices." She also has a local posse. "Olivier Zahm [the Purple editor], some other friends, and filmmakers like Olivier Assayas"—with whom she worked on the film Demonlover, in which she convincingly spoke French despite not really knowing it. "I studied with a doctor in Paris," she says. "He works with children with speech impediments and opera singers. He teaches your ear how to hear certain sounds. I would listen for hours on headphones to French children singing nursery rhymes."
When friends of Sevigny's visit Paris, they sometimes send her pictures of Rue de Sévigné in the Marais, where a scene from the pilot was, in fact, shot. Is she ever tempted to follow suit with a selfie taken under the street sign? "I don't take selfies," says Sevigny. Parisian UHBS would approve.
*This article appears in the August 11, 2014 issue of New York Magazine.