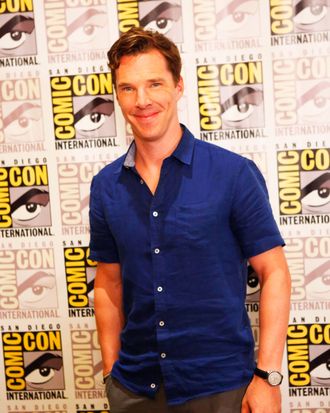 24 Jul 2014, San Diego, California, USA — Celebrity Arrivals at the 'Penguins Of Madagascar' in San Diego. Part of The San Diego Comic Con in CA. Pictured: Benedict Cumberbatch — Image by © Richie Buxo/Splash News/Corbis
Photo: Richie Buxo/? Corbis. All Rights Reserved.
The Hollywood Reporter reports Benedict Cumberbatch has been cast to voice Shere Khan in the Warner Bros.' Andy Serkis–directed adaptation of Rudyard Kipling's The Jungle Book. This is not to be confused with Disney's Jon Favreau–directed TJB, in which Idris Elba will voice the tiger. With his experience as Smaug in The Hobbit movies, Cumberbatch has a head start in voicing a villain. Though just having a British accent is a head start.