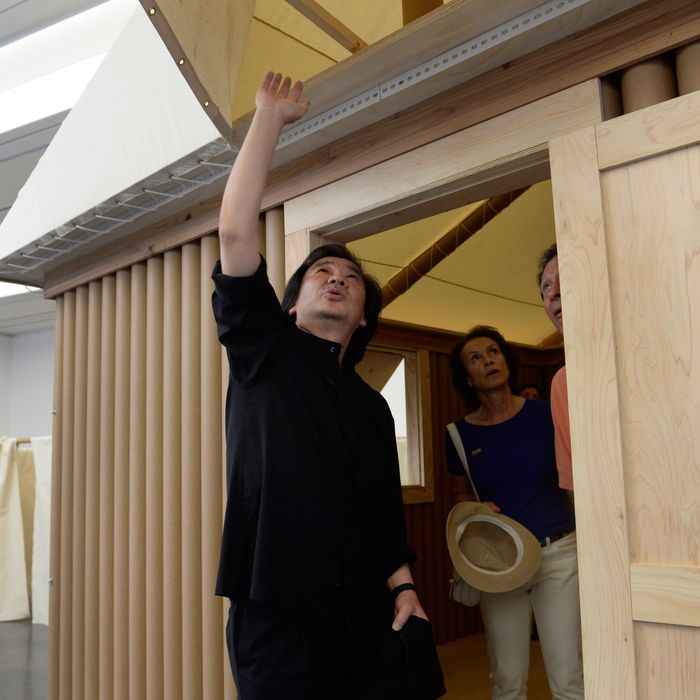 Photo: Kathryn Scott Osler/The Denver Post via Getty Images
Does a museum ever feel big enough? For 35 years, Aspen, Colorado, kept its principal art institution tucked into a small brick structure that once housed a hydroelectric generator. Now, after a seven-year saga of acrimonious local politics, the Aspen Art Museum is opening a new $45 million home, designed by the freshly minted Pritzker Prize laureate Shigeru Ban. Located a few blocks from the gondola, Paradise Bakery, Gucci, and the Silverpeak pot shop — the mainstays of Aspen hedonism — the museum joins downtown's roll call of glistering brand-names. On the outside, though, it flaunts a handmade retro roughness, as if to suggest that over the weekend a group of artists had hammered together a porous shed. Actually, the building is covered in a rust-colored weave of thin wood slats (or rather, "wood," since the material is actually made of paper, resin, and veneer) — a cool glass box warmed by a knitted museum cozy. What should have been a triumphal meeting of ravishing setting and delicate design is instead a graceful disappointment.
Ban is a virtuoso of humble architecture. His best projects feel lighter than a balsawood model, exquisite latticeworks of timber and paper tubes, with walls that billow in the breeze or disappear completely. He has become a celebrity humanitarian, rushing into disaster zones equipped with structures that can be erected almost as quickly as pup tents but that offer more dignified shelter. He has a horror of waste and a Robin Hood approach to architectural practice, taking from ultrarich clients and donating designs to the indigent and the distressed. That mix of exclusivity and altruism should make Ban the perfect citizen of Aspen, where the arts, social thought, hyperfitness, love of nature, and oozing gobs of money all coexist in mountainous splendor. The Aspen Art Museum has no collection, but it does have ambitious director, Heidi Zuckerman Jacobson, a well-padded donor base, and, now, a signature building — assets that earn it a spot on the A-list touring exhibition circuit.
In theory, Ban's design funnels the public through the smallish lobby and, by glass elevator or wide stairs, directly to the peak of the building. That way visitors encounter the best space first: the roof terrace, with its unfiltered view of Aspen Mountain. A translucent canopy, supported by a curved-wood truss feels impermanent and delicate, more encampment than museum. From there, the grand stair slashes down across the facade between the woven screen and a glass wall, so that it's not quite outdoors but not quite sheltered from the weather, either. Ban is a master of such paradoxes as weight-bearing paper, structural closets, flapping walls, and temporary buildings that outlast concrete and are easier to maintain. In Aspen, he had an even more paradoxical mission: to smuggle high-concept architecture into a traditional log-and-brick town without making the new stick out — in other words, to create a self-effacing monument. That's one contradiction too many.
In practice, as Zuckerman Jacobson acknowledged on a recent tour, you can't force people to follow an architect's ideal procession, so many will start with whichever gallery they encounter first. Those galleries are immaculately generic. Not an outlet mars the pristine white walls, the ceilings are all identically 14 feet high, and the polished concrete floors feel impeccably neutral. These galleries could be anywhere and can accommodate virtually any sort of art, which is precisely the point: They are as cosmopolitan as Aspen's Gulfstream set.
Ban has dressed up this stack of plain white boxes with his wicker-ish weave. The screen diffuses glare, chops up the view into so many little squares of slope, and gives the high-gloss building a welcome tactile texture. And yet there is something depressingly glib about Ban's architectural party trick, which is essentially a giant inverted wastepaper basket popped over a glass building. In his pursuit of techniques for building quickly, cheaply, and beautifully, Ban uses factory-made cardboard tubes as load-bearing elements, effectively turning packaging into structure. Zuckerman Jacobson asked him to incorporate the tubes somewhere in the museum, since what's the point of a Ban if it doesn't look like a Ban? He obediently sprinkled them around as decorative elements, to line a stairwell ceiling, form a partition, and upholster a wooden bench. For a famously idealistic architect, these invocations of his post-disaster work seem cynical and wan — rather like selling a refugee-camp snow globe in the museum gift shop.