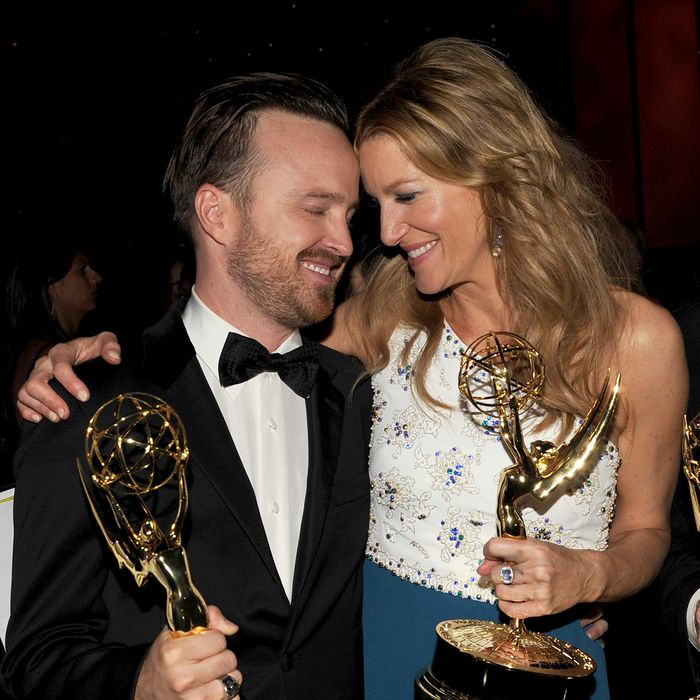 Photo: Kevin Winter/2014 Getty Images
As with every year, we are closing out our Emmys coverage will a behind-the-scenes pre- and post-party timeline. So many flies, so many walls. See you in this space in 2015!
Saturday, August 23: Pre-parties hosted by BAFTA, Entertainment Weekly, and Variety and Women in Film
3:15 p.m. Standing on the patio at the Beverly Hills SLS hotel for the BAFTA TV Tea is Chris O'Dowd. He feels way overdressed. "I feel dapper," he says. "And it's hard to feel dapper amongst Brits, because they're the most dapper people on Earth." Is he excited to go to Monday night's award ceremony? "I'm not even going to the Emmys this year. I live around the corner; I thought I'd come over. Fuck it, why not?"
4:35 p.m. Fargo's Noah Hawley, who will go on to win an Emmy Monday night, offers some tidbits on season two of the FX drama. "I can tell you what happens and you still won't know what happens because there are so many layers to it," he laughs. "I can say it's 1979, it's the Lou Solverson story, and it's the story of Sioux Falls, and what do you really know? You know the context. The way things unfold and all those extra layers thematically and that Coen-esque element is the fun of watching it."  Sadly, he's not won over by the fan campaign to bring back breakout character Molly. "[Allison Tolman] is an amazing actress; everyone loves her. It would be easy street for me to keep writing more stories for her, but the one thing the Coen brothers never do is repeat themselves, and I would feel disingenuous if I did this over and over again."
9:15 p.m. At the Variety and Women in Film bash at Gracias Madre in West Hollywood, Lizzy Caplan chats with Christina Hendricks. "It's cool," says Caplan when asked about her long-shot chance in the Best Drama Actress category. "If I'm looking over your shoulder, it's not because I see a celebrity, it's because I see an appetizer. I can't get enough passed apps into my body." When informed that Carole Radziwill is a few feet away, Caplan, a Real Housewives fan, responds, "My favorite one. What?! Where?" She plans on talking to Radziwill, but needs a little liquid courage first.
10:05 p.m. Allison Janney, who already has one Emmy this year for her turn on Masters of Sex, is on her second drink and she's happily tipsy. Any hangover cures? "B12 shots in the ass and tons of water," she says. "Just pound water. That's my biggest secret, drinking glasses of water. I'm gonna go home and drink a gallon of water."
10:10 p.m. At Entertainment Weekly's pre-Emmy event at Fig & Olive, American Horror Story's Sarah Paulson admits that she doesn't have a speech planned. "My speech is called, 'Thank you for letting me sit in my seat because I'm not winning this award.'" She says she learned her lesson last year after losing to Ellen Burstyn. "So I decided, 'Never again.' Because I believed everyone when they said I was winning. And I didn't win." So then, to drink or not to drink? "Oh, draaaaank. My publicist just laughed at me. She's like, 'That's like asking breathing or no breathing?' Breathing, drinking, you have to. It's too boring otherwise."
Sunday, August 24: Pre-parties hosted by Showtime and NBC/Universal

7:01 p.m. At BOA Steakhouse, NBC chairman of entertainment Robert Greenblatt and Allison Williams are super excited about Peter Pan Live! The Girls star has already begun rehearsals for the live show a full four months in advance.
7:30 p.m. We ask William H. Macy what he and Selena Gomez were chatting about at Saturday night's Variety and Women in Film party, since they were photographed being cozy together. "We've been dating for about a month," he says at Showtime's Emmy Eve event at the Sunset Tower Hotel. "The three of us." He points to wife Felicity Huffman. "It's been lovely. It's casual." So shameless! Actually, he directed her in the film Rudderless, but we like his version better. Then he shares his character Frank's technique to get through Emmy season: "The three Fs: food, flask, farmaceuticals."
Monday, August 25: Ceremony, Governors Ball, and after-parties hosted by Fox/FX and HBO.
4:48 pm. At the Nokia Theater, Taryn Manning's wonderful, distinct rasp of a voice is expressing confusion as to whether there are tables or just seats at the Emmys. "How do I go to the bathroom?" she wonders out loud.
5:28 p.m. Allison Williams's seat filler loses track of time and doesn't get up in time for Williams to sit back down before we're back on air. Williams runs off to the wings as the commercial break ends, arms full of her fluffy dress.
7:47 p.m. The room gives a standing ovation for Bryan Cranston.
8:29 p.m. At the Governors Ball, Lizzy Caplan takes a "Best Loser" pic with Orange Is the New Black's Lea DeLaria. They both put their thumb and forefinger in an L shape on their heads and yell out, "We're losers! Nobody wants us here! We're fucking losers. Let's burn it to the ground!"
8:47 p.m. Sarah Silverman sits with a friend and looks surprisingly relaxed. (Can't imagine why.) Explaining her acceptance speech's "we're all molecules floating in space" comment, she says, "It's just a little perspective. We're in outer space right now, you know?" Another little perspective she shares: "[Winning] means that I'm better. I'm better than you and everybody else. As soon as you accept that, life is going to be easier."
8:47 p.m. At the Fox/FX after-party at Vibiana, John Mulaney, Paul Scheer, and Max Greenfield stand talking. Mulaney says he was so nervous as a first-time Emmys presenter that he shook until his segment was over.
9:12 p.m. "I think the entire industry was wondering what he was thinking," says Julianna Margulies at the Governors Ball of her "silly" comment to Good Wife co-star Josh Charles during her acceptance speech. "And if anyone knows about wanting to leave a show, it's me. So it was just a little inside joke between the two of us." She then hands over her Emmy for a bit. "It's heavy, and I need a drink and a meal."
9:36 p.m. Jon Hamm is exhausted. When two women approach his Governors Ball table to ask for a picture, there's no getting him up. The pair has to crouch down around him and snap a quick one.
9:43 p.m. Aaron Paul has something to report. "I'm still on the verge of vomiting, but I think I'm going to hold it together."
9:48 p.m. The Breaking Bad table at the Governors Ball, empty for almost an hour, is suddenly populated by Emmy winners. Immediately, a crowd descends, almost ten deep, trying to get a picture with Aaron Paul or congratulate Anna Gunn. It's so overwhelming that four security guards position themselves around Bryan Cranston, backs to his chair, and escort him out a moment later.
9:53 p.m. At the HBO party at the Pacific Design Center, George R. R. Martin orders a margarita on the rocks with salt. While he waits at his table for it to be delivered, he talks about Weird Al's typewriter delivery. "They cut my best bit!" he tells us. "I was typing away furiously." We assure him that it made it onto the air. "Oh, okay. I had the last laugh." He's "pretty tired" of being asked to write faster, though, considering he's forgoing working on the next season of Game of Thrones so he can concentrate on finishing The Winds of Winter. "That's everything."
10:25 p.m. Louis C.K. at the Fox/FX party: "Every year, you do the show, you hope you're keeping it up and keeping it up, and that people still watch." Winning the Emmy was "a nice mile marker," but now he's planning to empty his brain and "avoid thinking for a few months," so he can get fresh ideas.
10:39 p.m. At HBO's True Detective table, Woody Harrelson, beer in hand, is animatedly talking to anyone who approaches. Matthew McConaughey is nowhere near.
11:02 p.m. The Leftovers's Justin Theroux and Game of Thrones's Peter Dinklage depart company with a fist-bump.
11:15 p.m. True Detective's Cary Joji Fukunaga, who brought his dad, is ambushed by partygoers. A friend tells him, "I was sure you were going to be in your flip-flops." Of the Harrelson-McConaughey bit on the show's "plagiarism" scandal, Fukunaga notes, "I think it was the perfect thing to say! He's taking aim at that ridiculous critique. He made fun of it. The only way to address criticism like that is to make a joke out of it. Yeah, that was perfect. I loved it." Fukunaga of course wanted McConaughey to win, but admits, "That was a tough category. What [Bryan] Cranston and [Aaron] Paul did in Breaking Bad was so amazing, so watchable, and had a huge following. It's very hard to break the precedent with a following, you know what I mean?"
11:50 p.m. At the HBO party, Mad Men's Sally Draper, Kiernan Shipka, sidles up to the bar with a gal pal and orders. Water with lime. She'll be the one of the few partiers without a hangover tomorrow morning.