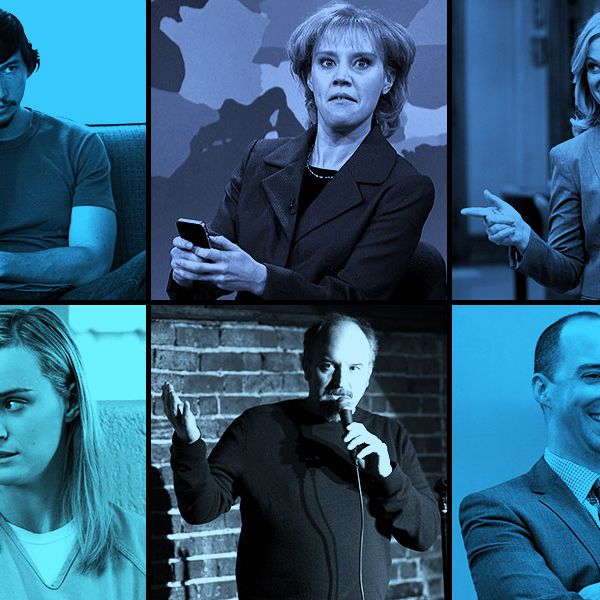 Photo: Maya Robinson and Photos by HBO, Comedy Central, NBC, Netflix and FX
The 66th Emmy Awards are next Monday (yep, Monday) and all this week, Vulture will be breaking down the major categories. Instead of giving our predictions for which shows and actors will take home awards, let's focus on the question that matters more: Who should win? Today, we kick things off with the comedy races.
Outstanding Supporting Actress
Mayim Bialik, The Big Bang Theory
Julie Bowen, Modern Family
Anna Chlumsky, Veep
Allison Janney, Mom
Kate Mulgrew, Orange Is the New Black
Kate McKinnon, Saturday Night Live
Merritt Wever dethroned Julie Bowen last year (and, oddly, is not in contention), so it's time for new blood. Anna Chlumsky's verbal viciousness is always on point, but only ever the fifth or sixth best part of Veep, and SNL MVP Kate McKinnon submitted an excellent episode ("Anna Kendrick," last season's high point) that featured tightly wound German chancellor/would-be party girl Angela Merkel. But for our money, Kate Mulgrew deserves all the kudos for her total transformation in the episode "Tit Punch," which introduced Red as the vulnerable Russian wife and proprietor she was before becoming prison kitchen kingpin. Her titular tit punch was also pretty damn funny.
Outstanding Supporting Actor
Fred Armisen, Portlandia
Andre Braugher, Brooklyn Nine-Nine
Ty Burrell, Modern Family
Adam Driver, Girls
Jesse Tyler Ferguson, Modern Family
Tony Hale, Veep
Tony Hale. Come on! Hale submitted "Crate," Veep's penultimate episode of the season, which includes the scene where he and Julia Louis-Dreyfus collapse onto a bathroom floor, laughing and reeling at the news that she's about to be president. Hale's Gary is silly, but he isn't stupid, and for someone who could just be a vacuous lackey, Gary knows he and Selina have a special relationship. Special enough to make his nose bleed with joy and excitement.
Outstanding Actress
Lena Dunham, Girls
Edie Falco, Nurse Jackie
Julia Louis-Dreyfus, Veep
Melissa McCarthy, Mike and Molly
Amy Poehler, Parks and Recreation
Taylor Schilling, Orange Is the New Black
No one will balk when JLD wins her umpteenth Emmy after that showcase presidential run on Veep (like Hale, Louis-Dreyfus submitted "Crate," and the aforementioned bathroom scene alone wins everything). But it is Amy Poehler's turn, goddamnit. Golden Globe voters got it together this year. Why shouldn't the Emmys? It would be a well-earned miracle if the TV Academy could at last reward the many shades of unconquerable civil servant Leslie Knope, who survived a recall this season (and who, let's face it, gets to be human far more often than Selina Meyer). Not to mention this is Poehler's seventh acting nomination (two for SNL, five for Parks). It's time, Emmys.
Outstanding Actor
Louis C.K., Louie
Don Cheadle, House of Lies
Ricky Gervais, Derek
Matt LeBlanc, Episodes
William H. Macy, Shameless
Jim Parsons, The Big Bang Theory
There's a real misery factor to this category this year: Many of these roles could easily be classified as dramatic, and most of the characters have a deep, sad longing to them. (Parsons is the only one playing for sheer yuks, which might explain why he's won three out of the last four years.) William H. Macy's Frank is the most depraved of them all, scrounging for booze and pills on his deathbed, drinking even though he's received a liver transplant, and encouraging his 12-year-old son to drink. Yet Macy gives Frank a real sense of dignity and purpose, and rather than seeming like the villainous monster he kind of is, Frank seems almost rascal-ish. Frank's an awful person, and yet all these people are devoted to him — and Macy's performance is what explains why. Charisma!
Outstanding Writing
Episodes, "Episode Five," David Crane and Jeffrey Klarik
Louie, "So Did the Fat Lady," Louis C.K.
Orange Is the New Black, "I Wasn't Ready," Liz Friedman and Jenji Kohan
Silicon Valley, "Optimal Tip-to-Tip Efficiency," Alec Berg
Veep, "Special Relationship," Simon Blackwell, Armando Iannucci, and Tony Roche
Orange Is the New Black has one of the strongest pilots in living memory, setting up the show's premise, its characters, and their deals, but also the show's tone and sensibility, right away. The show confidently mines humor from degrading, dehumanizing circumstances, and even as our characters are being cavity-searched and humiliated, we can see them as the funny, charming — complicated — people they are.
Outstanding Comedy
The Big Bang Theory
Louie
Modern Family
Orange Is the New Black
Silicon Valley
Veep
Quibble with the comedy categorization all you want: Orange Is the New Black is smart, deep, and unmatched in originality. And character work. And, yes, laughs. (Pennsatucky! Pornstache!) Both Orange and Louie at times can feel like a collection of beautiful thematic vignettes, but Orange gets points for breadth (inmates, guards, people on the outside, all with their own fleshed out stories). At the same time, any of these would be better than yet another win for Modern Family.