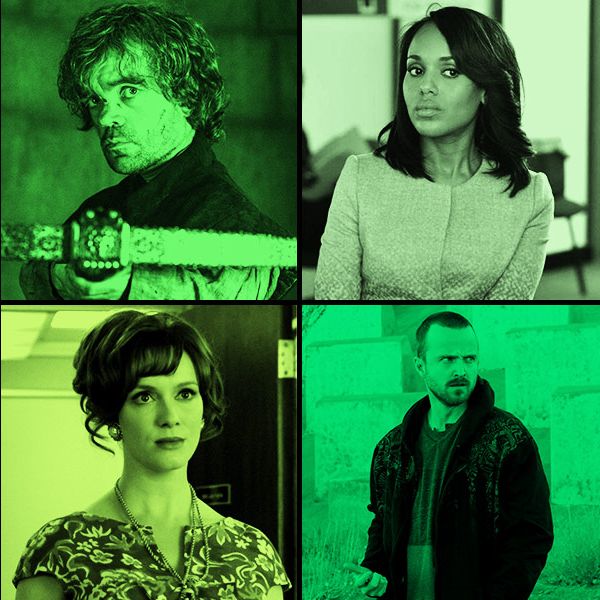 Photo: Maya Robinson and Photos by HBO, ABC, CBS and AMC
The 66th Emmy Awards are next Monday (yep, Monday), and all this week, Vulture will be breaking down the major categories. Instead of giving our predictions for which shows and actors will take home awards, let's focus on the question that matters more: Who should win? We've already tackled the comedy races. Today, we focus on drama.
Outstanding Actor
Bryan Cranston, Breaking Bad
Jon Hamm, Mad Men
Matthew McConaughey, True Detective
Woody Harrelson, True Detective
Kevin Spacey, House of Cards
Jeff Daniels, The Newsroom
Trusting that Jon Hamm will see his day for the final run of Mad Men episodes next year (seriously, it can't not happen), and not discounting the tremendous work of Woody Harrelson, this race comes down to Bryan Cranston's carefully calibrated performance in "Ozymandias" and Matthew McConaughey's showdown with the abyss in the finale of True Detective. Either would be a worthy choice for voters (no matter whether or not you think the latter deserves to compete against a continuing series). Cranston's already won three times in this category, so we say let the McConaissance continue. Matthew McConaughey for all the awards!
Outstanding Actress
Claire Danes, Homeland
Lizzy Caplan, Masters of Sex
Michelle Dockery, Downton Abbey
Julianna Margulies, The Good Wife
Kerry Washington, Scandal
Robin Wright, House of Cards
This is not a banner year for this category; the Tatiana Maslany and Elisabeth Moss snubs still chafe, and each character in this category is defined by her relationship with a man far more than their male counterparts are defined by their relationships with women. Claire Danes won the last two years, but this season of Homeland was such a letdown that it's hard to want to reward any part of it; Robin Wright just didn't have a lot to do on this season of HOC other than facilitate some sensuous bodyguard hookup time. Maybe it's time for another Julianna Margulies win.
Outstanding Supporting Actor
Jim Carter, Downton Abbey
Peter Dinklage, Game of Thrones
Aaron Paul, Breaking Bad
Mandy Patinkin, Homeland
Josh Charles, The Good Wife
Jon Voight, Ray Donovan
No problem if Josh Charles sneaks in a surprise win here for seething his way through heartbreak in "Hitting the Fan," but Peter Dinklage seethed just a bit harder during the trial of Tyrion Lannister. You'd think sentencing Tyrion to the bowels of King's Landing might mean less action for the smartest man in Westeros. Not so! Peter Dinklage won the Emmy for season one's "Baelor," in which Tyrion met Shae and told her the hideous story of his first marriage, and three seasons later, that relationship has gone to shit. Shae betrays Tyrion in the worst way, and Dinklage summons up the hellfire in his belly to throw down with the entire screwed-up court system. It's almost scary.
Outstanding Supporting Actress
Anna Gunn, Breaking Bad
Maggie Smith, Downton Abbey
Christine Baranski, The Good Wife
Christina Hendricks, Mad Men
Lena Headey, Game of Thrones
Joanne Froggatt, Downton Abbey

It's a crime that no Mad Men performer has won an Emmy for his or her work, which is among the reasons to root for Christina Hendricks. But this wasn't a major year for Joan. (Sorry, Bob Benson.) This was, however, a major year for Cersei Lannister, and Lena Headey was more than up to the task. There's a fullness to Headey's performance — it's very easy to see and understand Cersei as a dangerous puppetmaster, a grieving mother, an abuse survivor, a political power-player, a dismissed daughter, and vengeful sister all at once. It's a very complete portrait.
Outstanding Writing, Drama
Breaking Bad, "Ozymandias," Moira Walley-Beckett
Breaking Bad, "Felina," Vince Gilligan
Game of Thrones, "The Children," David Benioff and D.B. Weiss
House of Cards, "Chapter 14," Beau Willimon
True Detective, "The Secret Fate of All Life," Nic Pizzolatto
"Ozymandias" is Breaking Bad's true climax, beginning with a flashback to calmer times for Walt and Jesse in the desert and coming back to Hank's summary execution — and that's just the jumping-off point. The wreckage quickly snowballs: Walt tries to grab his family and run, but Skyler fights him off at knifepoint. Walt kidnaps their daughter Holly. And then there's the phone call, perhaps Walt's greatest performance yet absolving Skyler of any crimes but brimming with real resentment. Even series boss Vince Gilligan said it was "the best episode we ever had or ever will have." A devastating gut-punch built on five seasons of story. None of the other contenders — not even the Breaking Bad finale itself — come close.
Outstanding directing for a drama series

Boardwalk Empire, "Farewell Daddy Blues," Tim Van Patten
Breaking Bad, "Felina," Vince Gilligan
Downton Abbey, "Episode 1," David Evans)
Game of Thrones, "The Watchers on the Wall," Neil Marshall)
House of Cards, "Chapter 14," Carl Franklin
True Detective, "Who Goes There," Cary Joji Fukunaga
It's the one with the six-minute tracking shot. Cary Fukunaga all the way.
Outstanding Drama

Breaking Bad

Downton Abbey

Game of Thrones

True Detective

House of Cards

Mad Men
True Detective certainly impressed a lot of people this season, Game of Thrones went all out for its annual battle episode, and Mad Men gave us a severed nipple. But Breaking Bad deserves one last prize for its final season. The show's final arc was devastating, fascinating, surprising, and complete, somehow achieving what feels like an impossible task these days: ending a series well.