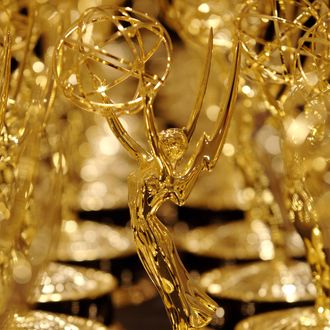 Photo: Marc Bryan-Brown/Getty Images
The Starbucks Pumpkin Spice Latte isn't the only thing arriving early this year: The Emmy Awards ceremony is taking place in the heat of the summer — and on a Monday to boot. If you're thinking to yourself, That's odd!, well, your puzzlement is not misplaced. August Emmys are exceedingly rare in the show's history, and a non-Sunday telecast is even more uncommon. In fact, since the TV Academy made the show an autumn event back in 1977 — statuettes had previously been given out in the spring — the ceremony has always fallen on a Sunday. So what's behind Emmys' kinda-sorta demotion this year to a seemingly random Monday in August? To paraphrase Emmy-winning TV legend Don Adams's alter ego, "Would you believe … football?"
To be more precise, this year's super-freaky Emmys scheduling is the result of a perfect storm of factors, with football being the most significant (and intuitive) one. Fact is, in addition to a couple of arbitrary August telecasts in the 1980s and '90s, pre–Labor Day occurrences of the Emmys have been a quadrennial occurrence since 2006, when the NFL's long-running Sunday Night Football shifted from ESPN to NBC. The Emmys rotate among the Big Four broadcast networks from year to year, and 2006 just so happened to be NBC's turn hosting the show. But because it had just agreed to pay a reported $600 million per year for the rights to air football, there was no way the Peacock network was going to preempt one of its September games for an awards show. So it came down to a decision to either move the Emmys off of Sunday and keep it post–Labor Day, or move up the telecast to August; NBC obviously chose the latter strategy. It happened again in 2010, when the Emmys took place on Sunday, August 29.
So why isn't it airing on the final Sunday in August this year? The answer involves a quirk of the calendar: Labor Day Monday comes very early this time around, falling on September 1. "We could've done the Emmys on (Sunday) August 31, but we weren't going to do it going into Labor Day," Jeff Bader, NBC's president of program planning, strategy, and research, told Vulture. But Sunday, August 24, also didn't work, since NBC had previously committed to airing a preseason NFL game on the night. (MTV had also laid claim to the night for its Video Music Awards.) Sure, once it became clear that a Sunday Emmys in August was out of the question this year, NBC, at least in theory, could have scheduled its destined-for-Monday Emmycast sometime in early September; while Labor Day wasn't an option for them, September 8 and 15 would have been feasible, particularly since NBC's big Monday gun — The Voice — isn't due back until September 22. But those dates also had downsides, Bader says, also due to football. "If it had been the 8th or the 15th, it would've aired against Monday Night Football (on ESPN)," he says. Adding further complexity to NBC's decision, the exec says, were scheduling factors relating to the TV Academy's Creative Arts Emmys: Its deal with the Nokia Theater in Los Angeles made a Monday date in September not particularly feasible. "It was a big puzzle," Bader says.
In the end, while it may seem strange to be watching one of the four major awards shows on a Monday this year, it will hardly be unprecedented. Until 1999, the Oscars were a Monday-night perennial on ABC. And the very first nationally televised Emmys broadcast? It aired on NBC back on March 7, 1955 — a Monday.