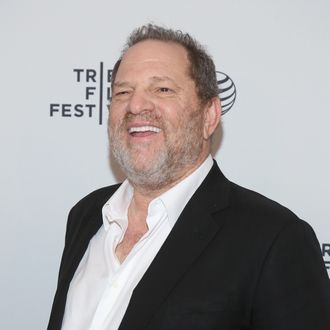 Photo: Rob Kim/2014 Getty Images
We're getting even more Peter Pan! The New York Times reports that Finding Neverland, a musical based on the 2004 film about Peter Pan author J.M. Barrie (played by Johnny Depp), will open for the first time on Broadway this March.
The high-profile musical marks Harvey Weinstein's first time as lead producer on a theatrical project, and it has been in the works for some time: After a tryout production drew mixed reviews back in 2012, Weinstein scrapped an earlier version of the script and hired a new team, helmed by Tony-winning director Diane Paulus (Pippin, Hair), to rework it. This is the first time a firm Broadway date has been announced, although many were predicting it after Jennifer Hudson performed a song from the production at this year's Tony Awards.
The cast for the Broadway production remains TBA, although a tryout production starring musical theater vets Laura Michelle Kelly and Jeremy Jordon (Smash) opened tonight at the American Repertory Theater in Cambridge, Massachusetts. Unfortunately, Peter Pan isn't a character, otherwise Weinstein could totally make his life easily and poach Allison Williams for the part. She can already fly and everything.