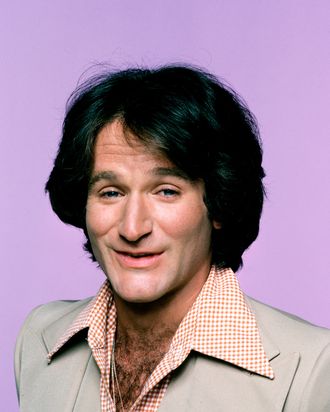 He broke out on TV playing an alien on Mork & Mindy, and made his film debut as a mumbling comic-strip character in Robert Altman's Popeye. Those two performances kicked off a massive career, and Robin Williams, who died today at the age of 63, would rocket far beyond those two bizarre roles, equally entertaining in their own ways, to play memorable characters both comedic and dramatic. Here is just a sampling of some of his great moments from TV, movies, stand-up, and late-night.
Dead Poets Society
"We read and write poetry because we are members of the human race."
Roast of Richard Pryor
How comically brave was Robin Williams? Brave enough to roast the great Richard Pryor, even before Williams was nationally known (though he was already popular on the stand-up circuit). It was a very brief set, and yes, he made Pryor laugh. Perhaps that's why Pryor had Williams appear on his short-lived NBC sketch show in the fall of 1977. Williams played a white defense attorney defending a black man on trial for murder in 1926 Mississippi:

Tonight Show With Johnny Carson (1993)
For most of the '80s and '90s, Williams was considered one of the top guests for talk-show hosts, especially when they needed a ratings boost. One of his most iconic visits to a couch came when The Tonight Show host Johnny Carson invited Williams to be the final comedian to appear on his show before he retired. Everyone remembers Bette Midler singing to Johnny on that penultimate broadcast, but before the tears, Williams had Johnny (and the rest of us) cracking up:
Laugh-In (1977)
Right before Mork & Mindy, Williams appeared on the short-lived  revival of Laugh-In. Here he is riffing with another recently departed celeb, the late James Garner:
Mork & Mindy blooper reel
Williams's first big TV role, of course, was on Mork & Mindy, a show that allowed him to flex every one of his improv muscles. The comic lunacy that made it on the air, however, was nothing compared to what got left on the cutting-room floor. Remember, Mork aired on ABC in the 1970s: Some innuendo was okay on broadcast TV, but network standards were far tougher back then. This blooper reel — probably put together for the show's wrap party — shows just how out there (and blue) Williams could get:
HBO comedy special (1978)
At just about the same time Mork & Mindy was becoming a breakout hit on ABC in the fall of 1978, HBO — just a few years old at the time — gave Williams the first of what would be several comedy specials. This one opens with Williams doing what appears to be a parody of the game show To Tell The Truth, with Williams playing multiple characters. Later in the show, Williams starts to improv with another comic genius gone too soon: John Ritter. (Splitsider reviewed the special here.):
Illinois Bell Ad (1970s)
Williams was a complete unknown when he taped this mid-1970s ad for Illinois Bell. He plays a dutiful husband who ends up having way too much fun with telephones.
Good Will Hunting
His Oscar-winning performance.
While Williams's Oscar acceptance speech is just as funny as you'd expect (yes, there's a crack at Harvey Weinstein's expense), it's also filled with real emotion— and, it seems, genuine happiness:
Williams later recounted the experience on Inside the Actor's Studio:
David Letterman was just as enamored of Williams, and when Dave returned to the air following the Writers Guild Strike, he asked Williams to be his first guest. They talked about hanging out on the picket lines and Williams's visit to the troops:
Mrs. Doubtfire
One of the movies that introduced Williams to a new generation.
And one of his most recent appearances.