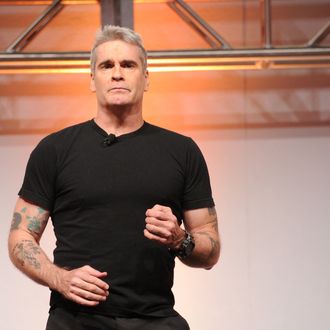 Photo: Bryan Bedder/2014 Getty Images
Punk legend Henry Rollins apologized for his LA Weekly column last Monday, entitled "Fuck Suicide," in which he criticized Robin Williams for killing himself. While he is fairly ambivalent in the offending text, Rollins eventually says it's hard for him to understand how a parent could commit suicide. He wrote, "Life isn't anything but what you make it. For all the people who walked from the grocery store back to their house, only to be met by a robber who shot them in the head for nothing — you gotta hang in there."
While Rollins has another column coming out on Monday, he wanted to clear the air before then on his website, saying that he realized he caused a lot of hurt, and acknowledging that the fury directed at him is merited. He also talks about his own depression:
I have had a life of depression. Some days are excruciating. Knowing what I know and having been through what I have, I should have known better but I obviously did not. I get so mad when I hear that someone has died this way. Not mad at them, mad at whatever got them there and that no one magically appeared to somehow save them.
As far as apologies go, it seems pretty sincere (at least compared to Gene Simmons), but can we just call a moratorium on celebrities talking about this topic now?