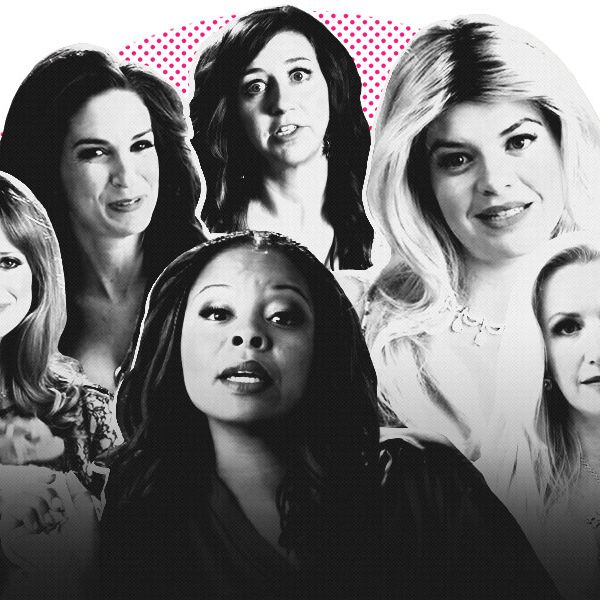 Photo: Maya Robinson and Photos by Hulu
Starting today, anyone with an internet connection and 23 minutes of free time can stream the season finale of The Hotwives of Orlando, the original Hulu series parodying the sprawling Real Housewives shows and the various franchises' train-wreck stars. Like the reunion specials capping off Real Housewives seasons, the seventh episode of Hotwives reconvenes the titular narcissists (played by Casey Wilson and others) for a salacious update hosted by the show's Andy Cohen–alike (Paul Scheer). Now that season one is in the books, Vulture closely examined the six O-Town hot messes and and ranked the Hotwives by their inherent hot-messness.
6. Phenemon "Phe Phe" Reed (Tymberlee Hill)
Real Housewives equivalent: Nene Leakes, Atlanta
Husband: womanizing Rodney (Jerry Minor)
Professions: lawyer, cake designer, Zumba instructor, foot model, CPA, minister
Hobbies: taxidermy, patronizing the Tools & Tapas strip club
Events she hosted: Amanda's Intervention Party, Group Staycation (with Weird Al as self-help guru Cliff Bonadentura)
Legal spats: Was prosecuting attorney and defendant in Tawny's lawsuit over the song "Save the Drama From Obama"
Mad that you skipped her: "I'm Getting Sued by Tawny" Party
Point of pride: Outspokenness
Hot-messiness factor: Negligible. She's smart, hardworking and successful, although a little light on common sense (e.g., serving alcohol at Amanda's intervention; referring to her husband as a professional athlete, even though he's a team mascot). She'd be better off without Rodney — a serial cheater with several illegitimate children — but she drafts airtight prenups and insists, "Divorce is what makes ourmarriage work."
Reunion bombshell: Phe Phe divorced Rodney for bedding her manicurist.
5. Crystal Simmons (Angela Kinsey)
Real Housewives equivalent: Alexis Bellino, Orange County
Husband: possessive, ultraconservative T.J. (Seth Morris)
Profession: TV weather reporter
Hobbies: Bible study, feigning sisterly concern for her own self-interest
Medical condition: Restless Leg Syndrome (self-diagnosed)
Mad that you skipped her: "I Just Had Sex With My Husband" Party
Point of pride: McMansion
Hot-messiness factor: Low. Crystal's biggest problem is her husband, who believes that women shouldn't read, work, or orgasm. She also uses her sister Amanda's addiction struggles to bolster her own self-esteem.
Reunion bombshell: Crystal, Are You Clear?, Crystal and T.J.'s sitcom, will be produced for the Christian Broadcasting Network by Kirk Cameron.
4. Veronica Von Vandervon (Andrea Savage)
Real Housewives equivalent: Lisa Vanderpump, Beverly Hills
Husband: none
Profession: owner of Von Vandervon Hot Holes Heavy Putting and Snack Shack
Hobbies: visiting website called Super Cougars, speaking in a British accent
Event she hosted: dinner party with the Ghost Shouter (Big Bang Theory's Melissa Rauch)
Medical condition: "deviated septum in her vagina"
Mad that you skipped her: dog's funeral
Points of pride: richness, whiteness
Hot-messiness factor: Moderate. Veronica is confident, detached, and vaguely white supremacist. Thanks to family money, she can treat herself to vaginoplasties and underage pool boys (she loves to educate others in the art of double entendres). However, her world is shattered when her dog, Lover, overheats in a tanning-bed accident.
Reunion bombshell: She and new husband Billy (actually a gay high-school student) will take in an African foster child (actually a ripped black man).
3. Tawny St. John (Casey Wilson)
Real Housewives equivalent: Gretchen Rossi, Orange County
Husband: much older Phil (Stephen Tobolowsky)
Professions: founder of Classy Canines charity (provides high heels for dogs); designer of "Tight Little Pursie" handbags; former Hooters Airlines stewardess
Hobbies: screwing her trainer (New Kids on the Block's Joey McIntyre); volunteering with Lap Dances for Veterans
Event she hosted: Classy Canines fundraiser (with Jeff Hiller as party planner Antoine)
Medical condition: painful urination
Legal spats: sued Phe Phe for copying her song, "I Don't Wanna/Your Drama"
Mad that you skipped her: Eyebrow Extension Launch Party
Point of pride: bod
Hot-messiness factor: Large. Tawny is a self-deluded gold-digger, banned for life from entering Ruby Tuesday. Despite her husband's devotion to her, she tells everyone that he's dying, hoping the universe will comply. Although her best friend is overly competitive, drama queen Tawny repeatedly goes too far, outing Shauna as broke in front of their friends and wearing a wedding dress to Shauna's vow renewal.
Reunion bombshell: Tawny divorced Phil, who proceeds to drop dead when she tells the world.
2. Amanda Simmons (Kristen Schaal)
Real Housewives equivalent: Kim Richards, Beverly Hills
Husband: none
Profession: former child actress
Hobbies: looting liquor stores, blacking out
Medical condition: drug addict, alcoholic
Point of pride: childhood stardom as the Florida Prune Juice girl
Hot-messiness factor: Enormous. Unlike the other Hotwives, Amanda's addiction issues are life-threatening. Besides copious amounts of alcohol, her drugs of choice include meth, crack, horse tranquilizers, and dog food. When she could have been playing with her childhood peers, Amanda was on a set; thus, she never developed basic social skills. Yet when she doesn't have the reality-show producers to cloud her judgment — they check her out of rehab to film the reunion special — Amanda seems capable of making positive, proactive choices.
Reunion bombshell: Since Florida doesn't recognize gay marriage, Amanda's recent union ended when she realized the "man" she married, Joe, was actually Shauna's lesbian sister.
1. Shauna Maducci (Danielle Schneider)
Real Housewives equivalent: Teresa Giudice, New Jersey
Husband: Anthony (Matt Besser)
Children: "four or five" daughters Shana, Shayna, Shanti, and Shania
Profession: none; former stewardess for Hooters Airlines
Hobbies: compulsive shopping (Kate Walsh plays her interior decorator), one-upping best friend Tawny
Event she hosted: Pimps & Hoes Party (with Horatio Sanz as pimp instructor Tito, and Kulap Vilaysack as prostitute professor Carmelotta)
Medical conditions: herpes, eczema
Legal spats: foreclosure (Orange Is the New Black's Lauren Lapkus plays a bank representative); plumber threating to sue for assault; looming fraud charges
Mad that you skipped her: Car-Housewarming Party
Point of pride: marriage
Hotmessiness factor: Immeasurable. Crashes into a homeless man while drunk driving. Gets attacked by a ghost. Punches a goat in the face.  Declares "I spent my daughter's college fund on throw pillows." Thinks her husband is being romantic when he's insulting her. Pronounces words wrong. Wipes her ass with formalwear. Believes in unicorns.
Reunion bombshell: Shauna gloats to being the brains behind her incarcerated husband's schemes.