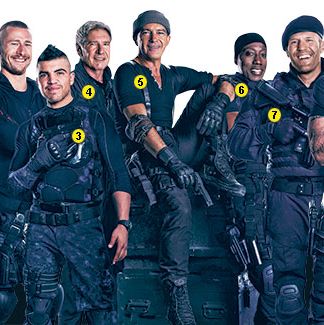 On August 15, The Expendables 3, the latest installment of the elderly ensemble action series, muscles its way into theaters. Which crusty star has the most fake kills to his credit? The most wives? A Who's Who of the action series.
1. Gunner Jensen
Dolph Lundgren, 56
Sniper and chemical engineer.

2. Thorn
Glen Powell, 25
Hacker and drone pilot.

3. Mars
Victor Ortiz, 27
Boxer and sharpshooter.

4. Max Drummer
Harrison Ford, 72
Former CIA fields-ops officer who now supplies intelligence for the Expendables.

5. Galgo
Antonio Banderas, 54
Sharpshooter.

6. Doc
Wesley Snipes, 52
Medic.

7. Lee Christmas
Jason Statham, 47
Knife expert.

8. Barney Ross
Sylvester Stallone, 68
Leader of the Expendables and handgun sharpshooter.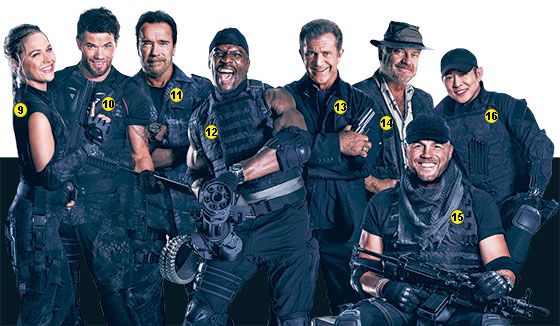 9. Luna
Ronda Rousey, 27
Only female Expendable and a close-quarters combat expert.

10. John Smilee
Kellan Lutz, 29
New recruit.

11. Trench Mauser
Arnold Schwarzenegger, 67
Former associate of Ross's who formed his own rival team of mercenaries.

12. Hale Caesar
Terry Crews, 46
Barrel-weapons specialist.

13. Conrad Stonebanks
Mel Gibson, 58
Co-founder of the Expendables who's now a villain.

14. Bonaparte
Kelsey Grammer, 59
Helps with recruiting new Expendables.

15. Toll Road
Randy Couture, 51
Demolitions and grappling expert.

16. Yin Yang
Jet Li, 51
Martial-arts specialist.

**********
The Deadliest Expendables
Which Expendable has killed the most people onscreen in his career?
Arnold Schwarzenegger: 396
Sylvester Stallone: 267
Dolph Lundgren: 239
Jet Li: 201
Wesley Snipes: 193
Jason Statham: 182
Mel Gibson: 148
Antonio Banderas: 122
(Source: MovieBodyCounts.com, numbers valid through 2011)
**********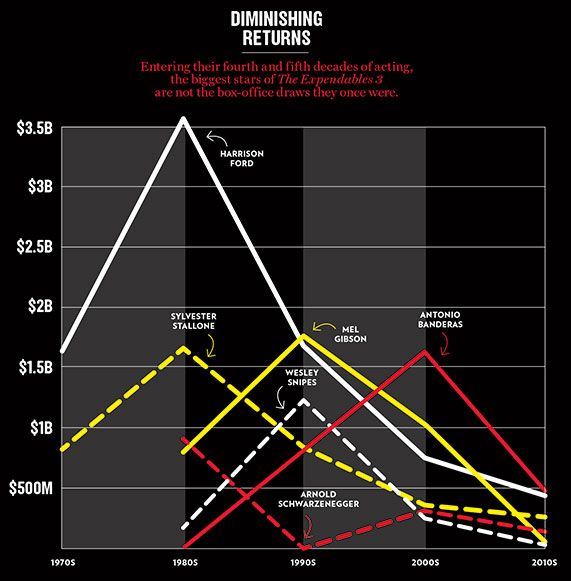 **********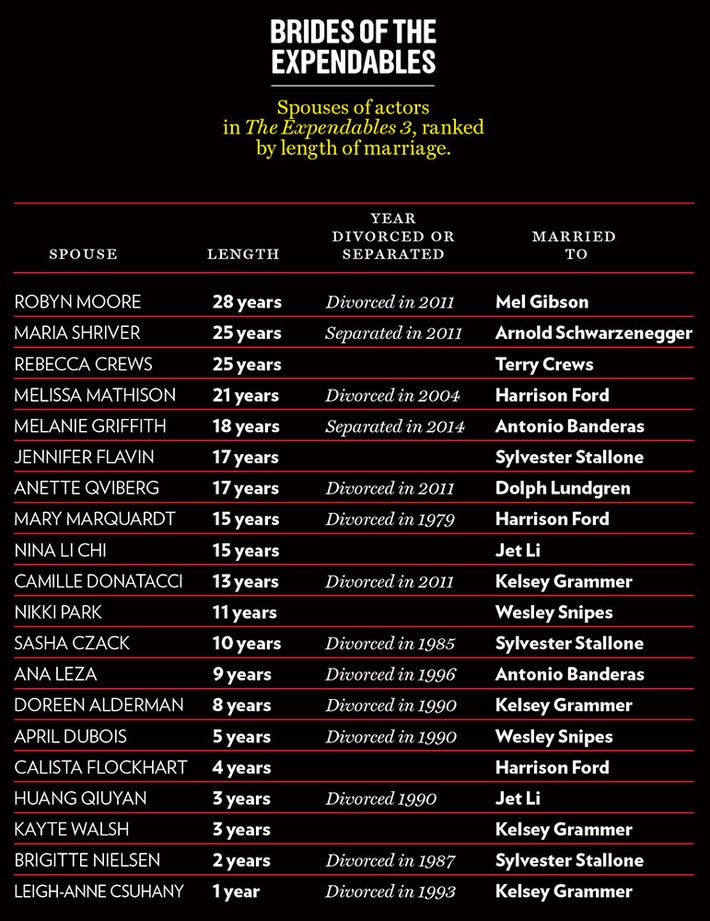 **********
The Really Expendables
Who missed out on a chance to be an Expendable?
Wesley Snipes:
The role of Hale Caesar in the original film was reportedly written for him, but he had to bow out because he was in prison for tax evasion. (He finally appears in Expendables 3.)
Forest Whitaker:
He was reportedly offered the role of Caesar next but dropped out because of scheduling issues.
Curtis "50 Cent" Jackson: With Whitaker gone, he signed up for the part of Caesar but was reportedly replaced by Terry Crews after fans revolted.
Steven Seagal:
He was offered a cameo in the first film but passed because "I just didn't like some of the people involved."
Kurt Russell:
He was offered a role in the original movie but said no because doing it would have been "like looking backward."
John Travolta:
He was offered a role in Expendables 2 but reportedly "just didn't go for it."
Jackie Chan:
He was cast in Expendables 3 in 2012 but eventually fell out because of a scheduling conflict.
Milla Jovovich:
She declined a role because she reportedly wanted to shed her image as an action star.
Clint Eastwood:
With Stallone reportedly interested in casting him for Expendables 3, Eastwood was asked by a reporter if he'd consider it. His answer: "Probably not."
Bruce Willis:
After appearing in the first two movies, he reportedly demanded $4 million for four days of shooting. Stallone offered $3 million, so Willis walked.
*This article appears in the August 11, 2014 issue of New York Magazine.