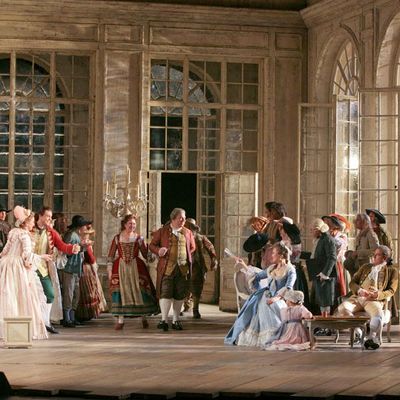 The Met's labor crisis is over; the spiritual crisis goes on. There's a lot to be thankful for in the way contract negotiations unfolded. All through a treacherous summer, rehearsals never stopped. Costumes kept being fitted, lighting adjusted, blocking practiced, and props assembled. Stagehands continued the colossal task of figuring out how to jump between centuries and continents in a matter of hours. As a result of all this coordinated effort, chandeliers will rise and necklines will drop on opening night, just as they do every year. James Levine will conduct the National Anthem, and, as always, a few retired sopranos in the audience will holler through the 3,800-person choir — their annual opportunity to be heard at the Met.
But while the company and its unions have agreed on a complicated package of cuts and perks that satisfies all sides — or, at any rate, dissatisfies them equitably — and although the Met has agreed to outside financial supervision, there are still rumblings in Valhalla. During the acrimonious period that preceded the final agreement, general manager Peter Gelb declared opera all but doomed, and the orchestra accused him of running the company over a cliff. Each side was exaggerating, but each also had a point. Negotiations that were billed as an existential struggle raised, then sidestepped, the long-term questions. Can an opera company indefinitely support thousands of practitioners of arcane crafts? Must a costly large-scale art form inevitably be a luxury product, or can technology help it reach a wider public than ever? Do the new rich even have any interest? More immediately, can the company put on good-enough shows to fill its yawning house?
Neither Gelb nor anyone else can answer these questions with confidence, but now that the Met's next few seasons are assured, he can get back to making sure that opera matters. He says that it's in trouble, and he's not wrong. But there are degrees of trouble. Consider Shostakovich's 1934 opera Lady Macbeth of Mtsensk, a crackling Soviet-era tragedy about the constrictions of poverty, about lifelong frustration, desperate adultery, sordid murder, and petty power — the stuff of disposable headlines elevated to classic drama by a score of uncommon power. Writing that work proved nearly lethal for its composer. The piece was quashed, and Shostakovich spent the rest of his life with a packed suitcase under his bed, ready for his trip to the gulag. Now, that's an existential crisis.
The Met's been cautious about Lady Macbeth, mounting a gloriously gaudy production by Graham Vick in 1994, and reviving it only once, in 2000. Now Gelb is bringing it back, with Eva-Maria Westbroek in the title role. And so, for six nights in November, the Met will relive a time when everyone from tyrants to factory workers understood that opera isn't just a form of elite entertainment. It can be vital, fragile, and rattling. It can also be dangerous.