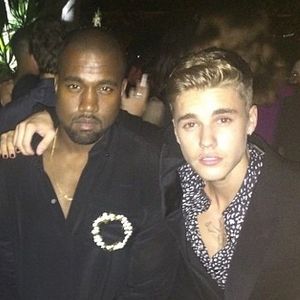 Justin Bieber's Ibiza extravaganza continued last night at Givenchy designer Ricardo Tisci's birthday party. Some of Tisci's best clients closest friends attended, including Kanye West, Kim Kardashian, and the rest of the Jenner clan. Of course, Bieber posted some photos of himself with Kimye. The first one he took turned out blurry, so he did a re-do, which just looks like the one Kim posted on her Instagram hours before him. Oh, and there's a photo of him being creepy with Kris Jenner. But whatever, guys, he's Justin Bieber — he can do what he wants.
Bieber's caption for this one is, "But the vision is clear."
Then he probably realized that was not art, so he was like, "Kim, I'm gonna take yours." But he didn't really know how to resize it, so it's grainy:
Before all of that, he decided to take a photo with Kris Jenner captioned, "@kendalljenner @kyliejenner who's your daddy," because — get it? — he's implying he's having sex with their mom.
Bieber out.