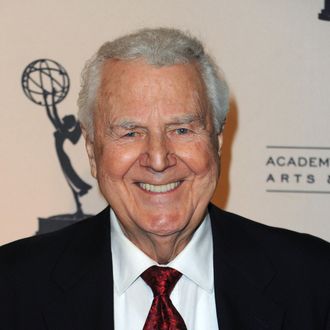 Photo: Frazer Harrison/Getty Images
Don Pardo, the veteran announcer whose iconic voice has been heard in Saturday Night Live's opening credits since its 1975 premiere, passed away this evening at the age of 96, an NBC spokeswoman confirmed to Vulture late Monday.* Pardo has opened SNL every season, except for one: The 1981–82 year, produced by sports exec Dick Ebersol.  In recent years, Pardo has been rumored to be stepping down from the announcing gig multiple times, and at one point, a decade ago, even "retired." But SNL creator Lorne Michaels somehow always managed to get him to return, with Pardo pre-recording each week's guests from his home in Arizona rather than live in studio. While Pardo will always be most closely associated with SNL, earlier in his career he was nearly as legendary to earlier generations as the announcer for the original incarnations of The Price is Right and Jeopardy! That latter gig also resulted in one of Pardo's most memorable performances in front of the camera: He played himself in the video for Weird Al's 1984 hit "I Lost on Jeopardy." Sadly, Pardo's passing means he will not be around (at least in the flesh) to announce the upcoming 40th season of SNL.
* This post previously stated that Pardo was responsible for saying "Live from New York" at the beginning of every episode. That is not his job, but rather that of a cast member or special guest.