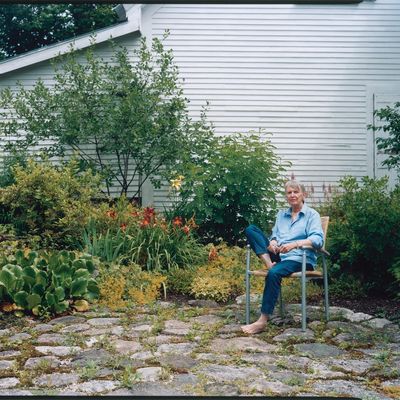 Lowry at her home in Bridgton, Maine.
Photo: Justine Kurland
"So, shall we go to the dump?" Lois Lowry is now a slightly salty 77, with a sort of Elaine Stritch side-mouth speech and no Mother Goose orb about her. It's a misty morning in late July, and I'm in Bridgton, Maine, watching the young-adult god as she separates cardboard boxes from newspapers and bottles, two days before she heads to Comic-Con, where she's been roped into a panel with Jeff Bridges to promote the film adaptation of her 1993 classic The ­Giver—the start of a publicity tour, followed by a major movie release, which will make her dystopian novel, one of the most beloved books of the YA "golden age," a whole other kind of famous. Bridges, a lead producer, plays the supporting role of the title character; the movie also stars Meryl Streep and Taylor Swift. "There are those, I think, who are attracted to the glitz of celebrity life," Lowry tells me. "I am not one of them." She bought the dress she plans to wear to the movie's New York premiere online, she says, from Neiman Marcus. Then Lowry spots a woman at the dump: "If I were writing a short story, I'd be sure to include that woman over there with the back tattoo and the thong sticking out of her jeans.