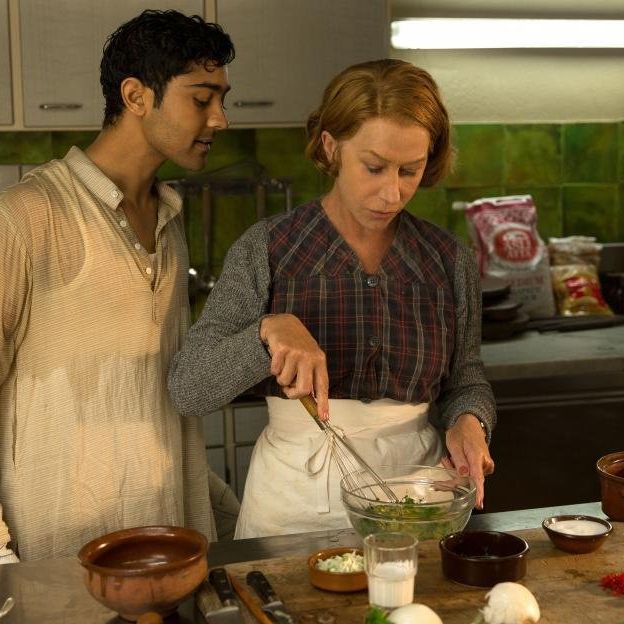 A moving piece of food porn, The Hundred-Foot Journey is a familiar tale enlivened by some sensitive, sincere touches. It starts off as the story of an Indian family that emigrates to Europe after their Mumbai restaurant is torched during a political protest and their mother is killed. Their car breaks down in a rural, postcard-perfect corner of France, and they wind up taking over a decaying restaurant space across the street from a Michelin-anointed fine-dining establishment run by the stern, stiff-upper-lip Madame Mallory (an impressively sour Helen Mirren).
Much narrative hay is made of Madame Mallory's rivalry with Papa (the great Om Puri), the proud and scrappy patriarch of the Kadam family: They spar over everything from building permits to vaccinated chickens to parking spots. But the film's real protagonist is Hassan (Manish Dayal), the oldest Kadam son and the one who's inherited his late mom's culinary gifts. He falls for Marguerite (Charlotte Le Bon), the fetching sous-chef across the street, and as much as he covets her, he covets the acceptance of the culture she represents more: When he reads a French cookbook, we hear her voice on the soundtrack. As he tries, with her help, to master the five sauces of French cuisine, he does so with the passion of a man who wants to belong — of the immigrant looking in, who wants a seat at the table.
But Hassan and Marguerite's burgeoning romance is also a rivalry; she, too, after all, wants to be a chef, not just a symbolic vessel for the male protagonist's dreams. The film goes in some surprising directions with this aspect of their relationship, even as it continues to conflate the love of a woman with the acceptance of a culture. Writer Steven Knight (Dirty Pretty Things) has in the past demonstrated a flair for the way human desire expresses itself in unlikely ways, and you can sense the film trying to give Marguerite some real humanity, even as it goes along on its merry, pre-programmed way.
The Hundred-Foot Journey is at its best when it portrays the tension between immigrant generations — the deep desire of the kids to fit in, their occasional embarrassment at the sight of parents who show a little too much pride, who refuse to bow their heads and integrate. Dad's obstinate chest-thumping about his Indian roots is not for Hassan — at least, not at first. Hassan doesn't just want to cook murgh masala with cashews and cardamom, however exquisite his family's recipe might be. He wants to prove himself in the arena of haute cuisine. He wants to belong to, and conquer, a new world.
Oddly enough, however, the film never quite manages to make the various bits of obligatory poetry about food and passion sing. We get a lot of breathless proclamations that cooking is about soul ("You must find it in your heart and then bring that to your pots," says Marguerite, awkwardly), but there's a disconnect here, perhaps an intentional one. We see a lot of Hassan cooking, but I'm not sure how often we actually see him eat — until a deeply emotional moment in the film's third act, whose nature I won't give away here.
Director Lasse Hallstrom, who's become an old hand at this sort of thing with such films as The Cider House Rules, Chocolat, and Salmon Fishing in the Yemen, knows his chemistry and sense of place. He and cinematographer Linus Sandgren give us amazing views of this little valley community so gorgeous, it's almost unreal. We see the town the way an outsider might see it: as an unattainable bit of perfection, its quaint loveliness both alluring and forbidding.
But The Hundred-Foot Journey, which was adapted from Richard C. Morais's book, wants to be about a lot more than a petty culture clash against scenic vistas. It tries to give us a more ambitious tale of Hassan's rise through the ranks of the culinary world. It's the kind of thing that a novel might pull off effectively, but cinematically, it results in a narrative imbalance, as the fussy particulars of the film's first half give way to the broad sweep of years in the second.
Ultimately, what comes through most forcefully in The Hundred-Foot Journey is the longing of the immigrant, the overwhelming push-pull between the need to belong and the need to assert one's own identity. That the film is set in France, a country where the native culture presses hard, raises the stakes in interesting ways: We see how a genteel pride in the refinement and supremacy of one's own culture can easily be nudged into overt racism. The film doesn't dwell on these points — it's not here to agitate, it's here to comfort and cajole — but the fact that it even allows them into its otherwise prim and cozy narrative gives it a welcome kick.