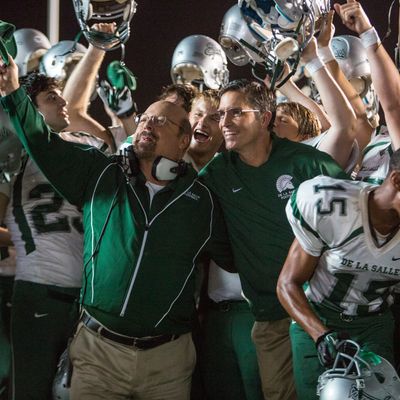 Photo: Tracy Bennett/CTMG
As Joan Osborne might have put it: What if God was a high-school football coach? In this fact-based tale of the trials and tribulations of Northern California's De La Salle Spartans football team, which had its historic 151-win streak suddenly and tragically interrupted in 2004, Jim Caviezel plays Bob Ladouceur, the coach of infinite patience, wisdom, and caring, who, despite having a heart attack, still managed to guide his emotional players to victory and maturity amid upheaval and self-doubt. "Winning a lot of games is doable," he says early on. "Teaching kids there's more to life, that's hard." How does he do it? He has team meetings where he encourages his kids to stand up and read out their "commitment cards," in which they talk about what they want to achieve, both athletically and personally. He teaches religion classes, and asks his players to learn humility (De La Salle is a private Catholic academy.) He makes his players walk out onto the field holding hands, which freaks out opposing teams.
In other words, coach isn't channeling Knute Rockne; he's channeling a higher power. This is Caviezel, after all, the nobly suffering Jesus of The Passion of the Christ, but perhaps even more important, the quiet, caring battlefield angel of Terrence Malick's The Thin Red Line, his breakthrough role. The effortless spirituality that Malick captured in Caviezel is once again evident in When the Game Stands Tall. But here, it's become inert, unchanging — not unlike the overly reverential film around it.
 
Despite some obligatory talk about Ladouceur's not always being there for his kids and his wife (played by Laura Dern, here also reduced to a worshipful gaze), this is a character who is mostly infallible. His initial challenges — not just the heart attack, but also the shocking murder of a star player who was headed to college — come off as temporary blips, the spiritual questioning they prompt all too brief. As De La Salle's team recovers from its early-season losses, the film makes its way through the season, giving us glimpses of Coach Ladouceur's inspirational speeches: He always knows the right things to say, the right advice to give. In one of the film's more engaging scenes, he takes his players to a Veteran's Administration Medical Center, where they can interact with patients who've lost limbs and are struggling to just live ordinary lives — so that these kids can understand the true nature of loss. The lesson is learned, but the drama's not there. Nothing has really built up to this moment, and nothing builds from it.
 
That's not entirely true. When the Game Stands Tall does build to some excellent football scenes, particularly near the end, as the Spartans face off against some intimidating rivals, including one team considered bigger and better than they are. Full of feats of physical heroism — a testament, in the film's vision, to the players' dedication to one another, instead of to the game or to their own glory — these scenes involve us in ways that much of the rest of the film refuses to.
 
The movie knows it, too. That's probably why it tries to give us some additional drama via the starting running back's (Alexander Ludwig) conflicted relationship to his overzealous, gung-ho father (Clancy Brown). It's a conflict that feels welded on, and never really registers as a real threat, because the father isn't representative of anything: He's a straw man — a lone jerk in a world that's uniformly supportive of these players and this team.
 
If movies have taught us one thing, it's that inspiration and victory, particularly in sports, is often cathartic, built out of mistakes and pain. That's the movie version, of course, not the real-life version. When Al Pacino gives that remarkable "Life's a game of inches" speech in (the totally fictional) Any Given Sunday, it becomes a confessional — he voices both his own and his players' need for redemption. Yes, it's a cliché, but it's a good cliché: Without it, all you have is a manual. The real-life story behind When the Game Stands Tall sounds amazing. But for all its exciting sports scenes, the movie version falls flat as drama.