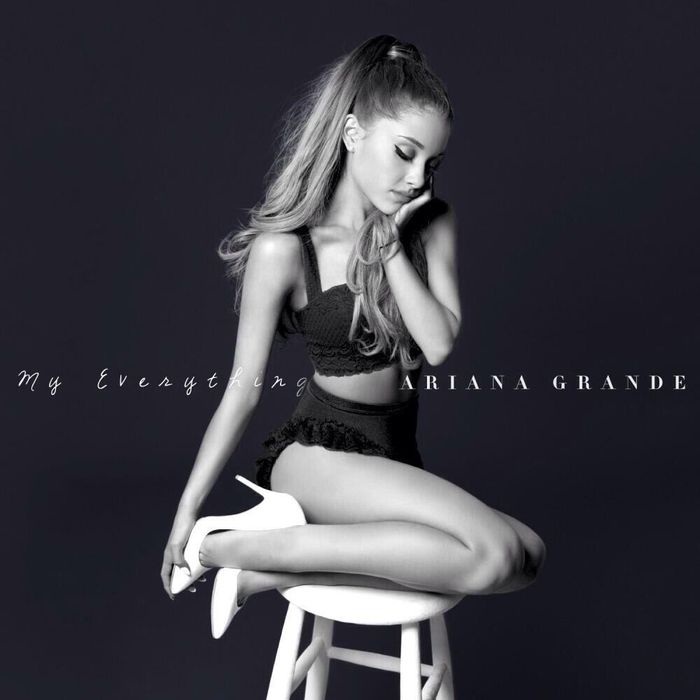 Florida-born pop upstart Ariana Grande has clocked many hours on the small screen — she's a veteran of the Nickelodeon shows Victorious and the more recent, notoriously ill-fated buddy comedy Sam & Cat — but my favorite televised moment of her career came this July, when she hosted a half-hour special on MTV called Total Ariana Live. Between audience questions about her musical idol (unexpectedly, Imogen Heap) and which house she'd choose to belong to at Hogwarts (equally unexpectedly, Slytherin), Grande was forced to play a game in which she spun a wheel to determine which hit song she'd have to perform, and which wAcKy genre she'd have to sing it in. Ariana Grande clearly had no time for this game; she looked impatient as tenured MTV VJ Sway explained the rules, and instead of leaving it up to chance, she turned the wheel to her chosen song — A$AP Rocky's "Fuckin' Problems," in the style of Broadway. Grande closed her eyes as if transported, and in her signature angel-soft voice, let it fly: "IIIIII love bad bitches, that's my fuckin' problem! Aaaaand I know I like to fuck, I got a fuckin' problem!" The censors reacted slowly, clearly unprepared to do much heavy lifting on an Ariana Grande special, so Sway was left to muffle her f-bombs like a nervous dad: "Okay, okay, okay!" Grande shrugged sweetly, seeming somehow genuinely unaware that you can't do that on television. For a former tween idol, this was something charming and rare: A bad-girl moment with an unscripted breeziness about it that suggested it was not trying too hard to be A Bad-Girl Moment. It had been a long time since we'd seen that on MTV.
Such are the virtues of Grande's variable but largely very good second album My Everything, which finds a way to be flirty and sexy without being affectedly raunchy, and "mature" without ever feeling too stiff or starched. Much as her weightless upper register flutters at least an octave above her peers, My Everything hovers somewhere beyond the played-out Innocence Lost narrative that has tripped up a lot of other pop stars around her age (Grande is ten months younger than Demi Lovato and seven younger than Miley, but a full year older than Yung Bieb). And although the record isn't the full diva makeover many Ari skeptics have dreamed of, it's still a charisma upgrade when compared to her promising but languid 2013 debut, Yours Truly. In the wake of that album's modest success, the three things that Grande was most frequently compared to were a hummingbird, "Baby Mariah," and a tiny child playing dress-up in her mother's walk-in shoe closet. After My Everything, we can at least retire the last one of those clichés from the list: The heels aren't the fiercest on the market, but at least they finally fit.
Pop albums have a tendency to be shamelessly front-loaded, but My Everything distributes its treasures evenly across a 40-minute runtime. First up is "Problem," her ubiquitous, En Vogue–nostalgic summertime smash with Iggy Azalea (and *whispers* Big Sean). Then there's her more recent hit "Break Free," a prismatic, strobe-lit collab with EDM Keebler elf Zedd — a breakup anthem so overwhelmingly glorious that it manages to transcend songwriter/co-producer Max Martin's truly indefensible grammar. (Grande has found an effective way maneuver around dumb lyrics: Make it so no one understands what you're saying anyway!)
But My Everything really comes alive post–"Break Free", across a stretch that includes the shimmering, Cashmere Cat–produced "Be My Baby," the weightlessly cool "Break Your Heart Right Back" (which inventively uses a sample that pays simultaneous homage to "I'm Coming Out" and "Mo Money Mo Problems"), and finally, a duet with Abel Tesfaye of the Weeknd called "Love Me Harder." My Everything has a way of bringing out the best in Grande's collaborators: "Love Me Harder" is not only one of her strongest tracks to date, but it's also the least bad thing the Weeknd has done in recent memory. (It's worth noting that Tesfaye sings on the track, but did not produce it.) The arpeggiated synths and back-and-forth verses make "Love Me Harder" feel like a version of Lady Gaga and R. Kelly's "Do What U Want" that it is much less morally complicated to enjoy. For all her vocal talent, though, Grande can't do much to save some of the duller material here: the Harry Styles–penned piano ballad "Just a Little Bit of Your Heart" is pure schmaltz, and the forgettable Ryan Tedder–helmed "Why Try" tries to get way too much mileage out of a trite angels-and-devils lyrical conceit.
"Head in the clouds, got no weight on my shoulders," Grande trills on "Problem," and — if you can actually understand her — the line plays out like a description of My Everything's strengths and limitations. Grande often sounds like someone overcome by a private feeling of bliss, although usually, what she's singing about is the delicious agony of crushing on the wrong person. In fact, most of her kiss-off tracks seem like love songs until you squint at the lyrics: "Problem" sounds like a Valentine (I want you-ou-ou!) but it's actually about a jerk she can't quite shake; the catchy refrain of "my baby loves me" in "Break Your Heart Right Back" is a halcyon memory of a time before he dumped her; and even the seemingly kick-him-to-the-curb chorus of "Break Free" is embedded in a moment of hesitation ("this is the part where I break free," as if she knows what she has to do but hasn't fully committed to letting go yet). Still, even when she's lost in these reveries (IIIII love bad bitches, that's my fuckin' problem!) Grande gives off the impression of someone singing with her eyes closed. Her confidence, stage presence, and ability to connect with an audience are all still developing (her VMAs performance on Sunday was definitely one of her strongest to date), but there's still a hesitated, haunted look somewhere behind Grande's eyes (demons?) that speaks to the growing she's got left to do before she really comes into her own as a star. My Everything will do just fine for now — it's one of the best and smartest pop albums of the (admittedly very slow) year — but it still finds Grande a little shy of asserting who she really … are.