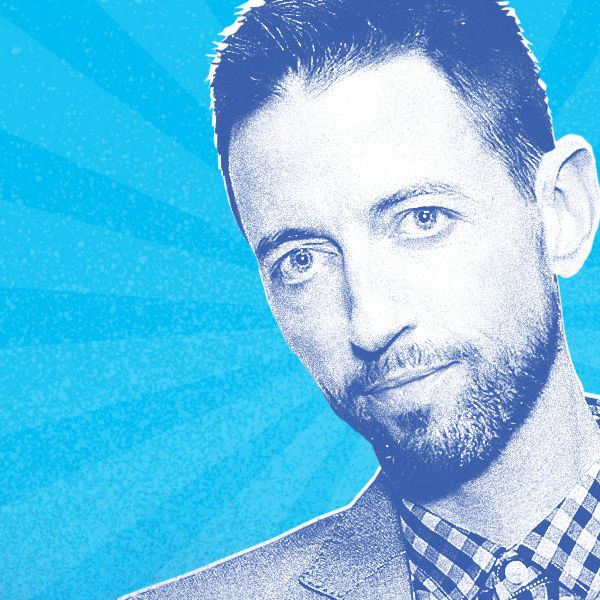 Photo: Maya Robinson and Photo by Getty
Tonight at 11 p.m., The Approval Matrix — a panel show based on the famous New York magazine feature — premieres on the Sundance Channel, and at the helm is comedian Neal Brennan. Unlike many of his peers, hosting a TV show was never on his radar as a possibility. Brennan got his start in comedy in the early '90s not as a stand-up, but as the doorman of a New York comedy club. From there he went on to more and more writing success, co-created Chappelle's Show, directed a movie produced by Will Ferrell, and gained the respect of just about everyone involved in comedy. Over two decades later, Brennan is ready for the spotlight, so we had him walk Vulture's Jesse David Fox through his ten defining professional moments.
1991: Doorman at the Boston Comedy Club
I was going to NYU for film school, but I didn't like film students. I did like comedians. My brother was one, so I started working the door at the Boston Comedy Club. I knew I had to write something. That's the only way to jump-start a career. I knew just from being around my comedy friends, I could fill jokes out for people. Chappelle always said when I gave him a punch line that it was super fucking annoying, but still, with the first one, he was like, Hmm, he's right. I honestly don't remember what it was. But, I did help him with his joke about the origin of the word nigger, which was a popular joke for him. Great joke. A Def Comedy joke.
Around that time, Jerry O'Connell, whom I had went to NYU with, saw me handing out fliers, which is even worse than working the door. He said loudly to his friends, "Guys, this is Neil. He used to go to NYU with me. He'll be back real soon."
1995: Singled Out
I met a casting director from L.A., whom I helped videotape comics here. She said I should move to L.A., so I moved to L.A.. She was casting Singled Out for MTV and all the writers quit, if you can believe it, so they were like, "You want to be a writer?" And I was like, "Yep!" So I became a writer for the pilot. The funny thing was that I was the writers' assistant, but there were no writers. It's like a patriot without a country. So then the show got picked up and made television history.
1996: All That
Singled Out shared an office with All That. I interviewed there. I pitched "Everyday French With Pierre Escargot," and even though they didn't hire me, they took it. The next year, they hired me out of guilt. But I stunk at that job. I was bad. I didn't get shit on, and they jokingly called me "the boy" — I was like 21 at the time. Still, it was the first time I was in a writers' room, which was important. At one point, the show's co-creator Brian Robbins said, "I should've fired you when I had the chance." So, yeah, people were always abusive to me.
1998: Half Baked
I had written a script with a buddy of mine. It wasn't good, but it had a spirit to it, so I met with Bob Simonds, this producer, and [it] was fucking really funny. Then literally a week later, Chappelle had a completely unrelated meeting with Simonds. They asked him, "Do you have any ideas?" "Yeah, I'm writing this movie with this buddy of mine." They were like, "Who?" Chappelle said, "You've never heard of him, trust me." (Around this time, Chappelle was telling his agents he wanted to do something with me, and they'd say, "What? What the fuck is wrong with you?") So they kept on pushing and Chappelle goes, "Fine, Neal Brennan." And they were like, "Oh, we love Neal."
The thing is, we had never talked about a movie before, ever. So Chappelle called and was like, "If anyone calls you, say, 'We're writing a weed movie.'" And like a shitty sitcom scene, they called and I had to be like, "Yeah … a weed … movie … Sure, coming right up. We've been working our butts off on it."
We had a month to outline it but we waited until the last day. It went well. We pitched in March and we were shooting in July. Then the movie comes out — tanks.
1998: Writing with Parks and Recreation's Mike Schur
Chappelle and I just had a stink to each other. It was like how couples who have miscarriages don't survive. So I began writing with Schur, whom I met hanging out at SNL. The scripts didn't get made, but it was good to sell shit. We wrote a funny movie called The Oldest Man in the World. In it there's a museum dedicated to the oldest man in the world ever, who lived to be 120. It's in Wisconsin, and his shitty nephews run it. But then they hear that a guy is 119 and is about to break the record, so one of nephews goes down to prevent that. This is classic Hollywood: We wanted Will Ferrell to play the nephew and Chappelle to play the old man, and everyone was like, "Who?" They kept pitching Tom Green and Orlando Jones. Seriously, two different people in the same week pitched that same team.
2003: Chappelle's Show
Nothing I was writing got made, and Chappelle and I sort of thawed. Dave was like, "Let's do Playboy After Dark," and that became Chappelle's Show. I talk about how being someone's deputy is sort of hard, but I never once thought that should be me. I never did. I wasn't watching Dave, going like, Fucking — this bum. If they only saw my Rick James, then they'd see. I have a blind white supremacist, too! I never thought that. I didn't want to not work with him anymore — he didn't want to do the show anymore. I think at that point it dawned on me: In comedy, if you're not "the guy," you're beholden to "the guy." Also, "the guy" can make any kind of decision he wants, and your entire career is fucked. So I was like, How do I become that person?
2007: Stand-up
I did stand-up during Chappelle, but I don't even count it because I'd do it a little bit and stop. I started in earnest in '07. I feel like I didn't go outside for a year after the show ended. I didn't do stand-up because I thought people would shout, "Where's Dave?" But that never happened once. It's not that they don't care; they're just not that rude. Finally, I was like "Eh, I like doing it," and I accepted I need attention just like all my comedian friends do. I've been able to do it on TV a couple of times. [I] got better at it and finally had my first hour special air earlier this year. It did well, ratings-wise, and no one said I sucked or "You were better off with Dave!" I get a couple of those tweets a week. I usually forward them to Dave. He finally was like, "What is the matter with people?" And I'm like, "I don't know, man." 
2009: The Goods
You get offered so many things as a popular TV director. It's like being a high-school basketball player, where you get recruited by all these schools, but instead [producers] send you Blades of Glory and Superbad. I was ready to do something, and I knew Will Ferrell a little bit and I loved Adam McKay, I liked how The Goods reminded me of stand-up — all that traveling — so, I picked those guys and I picked that movie and I just picked wrong. And I kind of knew going in, Jeremy's either going to be able to open a movie or not. And then the sushi thing happens and you are like, Oh, the universe doesn't want this to work. But having said that, I stand by that movie. I think it's well directed and it's funny. I can't prove it, other than I've been to multiple screenings of it and heard it get laughs in the same place every time. You direct a movie and it's such a big bet and if it doesn't do well, they're like, "Fuck you." And you're like, "Yeah, but there were mitigating circumstances." And they're like, "Fuck you, though." You can't talk your way out of a bomb. So I did more stand-up. 
2011: "The Champs" Podcast
Questlove always says that the podcast is the only place where black dudes can talk about their emotions in America without fear of judgment or people calling them soft. They can just be like, "This shit's hard." It shows black and white people talking in a way that's not tense. It's like there's an episode of The Approval Matrix that's me, Donnell Rawlings, Hannibal Buress, this British woman Dawn O'Porter, and Lisa Birnbach — she's actually super funny; she wrote the Preppy Handbook — and it's cool because it's two black guys and two white women over 30. That is fucking interesting. I never see that conversation happen on TV. The podcast helped in a way that's hard to even explain. It also made me realize I like talking and I like hosting a thing.
2014: The Approval Matrix
I don't get offered to host stuff a lot. And by "a lot" I mean ever. I'm not smart enough for Real Time With Bill Maher and I'm not goofy enough for Chelsea Lately, so it's like, alright, let me just host a show that's somewhere in between. But I liked the fact that it's argumentative in nature. I love arguing. A lot of sketches on Chappelle would come out of Dave and I arguing. And all my experience has helped me host a show where I can say stuff that I believe that's not necessarily popular. I've been around. I've seen stuff. This is what I think. Someone said, "You weren't afraid to argue with Jon Stewart about Donald Sterling?" And I'm like, "No, because I've known him since I was 19. He was in Half Baked." He's awesome, but I still know him. There are very few shows where I can be as opinionated as this or work at the high end of intelligence, where no joke is too smart. On one of the episodes, I actually referenced Serge Gainsbourg and it got nothing from the audience. I was like, "Guys, this is Sundance. If that joke could work anywhere, it's here."