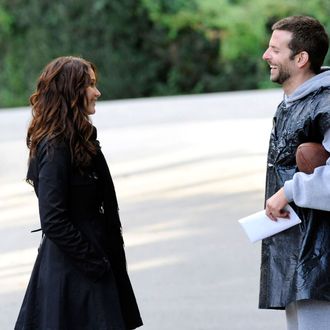 Photo: JOJO WHILDEN/THE WEINSTEIN COMPANY
At the beginning of (and throughout) every month, Netflix Streaming adds new movies and TV shows to its library. Here is a list of some that you might be interested in. Some of these may have been added halfway through or near the end of August, but we're going to include them in this roundup anyway since you might have missed them. Some of these may also have previously been on Netflix, only to have been removed and then added back. Feel free to note anything we've left out in the comments below.
All Is Lost (2013) (available September 2)
It's Robert Redford versus Mother Earth in Margin Call director J.C. Chandor's visceral indie drama. All Is Lost doesn't waste time on faux backstory or sappy characterizations. In a heartbeat, a leak in Redford's boat interrupts his sail around the Indian Ocean and he has to fix it. It's the beginning of the end.
Being Mary Jane (season 1)
From Girlfriends and The Game creator Mara Brock Akil, BET's romantic drama series Being Mary Jane launched this year to critical success. The logline is low-key: Gabrielle Union stars as Mary Jane, a TV news anchor who has most of life figured out, minus the whole relationship thing. As our own Margaret Lyons wrote of the premiere: "There are so many familiar ideas and stories in BMJ … that it's easy to miss some of the show's more daring and interesting moments. Mercifully, though, they're in there." BET renewed the buzzy show for a second season, so get a jump on it.
Good Morning, Vietnam (1987)
Between the rip-roaring spontaneity of the late Robin Williams's raw comedy and the "domesticated" (as David Edelstein elegantly put in his tribute) roles that would earn him critical acclaim lies Barry Levinson's fully loaded war drama. It's imperfect, but Williams sinks his teeth into the role of an Armed Forces radio DJ stationed in Saigon. He's like an adrenaline-pumping Patch Adams, delivering joy to troops at 200 words a minute. And Williams wasn't just a showman. When his character slows down and soaks up the horrors of war, the actor unearths new depths.

The Double (2014) (available September 25)
The IT Crowd star Richard Ayoade followed up his coming-of-age rom-com Submarine (also on Netflix) with this adaptation of a Fyodor Dostoyevsky short story. Threading together noir, science fiction, and existential philosophy, The Double pits Jesse Eisenberg against Jesse Eisenberg in a battle of wits. Riveting and off-kilter.

Doomsday Preppers (seasons 1–3)
What if the Mayans were two years off? What if the end is nigh?! If you're crazy enough to worry about it, binge National Geographic's paranoia-friendly how-to series. Lessons include filtering rainwater for sustenance, raising bees for everlasting honey, and how to fend off postapocalyptic criminals with tripwire and sniper rifles. Not scary at all.
Silver Linings Playbook (2012) (available September 16)
By the time Jennifer Lawrence won her first Oscar for Silver Linings Playbook, Oscar-season fatigue and popularity backlash had swallowed David O. Russell's mental-health rom-com. The 2013 Best Picture contender sports Lawrence, Bradley Cooper, modern Robert De Niro, and the forgotten Chris Tucker at the top of their games. For those who'd watch Love Actually for a 16th time just because.
Swiss Family Robinson (1960)
A formative experience for outdoorsy kids, Disney's lush adventure film surely inspired the construction of many a tree house. The Robinsons are a band of 19th-century MacGyvers; After pirates chase them to a deserted island, the family wastes little time constructing a tropical mansion complete with makeshift appliances and anti-invader booby traps. But no monkey butlers! Just monkey friends.
3 Ninjas: High Noon at Mega Mountain (1998)
The wait is over.
New Seasons of TV:
About a Boy (season 1) (available September 14)
The Blacklist (season 1) (available September 7)
Bones (season 9) (available September 16)
Californication (seasons 1–7)
Comic Book Men (season 3) (available September 28)
Crash & Bernstein (season 2) (available September 10)
Criminal Minds (seasons 7–9)
The Fosters (season 2) (available September 17)
From Dusk Till Dawn (season 1)
How I Met Your Mother (season 9) (available September 26)
The League (season 5) (available September 2)
New Girl (season 3) (available September 16)
Once Upon a Time (season 3)
Parenthood (season 5)
Parks and Recreation (season 6) (available September 26)
Revolution (season 2) (available September 22)
Trailer Park Boys (season 8)
The Walking Dead (season 4) (available September 28)
Zero Hour (seasons 1–3)
Other movies available:
A Simple Plan (1998)
A Single Man (2009) (available September 11)
Bad Grandpa (2013) (available September 27)
Barbershop 2: Back in Business (2004)
Beginners (2011) (Available September 16)
The Believers (1987)
The Blue Lagoon (1980)
Blue Ruin (2014)
Cool Runnings (1993)
Crocodile Dundee (1986)
Deadly Code (2013) (available September 10)
Dennis Miller: America 180 (2014) (available September 11)
Detention (2011)
Filth (2014) (available September 11)
Flubber (1997)
Girl Rising (2013)
Girlfight (2000)
Guess Who (2005)
Hoodwinked (2005)
Jay and Silent Bob's Super Groovy Cartoon Movie (2013)
Justin and the Knights of Valor (2013) (available September 13)
Kid Cannabis (2014) (available September 6)
Killing Them Softly (2014) (available September 30)
Le Week-End (2014) (available September 6)
Lords of Dogtown (2005)
Lullaby (2014) (Available September 29)
Mirage Men (2012)
The Moment (2013) (available September 11)
One Day (2011) (available September 16)
The Protector 2 (2013)
Refuge (2012) (available September 6)
School of Rock (2003)
Small Apartments (2012)
Who Is Dayani Cristal? (2013) (available September 9)
Your Sister's Sister (2011) (available September 6)
The Unbelievers (2013)
The Unknown Known (2014)
3 Days to Kill (2014) (available September 17)
3 Ninjas: Kick Back (1994)
3 Ninjas: Knuckle Up (1995)